x
The Real Lives of Volunteer Coordinators
A Blog for us to Learn from Each Other
Learn More About Track It Forward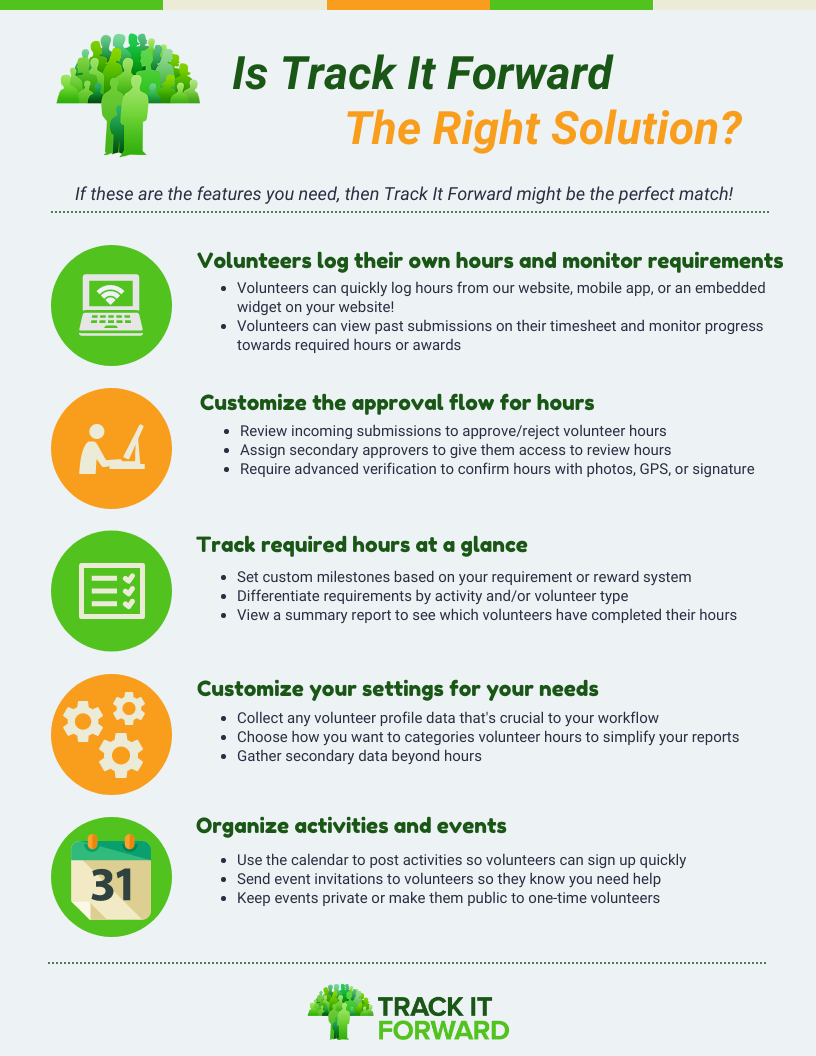 Download a copy of this graphic here.
We get it, we've been there! Volunteer time tracking can be hard, but it doesn't have to be if you have the right tool! Before you purchase a volunteer time tracking software, you want to make sure that it's going to meet your needs.
If you find yourself looking for the following features in a time tracking tool, then we can confirm that YES! Track it Forward is the right choice!
1. Volunteers log their own hours and track requirements
Take yourself out of the equation and allow volunteers to log their own hours from the website or mobile app. Each volunteer gets their own dashboard to view their timesheets, track their service hour requirements, and sign up for events! Track It Forward makes volunteer time tracking easy and a small part of a volunteer's role. No more paper forms, spreadsheets, and endless emails from volunteers asking if they completed their hours.
2. Customize the approval flow for hours
Organizations can choose to approve hours automatically or send all submissions to an approval queue for further review. When approval is enabled, administrators will be notified of new hours and can decide to approve or reject the submissions. If multiple volunteer coordinators assist with the approval process, you can easily assign secondary approvers and the hours they should approve. For programs with a strict approval process, our advanced verification features make it easy to confirm the accuracy of hours by requiring a photo/signature/GPS with each submission. Track It Forward incorporates a new element to volunteer time tracking by allowing organizations to easily control the approval process.
3. Track required hours at a glance
Our milestone feature is the perfect solution for organizations tracking required service hours, volunteer awards, or required membership hours! You can track multiple requirements, customize how many hours are needed, and differentiate the requirements by activity and/or volunteer type. The summary report gives you a real-time snapshot for volunteers who completed their hours and ones who haven't. Milestones will automatically reset based on your specified time period so it's simple to transition to the next reporting cycle! On the volunteer's dashboard, they will be able to see a chart showing their progress towards the goals so they can be part of the time tracking process.
4. Customize your settings for your needs
You need a volunteer time tracking software that's flexible enough for your program. Add new fields to the volunteer profile to track graduation year, volunteer interest, T-shirt size, or volunteer role. Any data that you need to collect from volunteers can be added to the profile and then easily exported to a report. For logging hours, you can choose how you want to categorize submissions so it's easy to pull reports later by activity, organization, or program. If you need to capture data beyond hours, you can add secondary fields such as mileage, description of the activity, or volunteer feedback.
5. Organize activities and events
Our calendar makes it easy to create service events, invite volunteers to sign up, monitor registration, and communicate with participants. Volunteers are able to sign up for a shift, communicate with the organizer, and cancel their RSVP. Organizers can keep the opportunity private or make it accessible to one-time volunteers who don't have a Track It Forward account. The event calendar syncs with the hour logging system to add an event-based functionality to the time tracking tool.
Sound like a good fit? We aren't like other complicated volunteer time tracking systems. We are simple. That's not only what we say, but what our customers say.
---
If you are interested in starting your volunteer time tracking software system or volunteer management software system search from square one, we have created a wonderful 50-page guide that you must try!
We think it is one of the best ways to find the volunteer software system that truly works best for your organization is to start from analyzing your organization and your needs. Then, you look into software systems and figure out if they match the priorities of your organization! If you aren't sure how to do that, read more here, or just download our Insider Guide!