x
The Real Lives of Volunteer Coordinators
A Blog for us to Learn from Each Other
Purchasing Track it Forward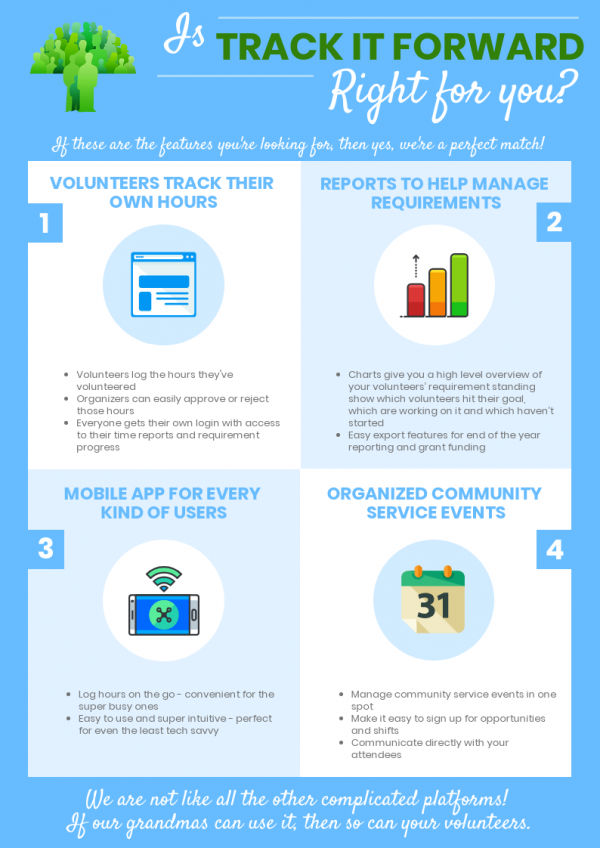 Keeping track of volunteer hours can be hard, but it doesn't have to be. If you're going to commit to a new software, you want to make sure that it's a good fit.
If you find yourself looking for these features in a time tracking system, then we can confirm that YES! Track it Forward is the right choice!
"So what are those main features?" You ask.
Here they are:
1. Volunteers track their own hours
Take yourself out of the equation and allow volunteers to log their own hours. After hours are submitted, organizers can select to be notified and can approve or reject the submissions. Each volunteer gets their own dashboard to view their timesheets, milestone progress, leaderboard charts, events calendar and more!
2. Reports to help manage requirements
Reports by day, week, month and year! Reports by volunteers! Reports by milestones! Reports for grant funding! You get the point... We offer a variety of options to help you see a high-level overview, as well as detailed filters to pinpoint certain groups or volunteers. Export what you need and share with others.
3. Mobile app for every kind of user
Our free app is available on the Google Play Store for Android and the Apple App Store for iOS. Volunteers can submit hours, view milestone progress, sign up for events and more! It's easy to use and intuitive for even the most novice tech user, and it's also available anywhere on the go for all the busy bees.
4. Organized community service events
Create service events and invite volunteers to sign up for shifts in our Event calendar. It's easy for volunteers to sign up for events and communicate with the organizer, as well as simple for the organizer to communicate with event attendees.
Sound like a good fit??
We aren't like all the other complicated volunteer time tracking systems. We are SIMPLE. That's not only what we say, but WHAT OUR CUSTOMERS SAY.
True story.