x
The Real Lives of Volunteer Coordinators
A Blog for us to Learn from Each Other
Learn More About Track It Forward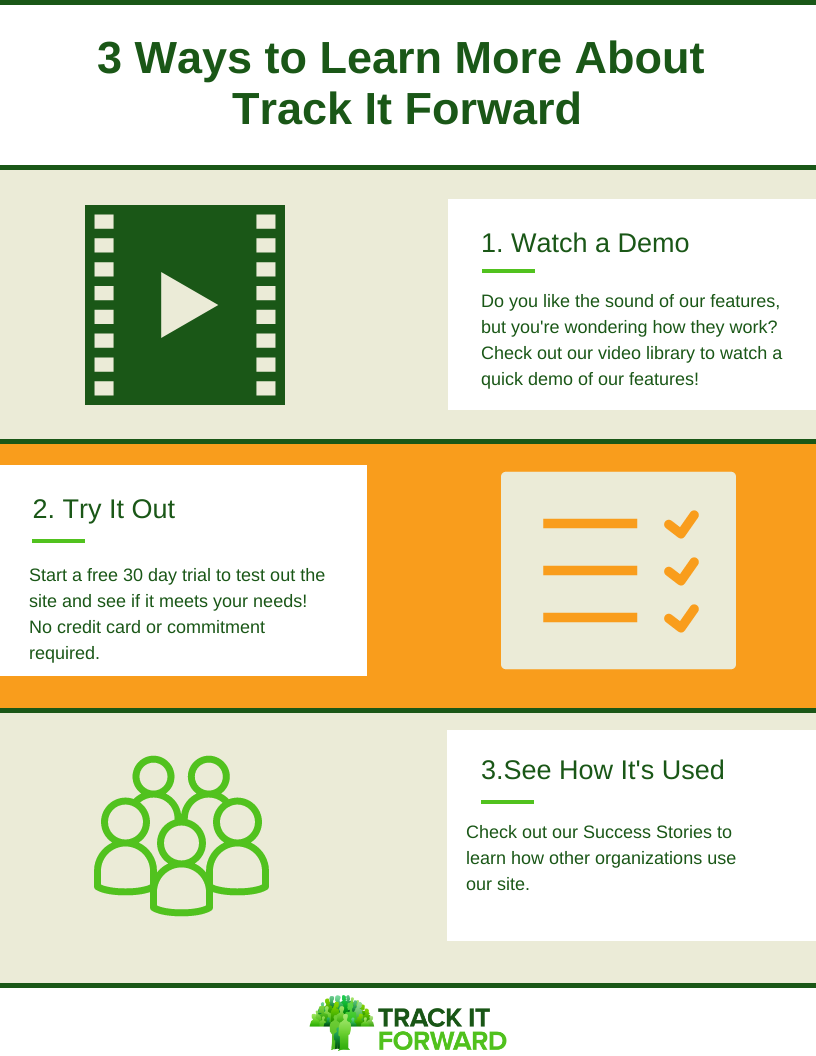 Would you like to download this image? Click here.
What do you think so far? Could Track It Forward be your perfect match for a time tracking tool?
If you'd like to learn more about our software, here are some next steps!
Watch a demo: Check out our video library to watch a quick demo of our features! We have a variety of videos available so you can learn more about the features that are most important to your organization. This will give you a better idea of how our site works so you can decide if it's the right fit for your program.
Try it out: If you prefer to explore the site for yourself, start a free trial with your preferred plan. Our trial period is 30 days and we don't require a credit card or commitment! The free trial is the best way to test out your settings and you can even add volunteers to get their feedback on the site.
See how others use our software: Take a peek at how some successful organizations all use our software differently. Your organization could be similar or use Track It Forward in a similar way!
Ask questions: Contact our support team if you have any questions about our software and which features would work best for your program!
We know how hard it is to be a volunteer coordinator, our team has been there! Track It Forward was created with the intention of making volunteer time tracking easy for volunteer coordinators so they can focus on what's important instead of trying to figure out a software system! Since our system is flexible, you can customize it in the way that makes sense for you.
Efficient volunteer time tracking can be a great way for your organization to gain success when it comes to managing and retaining volunteers. Learn more about Track It Forward to see if our software can help you and your program be the best it can be!
Other Articles in this Series