x
The Real Lives of Volunteer Coordinators
A Blog for us to Learn from Each Other
Implementing Track it Forward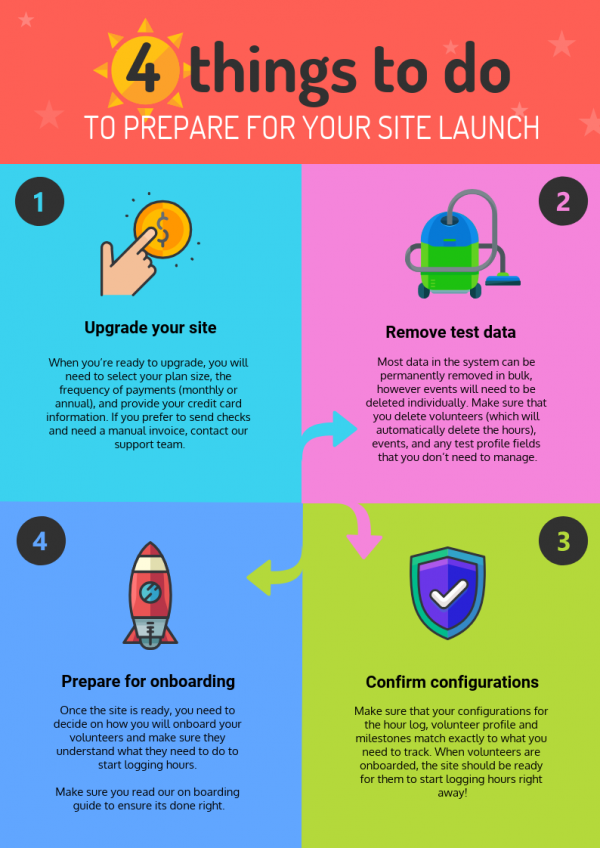 Ok by now, you're pilot is probably over and you've decided to move forward with us. (YAY!)
"So what do I need to do next?" You ask.
Here are the 4 main things you need to do before your volunteers can start using Track it Forward:
1. Upgrade your site.
First, let's get the money questions out of the way. Obviously, we want to get paid. So, when you're ready to upgrade, you will need to select your plan size, the frequency of payments (monthly or annually), and provide your credit card information. You can find our pricing plan here. One thing to keep in mind, is that we offer a 20% discount if you pay annually. If you do not want your payments to be on auto and prefer to send checks, you can request an invoice from our support team.
2. Remove the test data
Next, we need to get your site cleaned up and ready to go live. Most data in the system can be permanently removed in bulk, however, events are the only thing that will need to be deleted individually. Don't forget to delete volunteers (which will automatically delete the hours), events, and any test profile fields that you don't need to manage.
3. Confirm your configurations
Afterwards, we want to make sure that your configurations for the hour log, volunteer profile and milestones match exactly to what you need to track. When volunteers are onboarded, the site should be ready for them to start logging hours right away!
4. Prepare for onboarding
Lastly, once the site is all set, you just have to get all of your volunteers onboarded so that they can begin logging hours. There are two main ways to get your volunteers onboarded - import or self register. Here's the difference: If your volunteers self-register, it may save you time, but it may take longer for them to get signed up if they procrastinate. If you import everyone, you'll know that every volunteer is in the system, but the downside is that scrubbing that date and loading it may take a little longer initially. Whichever you decide , make sure that you provide them the onboarding handout.
The Real Lives of Volunteer Coordinators
A Blog for us to Learn from Each Other