x
The Real Lives of Volunteer Coordinators
A Blog for us to Learn from Each Other
Volunteer Coordinator Resource Community Recap Dec 21 - Jan 4
Happy New Year! 2021 came for us, and hopefully, it will be a wonderful year for all nonprofit organizations and volunteer programs.
With every new year, there is always a standard that there should be goals set and organizational projections for any organization. This is something that many volunteer coordinators like to do, but is it beneficial to set goals every new year?
A Volunteer Coordinator had a question similar to this, but put a new spin on it as well. If you aren't a fan of making specific goals for the new year, you could find something that you plan to focus on more instead of reaching a milestone!

Volunteer Coordinator 2021 Goals
Please comment your goals or focuses on this post, here.
Here are some ideas!
---
Volunteer Software & Volunteer Hour Logs
We had two different posts about volunteer software and logging volunteer hours. We are linking these two together for this recap because there is plenty of volunteer software that include or focus on volunteer hour logs & volunteer time tracking - we are included!
But, it is important to note that volunteer software is different for every organization and that many volunteer software programs that work well for one organization, might not work at all for others.
We think that is exactly what this first poster had in mind, as it seems one of their 2021 goals was to not only find a volunteer software program but one that was a good fit for their organization. This is what comes from evaluating volunteer software options!
To view all the comments on this post, click here.
For example, some volunteer organizations might be interested in volunteer time tracking or creating hour logs for their volunteers and having a system to pull hour log data and reports from, while other organizations might want e-learning modules in their software.
The next poster definitely was looking more for volunteer time tracking and hour logs!

To view all of the comments, check out the full post here!
We have a lot of resources available for those looking for volunteer management software, trying to compare volunteer software, or those specifically looking at volunteer time tracking and hour logs!
Volunteer Management Software Resources
Volunteer Software Comparison Resources
Volunteer Hour Log Resources
---
Lastly, we received a general inquiry about volunteer programs, specifically those with mental health issues and youth! This community is a great place for questions like these, as well as the ones above.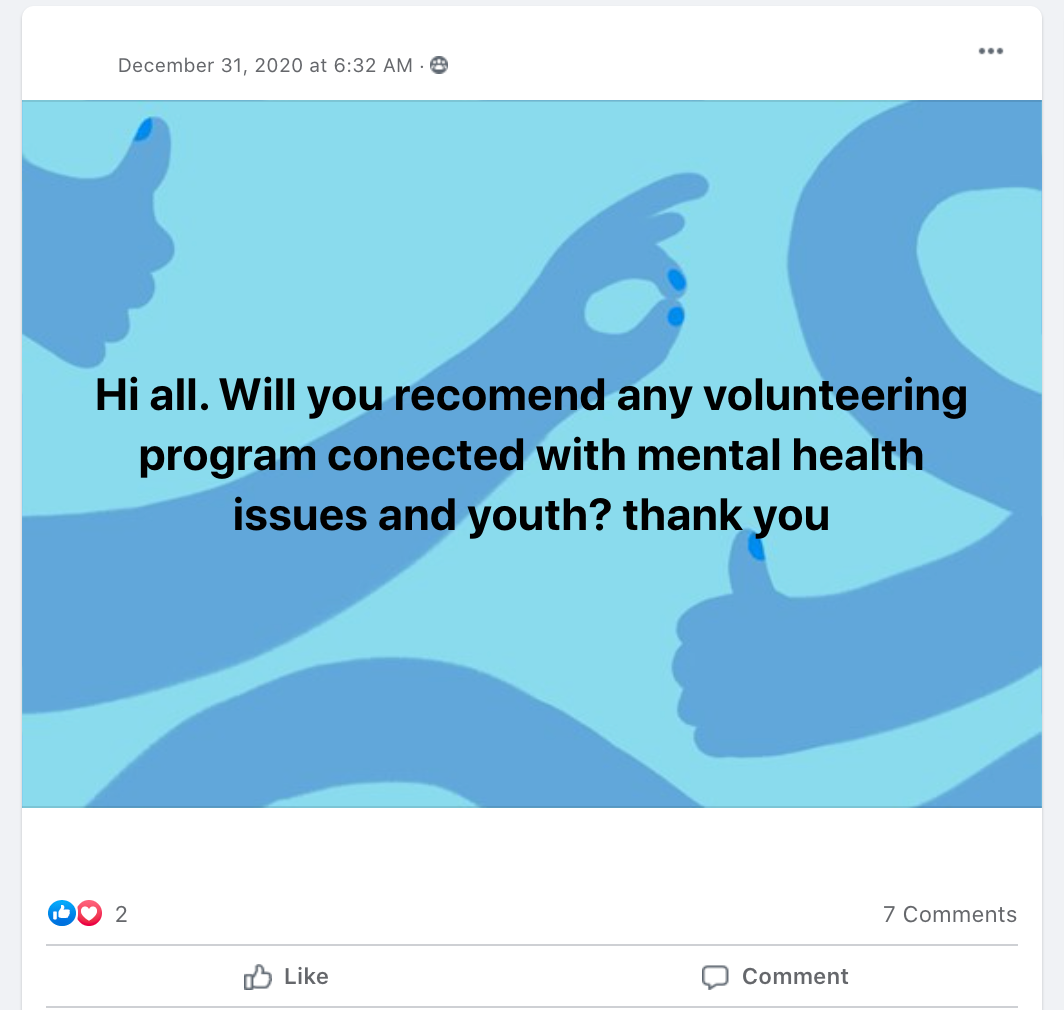 Answers From The Comments:
"Compeer- they match volunteers with children (and adults) with mental health problems. Volunteer becomes a friend to the child and they do activities together."

"Head Start has a behavioral health component to help Children, families and staff. It is a topic I offer training on so the volunteers have some insight on how to understand some of our students."

"For classes, I partner with our behavioral health department for an introduction to trauma informed care and I partner with chid protective services for a how to recognize and report child abuse. During the pandemic the classes are on zoom."

"We work with families. Youth and teen programs focus on communication and living with PTSD."

"I oversee the volunteers that work on a crisis hotline."
If you would like to connect with any of the individuals that commented, go to the post here!