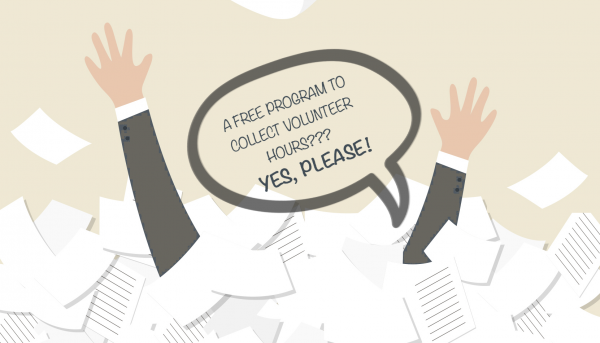 Finally… your organization is growing, your volunteers are participating, and they're keeping track of hours (or maybe you're still trying to figure out how to motivate them to track hours), but now you're inundated with stacks and stacks of paperwork. Handwriting you can't read, hours that seem to be missing, and some cannot even be verified. Your process is HIGHLY inefficient!
What's the most cost-effective and efficient solution to track volunteer hours? Every volunteer coordinator in a growing organization has stumbled or will stumble upon this predicament at one point or another in their career. Do you pay for software that manages all your volunteer hours for you so you don't have any work to do, or do you create a simple Google form and spreadsheet to track your volunteer hours and call it a day? If your organization is looking for a free solution to gather basic information on volunteers, then Google forms can be a quick solution to your endless pile of papers, AS LONG AS YOU SET IT UP CORRECTLY.
Unfortunately, we also hear a ton of complaints about how tracking hours with Google forms does not work. But don't click that link if you don't want to hear it!
This article will walk you through the detailed steps of how to properly set up a Google form, with the right types of questions, rights, and permissions, as well as ways your volunteers can access the form, how to get their responses, and what to do with the results.
The ULTIMATE guide to setting up your Google volunteer log
Buckle up, because you're in for a ride!
If at any point in time you get lost, scroll back up to this infographic to guide you on what's next, or just write us a quick message. Make sure you don't skip any steps or this won't work!
Step 1: Create your Google Form & stage your questions properly
You can always start off by using the same questions on your form as you had on paper. However, if your questions weren't perfect, then this is your chance to modify them before you switch over. A few things to keep in mind as you're creating your questions in Google forms
1. Keep it simple - Don't ask for a bunch of irrelevant information that is time-consuming. If you don't need to track it, then don't ask for it. Or else, you will be like the majority of other volunteer organizers who can't get their volunteers to even track hours (true story).
2. Make the necessary fields required - If you leave questions as optional, then you'll have a lot of empty boxes in your spreadsheet and you'll end up chasing these volunteers for more information later (which you don't want to do!)
3. Make a final decision on your question fields and don't change them once volunteers start to participate - Down the road, if you decide to add new questions to the form, you'll start having a lot of missing data in your spreadsheets. You're trying to get away from that, not repeat it, so make a decision and stick with it!
Here are the simple steps you need to follow to create your Google Form
1. Go to Google Forms and create a new blank form by clicking on the "+" Blank Form Template
2. You can also go to your Google Drive and create a new form by clicking on the "+ New" button >> More >> Google Forms >> Blank form
3. Create a Title and Description: Use a simple title to help your volunteers understand the purpose of the form and provide a detailed description, if needed, that may answer any questions that volunteers have.
4. Click on Untitled Question to change your next question to Volunteer Name: If possible use a dropdown list of existing volunteers to eliminate error in the spreadsheets. If needed, you can add an "Other" or "New Volunteer" free text field for volunteers who are not listed in the drop-down.
5. Click on the "+" button to add the next question
6. Add a new Date field for Date Volunteered: The submission will be time-stamped, however, this is especially useful when volunteers don't submit their hours on the date that they volunteered.
7. Add a new field for Hours: This can either be a Short Answer or Dropdown field. We do not recommend doing a start/stop time just because that's an advanced calculation in the spreadsheet that is difficult to manipulate.
8. Add a new Dropdown field for Activity: This should be a fixed list of activities or categories that volunteers participate in. We don't recommend an "Other" field, because you won't know what Other means and you can't track numbers against it.
9. Lastly, add a new Paragraph field for Notes or Feedback: This can be used as a good way for volunteers to communicate with the organizer.
After all, is done. The result? A beautiful Google Form.
Easy enough, right? But that's not all! You need to make sure that you set up the correct settings so volunteers can actually access this page.
Step 2: Establish rights & permissions
One time, we created a simple survey and shared it with our community of organizers. Within MINUTES we were getting frantic emails of confusion, people accidentally changing the questions, adding new answer options, not being able to view the survey, asking us if we've even proofread the article, you name it! Not only was it embarrassing for us, but we were frantically trying to resolve this issue before it spun out of control. Something that was supposed to be so easy, turned into a few hours of additional work to fix and respond to everyone with an update.
So how do you avoid this?
Set up your sharing settings correctly.
Here's how to do that:
When you finish setting up questions on your form, click on the Settings "gear" icon in the top right corner.
Under Requires sign in, uncheck the first box - Restrict to users in "company name" and trusted domains. This basically means that anyone with the link can access the form without having to log into a Google account.
Don't skip this part! Or else you'll get blown up with emails from people saying they can't open the form.
The other options are optional, just click Save when you're done.
That's it! Don't do anything else. It's super simple, but it can be overlooked.
Next, you need to figure out how you want your volunteers to access the form.
Step 3: Decide on how volunteers will access the form
Google allows you a few different options regarding how you share your form with your volunteers.
You can:
send the form via email to everyone directly from Google - useful for the initial introduction, and as a reminder after events

share a link on your website - useful if you have a designated volunteer page, resource page, or if you're just posting a reminder in your online announcements

embed the form on your website - also useful on a designated volunteer page and much easier if you have a webmaster or someone familiar with HTML embedding
Sounds complicated? Stick through it, you've made it this far, and don't even dare to break a sweat, because we will break down all three options for you. Pick one, two, or all three
Option 1: Email the Form Directly to Volunteers
1. Open your volunteer time tracking form
2. Click on Send in the top right corner

3. Fill out the form that will pop-up: You will need to provide the list of emails in the "TO:" text box, adjust the Subject or leave as is, insert a personalized message. You can also select to include the form directly in the email (check the box) or Send as is, and the email will include a link to the form, then click on Send.
Option 2: Share a Direct Link on Your Website
1. Open your volunteer time tracking form and click on Send in the top right corner
2. Next to Send Via, select the "link" icon, then click on Copy

3. If you have a Facebook page or organization site page that is dedicated to your Volunteer Program, share this link and let volunteers know about the tracking process.
Option 3: Embed the Form on Your Website
This is is probably the most complicated. I'm not going to walk you through how to embed on your site because everyone reading this is most likely using a different web platform. So if you have a webmaster or know someone who is comfortable with HTML coding, here's how to access the specific code for your form to share with them.
1. Open your volunteer time tracking form and click on Send in the top right corner
2. Next to Send Via, select the "< >" icon, then click on Copy and share with the person embedding this on your site
After you've established that, there's one more thing left. You're so close to the end!
Step 4: Setup the reports
The whole point of tracking hours is to create reports. Google Forms and Spreadsheets may not be as intuitive and easy to manage as other time tracking programs, however, for the bare minimum, it should do.
Thankfully with Google Forms, you can set them up to collect hours in a master spreadsheet and then use pivot tables to create the reports you want. Let's talk about how to create a spreadsheet, and then we'll briefly talk about Pivot Tables.
Create a Google Spreadsheet to Collect all Your Data
1. Open your Google Form and click on the Responses tab
2. Click on the Excel icon
3. Select Create a new spreadsheet then enter the spreadsheet title in the text box (Ex: Volunteer time tracking responses), and click on Create. Your spreadsheet should automatically open in another tab.
That's it! Super simple right?
You really can't mess that one up
Creating Pivot Tables
*Sigh… Pivot tables. For some of us, pivot tables may be a gibberish term.
But what are pivot tables? By definition, a pivot table is a programming tool that allows you to reorganize and summarize selected columns and rows of data in a spreadsheet or database table to obtain the desired report.
Still gibberish?
We know… Pivot tables are definitely an advanced topic, that's why some people prefer to save the time, money, and headache by using a program that automatically generates these reports (and others) for them. But if you're sold on using a spreadsheet then you have to use pivot tables to save you time, or else your time tracking program may fail altogether (Seriously).
We recommend creating pivot tables:
By Volunteer Name

By Activity

By Volunteer Name & Activity
In case you thought Google forms and spreadsheets were a lot of work, pivot tables are 100x worse! No joke. If you're looking for something as advanced as pivot tables, then Google forms & spreadsheets probably won't be good enough for what you're looking for.
Conclusion
Using Google forms to track volunteer hours is a great way to save money and paper. However, if you're looking for online software that is simple and easy to use, but you're really interested in this Google docs specifically because they're free, well as they say, "the best things in life don't always come free."
"What does that mean?"
There are many cost-effective time tracking programs that have been around long enough to know what volunteer coordinators need to get their volunteers to actually log hours and to be able to keep track of them in an easy way. Track it Forward is one of those, it's simple to use, way easier to set up (especially because all the reports are done for you), and completely configurable. (The last one, is probably the #1 reason why most of our customers come to us anyway).
If you're on the edge about Google forms, try Track it Forward free for 30 days. There's nothing to lose and you don't need to provide your credit card. If it's not for you, then that's ok too because the truth is told, it's not for everyone. We've had hundreds of customers come to us who used to use Google forms and spreadsheets and they had tons of complaints about why it didn't work. So many actually, that we created a whole article around why Google Forms aren't for everyone and the complaints that we are constantly hearing about them. Before you make the leap, provide your email in that box below and we'll send you a compilation of what others have been saying about their experience using Google forms to track volunteer hours.
Or don't. We don't care either way.