x
The Real Lives of Volunteer Coordinators
A Blog for us to Learn from Each Other
Insider Guide To Finding Volunteer Management Software
Many Volunteer Coordinators and Managers, just like you, are looking for different tools and software to help them do their job efficiently and accurately.
But, it's hard!
Oftentimes, volunteer management software can be a bit more of a project than what most intend. This is because it is very easy to not see the red flags of different companies, and be very easily persuaded by salespeople within the volunteer management software.
Anytime you show potential interest in a volunteer management software system you can be sent down a "sales process" that is confusing, overwhelming, and sometimes intentionally manipulating.
But, we are here to help you understand the perfect process to go through when finding a new volunteer management software and comparing all the different software systems out there. Not every organization is going to fit in with one single volunteer management system, that's why there are so many different options!
We believe that committing to a volunteer management software program could be the best commitment you make and can even last in your organization for multiple years. So, we want to take you through what we feel every customer should do while comparing the volunteer management software program to find the absolute best fit for their organization.
Pre-Research Steps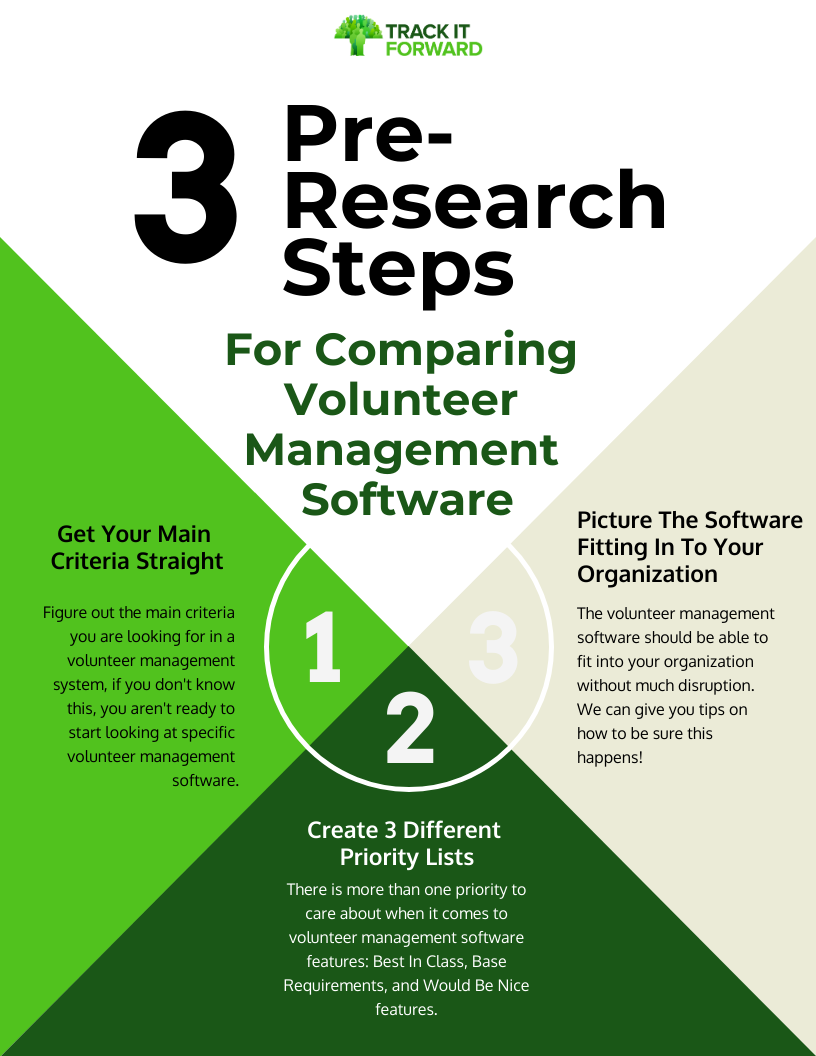 Step 1: Figure Out The Main Criteria You Are Looking For In A Volunteer Management Software System
What has driven you to start looking for a volunteer management software system? Were there problems with your old system? Or you are just looking for one place to have different operations?
It is imperative that you analyze your problems and what solutions you think a great volunteer management software system will have for you. This will help you find a perfect fit when it comes to finding a software solution.
In our volunteer software guide comparison worksheets you can start listing these out and trigger your answers to this topic.
Step 2: Start Listing The 3 Types of Priorities
It might seem like you are overanalyzing, but it is so so necessary to distinguish between the three different types of priorities you have when it comes to comparing volunteer management software.
If you aren't quite sure what your priorities are, we recommend you go to our last article and download our master list of features to consider!
As you continue to search for software, you will see that your wants and priorities will fall into these categories:
Best In Class

Base Requirements

Would Be Nice
Let's elaborate.
Best In Class are features you want to be getting the absolute best technology in. These may be the same as your base requirements, or a more detailed version or feature. These are features that the volunteer management software is prioritizing, constantly working to improve and be the best at. These features are so important that you need to make sure your volunteer management software offers them as the best, not just as additional features. This may be reports on volunteer time or programs.
Base Requirements are the things that you absolutely need, you will not accept a volunteer software that does not have these things. This could be a volunteer application software built-in or an event calendar.
Would Be Nice features are features and things you are hoping to get, but if a volunteer management system shows up that has all of your base requirements, you are going to be maybe a little torn, but ultimately okay if it isn't there. This may be built-in donation tracking or sending emails from the software. These are not deal-breakers.
You might not know what you want your volunteer management software system to do or be the best at, especially if you are looking for volunteer management software systems for the first time. Check out our dig deeper features article to find more features that you might need, or download our full guide to comparing volunteer management software to see all the tips to purchasing and comparing software, their features, and more!
Step 3: Analyze Your Organization's Workflow & How Volunteer Software Will Fit In
One of the biggest complaints of volunteer management software is that it adds more work - if this is the case, you had the wrong volunteer management program for your organization. Once volunteer management software is set up, it should not be more work for anyone! The only reason this happens is that the software does not fit in with your organization's existing workflow.
You may be wondering what in the world is a workflow? Here's an example:
If your organization is used to having volunteers sign up for events, we give them an event calendar that tracks volunteer time. If your organization works by doing a check-in and check-out system, you can use a digital sign in sheet or check in kiosk that is attached to our software and logs hours for volunteers. And lastly, if your organization's workflow is to have volunteers log their hours at home - you can use our mobile or desktop app to log hours.
Better Explained: For our software, we focus on volunteer time tracking, we are not a volunteer management software system. But, we have 3 main different ways that organizations can use our software. These are supposed to help organizations morph our software into their existing workflow.
So, understand how the process of using volunteer management software will fit into your organization's existing workflow. It is enough effort to bring on a whole new volunteer management software system, you don't need to reorganize your organization and how everyone works too!
We can help you figure out your workflow if you need, just download our worksheets!
The Research Steps

Step 4: Start Your Initial Research For Volunteer Management Software
There are a few things to do and to avoid when you start your research for a volunteer management system.
To Do:
Not To Do:
Consider the ordering of review sites like Capterra - companies can pay to be higher on these lists!

Think that reviews are the end-all be-all. Online reviews are very skewed. Negative reviews can be people who did not give an organization a chance and positive reviews can be people who were given an incentive to write the review!
Step 5: Build a Large List of Well-Known, Recommended, and Stand-Out Volunteer Management Software
This will be the list that you start to use to compare different volunteer software programs - one of your future systems should be on this list! This step is more of an outline, rather than a deep dive. There can be 15-20 different types of volunteer software programs on this list.
The importance of this list is to generate a starting point for your research. Write down the different volunteer management software that may have been recommended to you, that you see advertised, and that look appealing and appropriate for you when you start researching on a search engine like Google or Bing.
All of these sites should mention your base requirement features.
Step 6: Rank and Eliminate Down to At Most 5 Different Organizations
Since all of these websites in your list have your base requirements, it is time for you to be a bit picky and eliminate some of the software on your list. You can do this by listing some external things that you might care about in a volunteer management software, as well as if it looks like they are prioritizing your Best-Evers or Nice To Have features.
Here are some other options to consider to narrow down your volunteer management software choices, if they are important to you!
Sleekness / Design

Pricing (Only if it is is way off - we will tell you how to try to negotiate this later)

Community Involvement (does the website have a blog, newsletter, or other techniques to stay involved in the Volunteer Coordinator community)

Variety of Organizations Supported (does it seem to be a lot of organizations that the software can service, do they already serve organizations similar to yours?)
Insider Tip: If the company is asking you to fill out a multitude of organizational questions, they may be sizing you up and it could be a red flag that they are only interested in dealing with large organizations, so if you're not perfect you may get ignored, but don't discount them completely, wait for their response.
Step 7: Find Options For Learning More
Now that you have narrowed down your volunteer management software options, it is time to prepare to reach out to the organizations. But, before you do this you need to become well-acquainted with the organization.
Insider Tip: Sales teams are much more responsive to individuals who have done their research rather than those who look like it might be their first step in the volunteer management software comparison process.
Different ways to learn more about a volunteer management software are by:
Exploring the website

Reading Case Studies and Success Stories of Organizations Who Like The Software

Help Libraries on the website

Support videos and Demo Videos on the website
Our downloadable worksheets can help you lay this out.
Final Steps: The Contact Process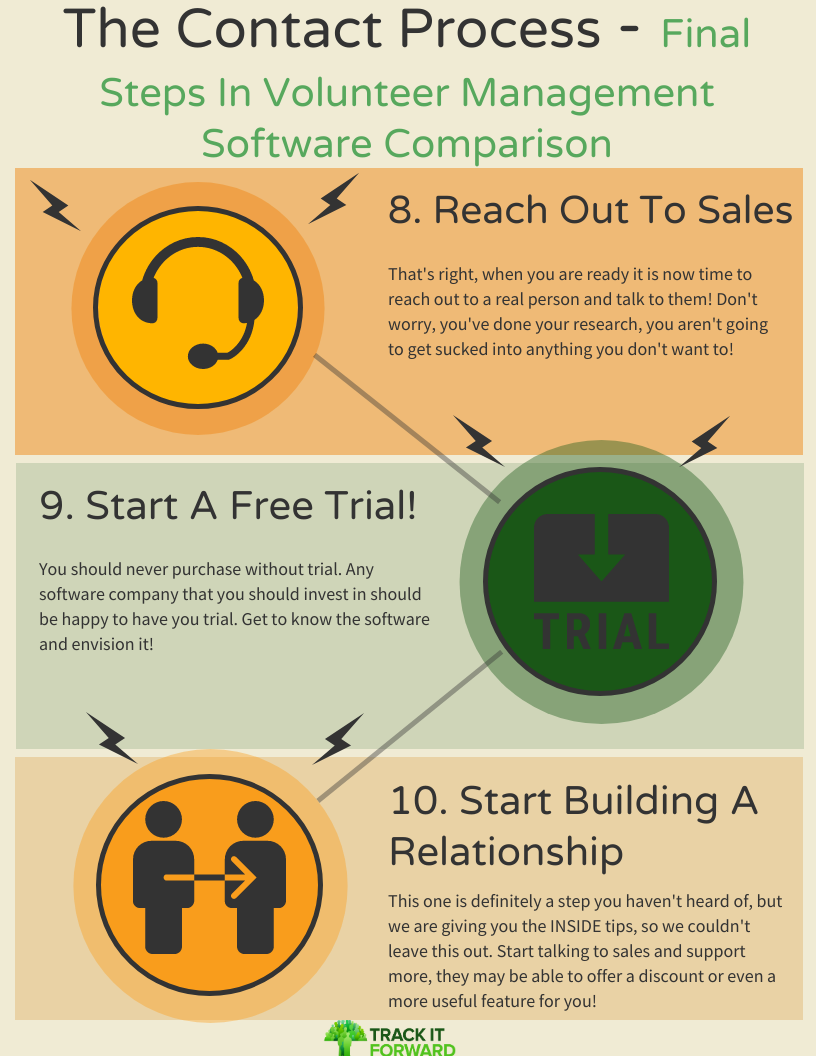 Step 8: Reach Out To Real Sales People
For this step, you should be considering 3-5 different volunteer management software. While you have done your informational research, you will still learn a lot more about a software when you talk to a salesperson, and sometimes they will give you more than you know.
It is important to email basic questions or preliminary questions to salespeople before scheduling a call, especially if your questions include deal breaker information. You do not want to sit on a call for 20 minutes only to find out simple information that would have prevented you from pursuing the software!
Insider Tip: Have a salesperson brainstorm for you, they may have a way to fit their software into your organization better than you think - sometimes they may be able to design certain features for you too! Tell the salesperson your problem first, not your ideal solution. They've worked with hundreds of organizations, they know how to create a solution for you! If it seems like they don't, nudge them a little bit by explaining what you would like.
Reach out to salespeople, tell them you are having an open mind, let them know what you think you have gathered in your research and what exactly you are looking for.
Step 9: Start A Free Trial!
Most volunteer management software will offer you to start a free trial anyway, but you should definitely get an offer to start a free trial after you talk to a salesperson.
Our worksheet provides step by step information for how you should approach a trial, what you should do, and a spot to take notes!
Take yourself through the software, learn it and try to experience it as different roles in your organization would. If you have any questions or want to learn more about the software while you are trialing - do not hesitate to reach out to sales teams.
Insider Tip: You are marked as a pending sale in their system until you start paying, so you will be a priority for answering questions!
Step 10: Build A Relationship With Sales or Support At Each Volunteer Management Software Program
Sales and support teams are very helpful and important to have on your side, especially when you choose a volunteer management system for good. Building a relationship with sales and support teams means you will fully understand the system and will be a known customer if you have any questions that arise throughout your time using the software.
Be sure to discuss financial issues after you build your relationship. We know budgeting is tough, but if you don't build a relationship with the organization first, you are less likely to get a discount if that is something that you want. We have tips on negotiating software pricing with sales in our Insider Guide download, but remember - asking for a discount comes with strings attached!
At this point, with the help of our insider tips and downloadable worksheets to lay out your comparisons, you should be able to make a decision on which volunteer management software is going to be best for you, or at least narrow it down to 2 for your team to decide.
When you feel you have the best deal, with the best company, make the call and get started! Volunteer management software is a great way to organize your volunteer program.
If you are still feeling iffy on your decision making process, don't worry. Check out our previous articles where we deep dive into different features and things to look out for in your research process!
Other Articles in this Series