x
The Real Lives of Volunteer Coordinators
A Blog for us to Learn from Each Other
We've all heard it - whether it be from our parents, grandparents, or the older generation in general. They are all bewildered at how constantly we are on our phones. Some people might as well have their phones glued to their hands - but how can we not be so dependent on mobile phones! You can do virtually anything you want on your smartphone these days, it makes some practices much more straightforward, and some already simple exercises automated.
One of these processes that are made accessible on a mobile device is volunteer time tracking. Whether you are a regular volunteer or a volunteer coordinator - being able to have a volunteer time tracking app will make the process of logging and monitoring volunteer hours much simpler.
Track It Forward has a mobile volunteer hour tracking software that is simple software and one of the easiest ways for volunteers to track their own hours and for admins to manage volunteers and volunteer hours quickly.
If you are looking for a different option and method of volunteer time tracking, check out our eBook where we go over all the different methods for time tracking, and their pros and cons!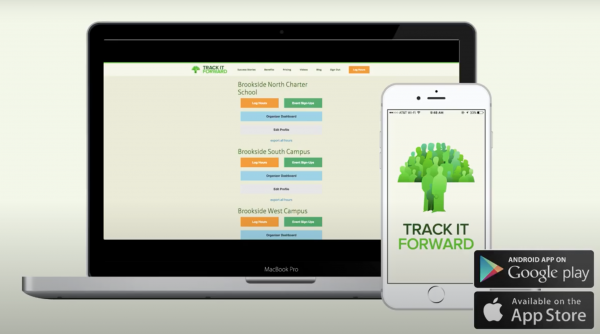 How Mobile Volunteer Hour Tracking Software Helps Volunteers and Volunteer Coordinators
Developers design volunteer time tracking apps to ease the process of tracking volunteers and logging volunteer hours. Often you hear of volunteers forgetting to submit hours, having technical difficulties, or if you are still on a paper system - losing the paper.
Having a mobile app eliminates these issues. People are always on their phones; having a volunteer time tracking app allows them to quickly and instantly log their hours. It also provides for an easy look-up process for volunteer coordinators and managers.
But, you don't have to take our word for it. Junior Auxiliary chapters used the mobile app to track hours and found it helped their organization out immensely.
Volunteer Time Tracking App for Volunteers
Having a volunteer time tracking app is beneficial for volunteers because they can instantaneously log their hours. Instead of it being a long process that the volunteers have to remember to do, or even remember to check on if they are working towards a goal - they can see it all from the mobile device that they use every day.
Volunteer Time Tracking App for Volunteer Coordinators and Managers
Having mobile volunteer hour tracking software should be beneficial for both the volunteers and the volunteer coordinators. The primary use of mobile volunteer time tracking apps should be to take pressure and responsibilities off of the volunteers and the volunteer coordinator. Having a mobile app for volunteer hour logging is a great way to do this, it is easy and a great way for volunteers to quickly log their hours right after they complete them.
But, a genuinely excellent volunteer time tracking app will be beneficial for coordinators and managers in other ways too. Mobile volunteer hour tracking software should allow volunteer coordinators to plan future events, easily add volunteers, edit existing hours, and see the progress of all their volunteers.
Great news: we know just the app that does all of this - and more!
Track It Forward's Volunteer Time Tracking App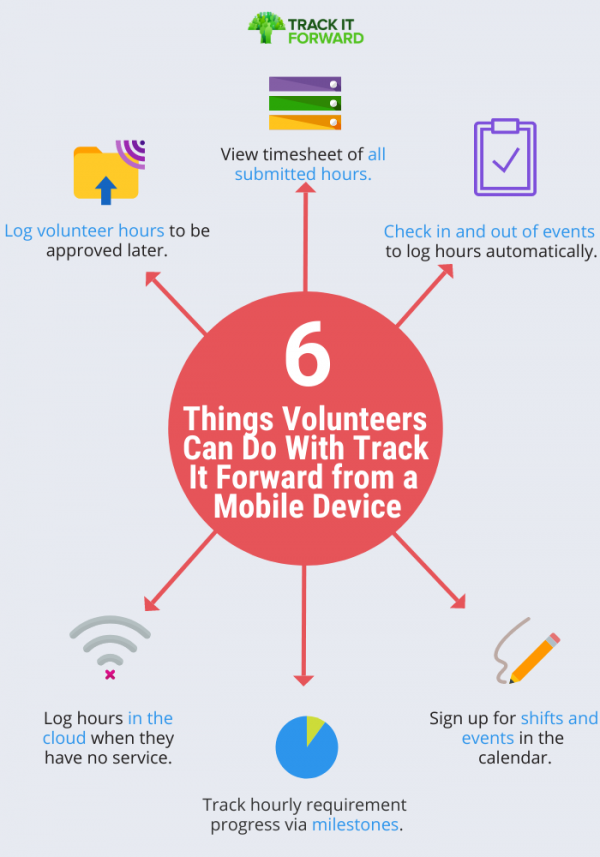 Track It Forward is a software program that was initially developed for desktops. The desktop software has a few more features than the mobile app, but the mobile version is still full of features that are beneficial to both volunteers and volunteer coordinators!
Track It Forward's mobile volunteer hour software app is available for IOS devices and Android. The app can be downloaded simply from the Apple app store or Google Play by searching "Track It Forward".
This volunteer time tracking app has many features that will help make volunteer hour logging, tracking, and managing much simpler! Here are some of the features that Track It Forward mobile app users can enjoy.
Hour Log
With the mobile app, volunteers can log their hours (the same way they can on a desktop with Track It Forward.) The hour log is extremely simple. An admin or volunteer coordinator can adjust and add information that they want to be included on an hour log. The information on an hour log could be the date, times, activity, a reflection, or even a categorized system that will break down the different activities into categories for reporting purposes.
Allowing volunteers to log their hours quickly creates a simple hour logging and hour tracking process. The customization of the hour log must be done on a desktop by the admin, but the hour log will show up with all of the customizations on the mobile app software.
Offline Mode
The mobile app also has offline mode, which allows the user to log their hours when they don't have any wifi or service. Offline Mode is unique to Track It Forward's volunteer time tracking app. With our mobile app and offline mode, the device will be able to store logged hours on a device and the app's cloud when they are logged offline, or in an area with no service. This is an excellent feature for volunteers who may be volunteering in third world countries, forests, mountains, or just an area that doesn't have great service!
Offline Mode eliminates the worry that data will be lost when there is no service, a concern that often happens when volunteer tracking software is on a mobile device.
Calendar
Volunteers can view future events and shifts placed in the volunteer calendar. Straight from their mobile device, the volunteer can sign up for an event and even message the volunteer coordinator in charge of that event. This helps the volunteer have all of their information in one location- their phone!
Digital Sign-In Sheet
Some volunteers and volunteer coordinators still prefer to do a sign-in and sign-out method for tracking volunteer hours, and we totally get that. So, we developed a digital sign-in sheet that is available as a feature on the volunteer time tracking app. You can edit, create, and configure in the mobile app by the volunteer coordinator or admin!
Check-In Kiosk
Similar to the digital sign-in sheet, the check-in kiosk is a great way to use the mobile features on a communal device. The check-in kiosk allows volunteers to remember to log in and log out easily. When they use the kiosk, they are logging in under the correct event, category, and all of the hour log information is correctly filled out. Then, when they check out, the hour is automatically logged for the admin!
This is an excellent option for organizations that have an Ipad or tablet that they would like to use for sign-ins. The Track It Forward mobile volunteer tracking software is available on these devices as well.
Milestone Progress
Through Track It Forward, admins can create milestones for volunteers. Milestones can be a certain amount of hours logged to meet a requirement, get a prize, or whatever your organization may want to track. With the volunteer time tracking app, volunteers can see how close they are to this goal. Also, volunteer coordinators and managers can see how far along volunteers are as a whole, or individually.
With the mobile app, volunteers can easily check their progress, and coordinators can simply pull up the milestone progress for a category, volunteer, or goal!
Timesheet
Volunteers can see the hours they have submitted successfully in the app. This may be helpful in case they want to check on what they have done or see what they have logged. Volunteer coordinators can see all of the submitted hours from all volunteers on the mobile app too! They can easily change or edit a submission if there was a mistake as well.
The volunteer time tracking app allows volunteers and admins to see and edit any submission that they have logged easily.
Approve Hours
If your organization is one that would like to have volunteer coordinators and admins approve the hours before they are logged, you can set this up in the volunteer coordinator or admin dashboard. Hour approval can be helpful for some admins who like to go through and double-check entries, or if you have strict guidelines that need to be adhered to for each volunteer hour logged.
Hours can also be approved from the mobile application Volunteer Coordinators, and admins can approve hours from anywhere with their mobile app.
These are just all the features that our mobile app has - there are other methods of volunteer time tracking too that might be even better for your organization. Check them out in our eBook to learn about all the methods that could be a superstar for your organization!
Track It Forward works to help make volunteer and volunteer coordinators jobs easier. We believe our mobile app would be a great fit for so many organizations. Check out all of our features here.
How A Volunteer Time Tracking App Helps Manage Volunteers
Strictly for volunteer coordinators or admins, the mobile app allows submission of new volunteers into the system and removal of volunteers as well. This means if new volunteers come to an event, you can just pull out your phone and add them to the system.
Track It Forward's mobile volunteer tracking software is simple for any volunteer coordinator to use and simplify their volunteer management practices.
If you are interested in exactly how different time tracking methods might be beneficial, download our eBook - Every Volunteer Time Tracking Methods You Can Use!
---
FAQs
Is there a mobile or web app I can use to keep track of my volunteer hours?
Yes! Track It Forward is one of the mobile apps that help track, manage, and log volunteer hours all in one spot.
Why is it important to keep track of volunteer hours as a manager?
As a manager, keeping track of volunteer hours is a great way to keep your program personalized, see who is volunteering the most, and to see which departments may need more help than others. It is also a great way to track your process as a volunteer coordinator or manager when you see how much a volunteer does and how it is affecting your program's progress.
What's an easy way to attract volunteer workers?
An easy way to attract volunteers is to introduce them to your program and let them know how they will be helping your mission. Volunteers like to feel of value, and they want to know exactly what they are going to be helping. Try using social media to find new volunteers!