x
The Real Lives of Volunteer Coordinators
A Blog for us to Learn from Each Other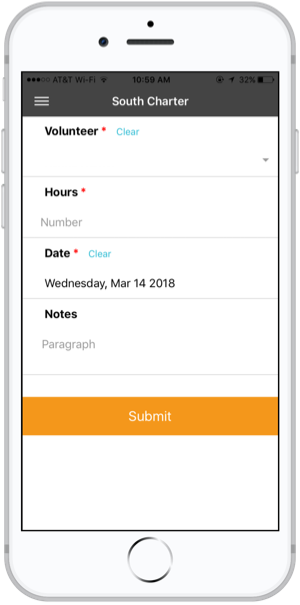 Tracking volunteer hours doesn't have to be limited to paper sign-in sheets or even some generic employee tracker. We know how hard it is for volunteer coordinators in this day and age to constantly try to find ways to motivate their volunteers to actually track hours (more on that here). At the bare minimum, let your volunteers track hours via a mobile app on their iPhone or Android device. It's the fastest, easiest, and most convenient way volunteers can log hours, regardless of their age or technology proficiency. The best part is that the Track it Forward mobile app is free, you just have to create your account through the website first.
The Track it Forward mobile app can be used as a kiosk for managers to check in and check out volunteers, or volunteers can download the app on their personal mobile devices to log their hours even after they've left the premise.
Through the mobile app, volunteers can do the following:
Check in/out of events
Log hours volunteered
View timesheet of all submitted hours
Track hourly requirement progress
Sign up for shifts and events
In addition, managers can also do the following:
Add new volunteers
Check-in/out volunteers
Verify volunteer hours
Approve or reject volunteer hours
As we mentioned, this app is free but requires an account on Track it Forward. If your organization isn't using Track it Forward yet, you can watch this video to learn more about it or view the pricing on this page. (Remember, nonprofits under 25 volunteers are FREE!)
To download the app, just go to the Apple App Store or Google Play Store and search for "Track it Forward" or "Volunteer Time Tracking" and you'll find us!
For more information on the mobile app, read more about the features here.
The Real Lives of Volunteer Coordinators
A Blog for us to Learn from Each Other