x
The Real Lives of Volunteer Coordinators
A Blog for us to Learn from Each Other
Onboarding Your Volunteers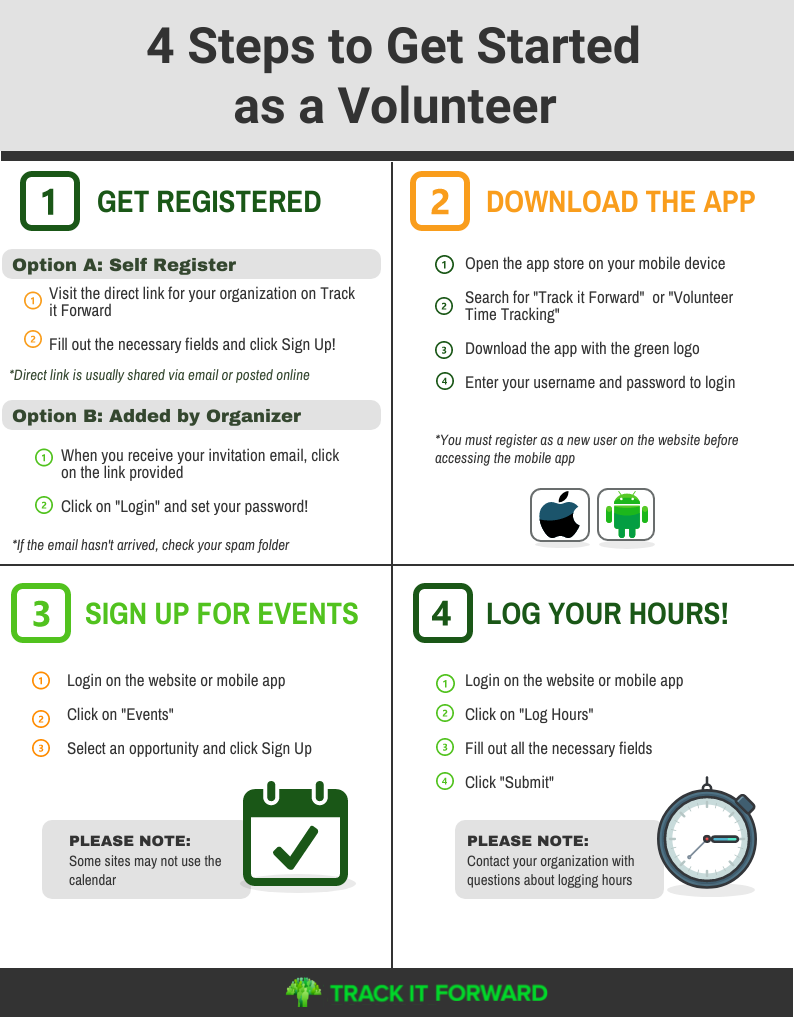 In this guide, we will review some of the general steps for getting started as a new volunteer on Track It Forward. Please note: each organization is different so some steps may not apply to your program.
1. Get Registered
The registration process will be a bit different for each volunteer, depending on the method used by the organization. If the organization is importing volunteers to create accounts on their behalf, the volunteer will need to wait for their invitation email. After they receive the email, they can click on the link provided to access their user account and update the password!
If volunteers don't receive the invitation email, they may need to check their Spam folder. They can also go directly to the password reset page to generate a new login link.
If volunteers need to self-register, they will need to visit the direct link to their organization's site on Track It Forward. This is typically shared via email or on the organization's website. After completing the required profile questions, they can start logging hours.
Recommended article: How do I Sign Up as a Volunteer of an Existing Organization?
2. Download the app
Some volunteers might prefer logging hours through the website, but there's a mobile app available as well. They just need to search for Track it Forward or Volunteer Time Tracking in the app store for their device.
Just make sure that they know they will need to have an account set up on the web, prior to signing in to the app. And YES, it's free to download.
Take some time to explore the app and the desktop version of Track It Forward. There are more features on the desktop that a volunteer may find helpful or useful!
Recommended Article: How To Download the App
3. Sign up for events
If the organization uses the Event calendar, volunteers can sign up for an event through the website or mobile app. Volunteers simply click on the event in the calendar and sign-up. Depending on the event settings, they can also see other volunteers who have signed up for the event.
If they need to cancel, they can return to the calendar to delete their RSVP so the organizer is notified.
Recommended Article: How do I Check Event Shift Availability and Sign Up?
4. Start volunteering and logging hours!
Volunteers can log hours through the website or mobile app. When logging hours on the mobile app, volunteers will automatically be directed to the hour log when the app opens. Volunteers will need to fill out all required fields on the hour log before submitting their time.
On the desktop, volunteers will see an option to Log Hours after they sign in and access their user dashboard. From here, they can also see their milestone goals and how many hours they have logged previously.
For both of these hour logging options, if hour approval is enabled, their submitted time will appear as "Pending" until it is approved by a site administrator.
Recommended Article: Manage Your Hours: Log, Edit, and Monitor