x
The Real Lives of Volunteer Coordinators
A Blog for us to Learn from Each Other
If you're looking for a new volunteer coordinator, make sure you've read how to optimize your volunteer job description to reach the best candidates before you post to these locations that we talk about in this article.
There are a few places where you can post volunteer coordinator jobs and not each option may be the best job board site for every organization. So we've broken down the top 3 categories of best places to post jobs for volunteer coordinators to help you make the right decision for your organization. These categories are organized online communities, job board sites for nonprofits, and third party job board sites!
But, before you do any online marketing and recruiting of your organization's job vacancy - in-person recruitment is still a thing! Sometimes, the best employees come from volunteers or people who are already involved in the organization. Be sure to let your organization, it's volunteers, and others who are indirectly involved with your organization know that a volunteer coordinator job position is open.
Request job applications from anyone who is interested, you never know what you may find! If one of your organization's priorities is to have a volunteer coordinator who is familiar with the organization, this may be a great way to recruit a volunteer coordinator.
After this, you are ready to branch out and go digital! Posting your vacant job description can be a bit unfamiliar, but with our guide, you can be sure you are posting to the best job board sites.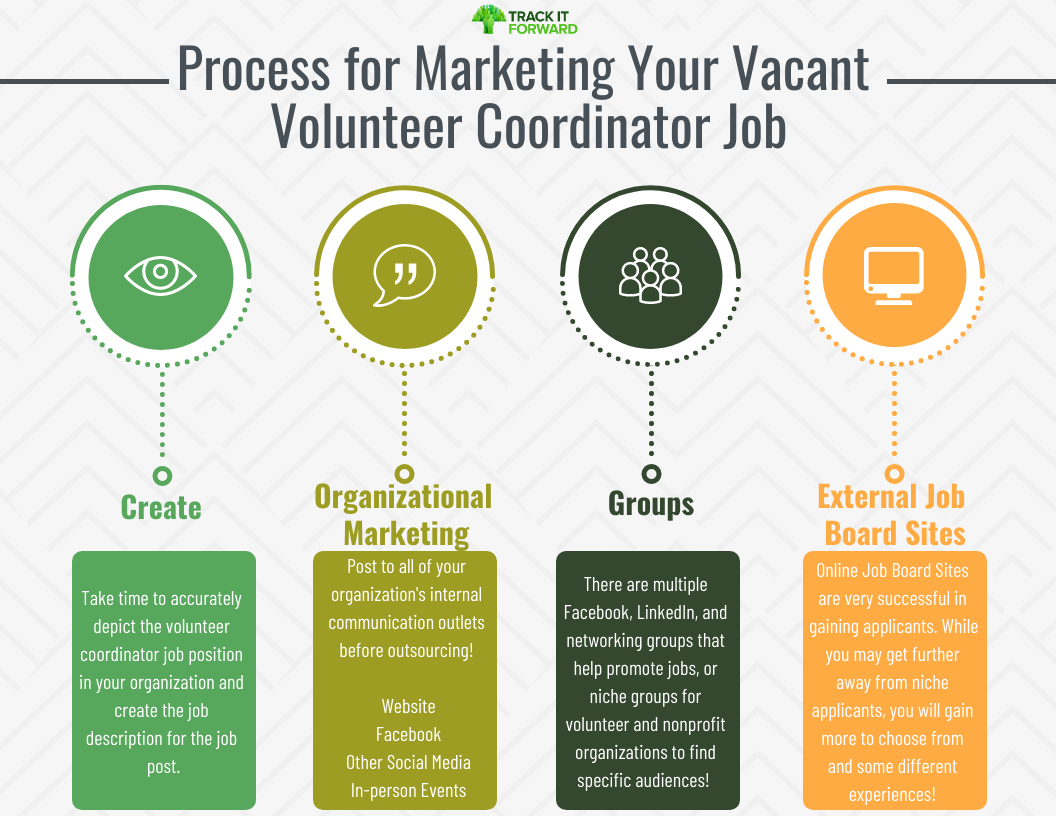 Best Organized Online Communities To Post Your Job Opportunity
The best way to start spreading the word about your organization is in your own network! Below are some of the best methods to share your volunteer coordinator job post and the benefits and formats of sharing them.
Share on Your Own Website
Your website should be the first place that you post any information about the volunteer coordinator job vacancy. This could be where you direct people to apply, or just a job posting location, it is up to you!
Benefits: This is the place where you can put all of the details- everything that is in the job description you created goes here.
Format: However you want!
Share on Your Organization's LinkedIn
LinkedIn is a great professional network. If your organization does not have a LinkedIn, the best start is to make one! Then, you can post on behalf of your organization that you are hiring!
Benefits: Working professionals will be able to see it and look at your organization via LinkedIn
Format: It would be similar to a social media post, you can format it yourself! We would not recommend putting the full job description on the LinkedIn post, but maybe something along the lines of a brief overview and a way to enquire about the job may work just great!
Share in Facebook Groups
Facebook groups are great ways to introduce yourself, your organization, and your job vacancies to a group of people who will most definitely be interested! Sharing in groups like the ones listed below will help contact nonprofit audiences to get the word out about your volunteer coordinator job vacancy!
Benefits: Your organization will get marketed to many nonprofit-concerned individuals, and you can recruit volunteer coordinators from word of mouth between these individuals.
Format: Make this brief as well, this can be a bit less professional and more conversational. Post more details than the LinkedIn post, such as day-to-day responsibilities and qualifications. But don't include all responsibilities or salary. Be sure to find a great way for people to apply!
Share on Your Organization's Facebook
Similar to LinkedIn, your organization can advertise their job opening on social media! This is a great opportunity to market an in-organization job opportunity for your following, and people who are involved in your organization.
Benefit: Your post can get shared and around to other people who are linked to your organization!
Format: This should be more casual, but also brief. Just announce that you are hiring for a volunteer coordinator, what the main responsibilities are, and how to apply or express interest!
Best Job Board Sites Specifically For Nonprofits
There are multiple job board sites that are designed specifically for nonprofit job postings. These are a great resource for posting volunteer coordinator jobs! The best job board sites for nonprofits will have a large following, or commit to outsourcing your job posting to other recommended job board sites.
In our job board breakdown list, you can get what we think is the best job board sites, links on how to post jobs on them, and the benefits, formatting, and drawbacks.
Here is a screenshot of what you get when you download our list!
Best Third-party Job Board Sites
In today's world, there are so many different online job board sites. The best third-party job sites cater directly to keywords and help try to match the best applicants. You would not want to post your job description to a website that does not help you find the best volunteer coordinator!
The only issue is that some of these job board sites cost money, so you must see how your organization feels about spending money on recruiting volunteer coordinators!
To see the benefits, drawbacks, what you need to fill out, and more on the best job board sites, download our breakdown list for free!
Here are the third-party job board sites that we give details about:
Indeed

LinkedIn Jobs

SimplyHired

Glassdoor

ZipRecruiter

Craigslist

Nextdoor