x
The Real Lives of Volunteer Coordinators
A Blog for us to Learn from Each Other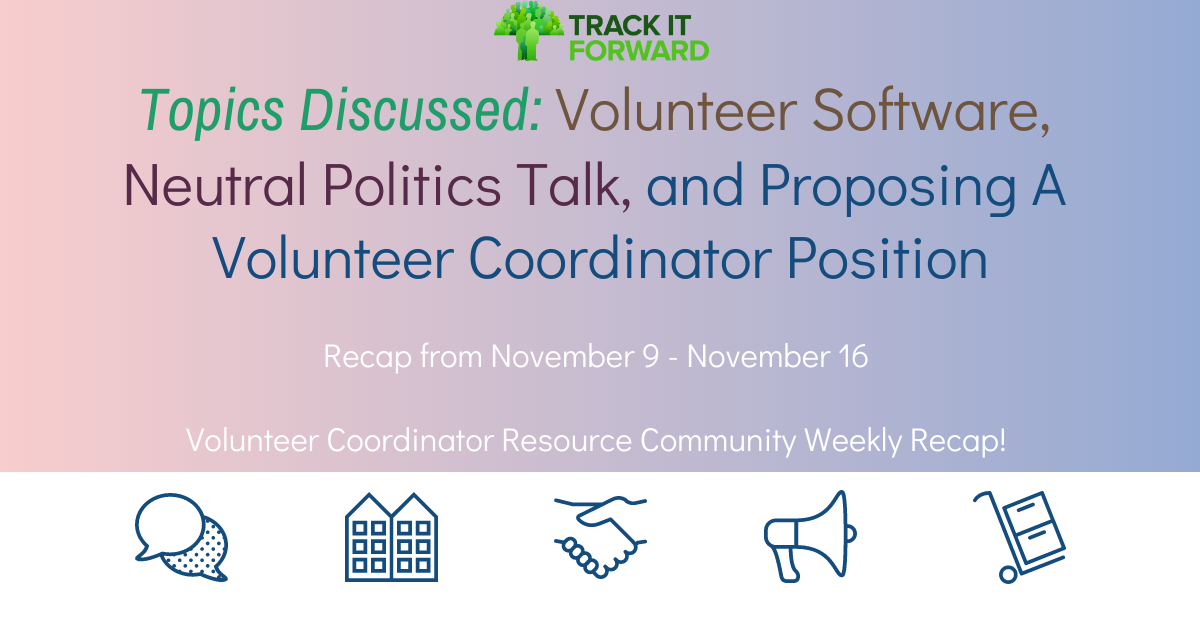 There are so many different volunteer software programs available that it can be a bit overwhelming sometimes. Trust us, we know. As a volunteer time tracking software, we see more and more volunteer software systems surfacing.
The most important thing we have found in our research and years of experience is that there is not a single volunteer software system that will work best for every nonprofit or volunteer organization. Every different organization will work best with a different volunteer software system.
So, while it is a great resource to ask other Volunteer Coordinators what software system they use for their volunteers, it is also important to keep in mind that these volunteer organizations are different than yours, and might find some features more useful than you would.
A great way to get other Volunteer Coordinator's opinion on a volunteer software suggestion is to explain a bit more about what you are looking for in a volunteer software and what your main priorities are.
Here is an example of a great post explaining their need for volunteer software and welcoming guidance.
The comments on these posts usually contain many helpful Volunteer Coordinators describing how they like their volunteer software system, and why it might be useful for this organization.
Instead of showcasing the comments, we are going to leave a resource we have just spent about a month on perfecting. The first three resources were written with the help of our sales representative, giving us some insider sales information when it comes to looking into purchasing volunteer software.
Resources on Searching For Volunteer Software
---
This past week was filled with election drama in the United States. It seemed to be all that anybody could talk about. And while some people are happy discussing their views on politics, others prefer not to talk about it or to be assumed to be a certain political party.
It is important to respect your volunteers' privacy in all aspects. This can include political aspects! If you are someone who wishes to remain non-biased when it comes to politics and talking to your volunteers, you are not alone!
It is up to you if you choose to address politics in your volunteer newsletters alltogether. Whatever you think is best for the volunteer program you have!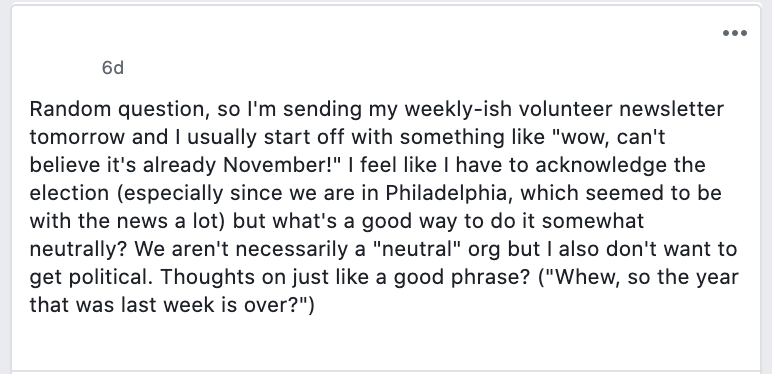 If you would like to offer more non-biased suggestions. Click here to comment!
Neutral Suggestions From The Comments
"Start with.... Well that's been a week....and a half!"

"I honestly would not acknowledge it. I feel like it could open a can of worms you dont want to open."

" I know many of us are feeling a lot of emotions this week, and..."

"I'd go with the news on the vaccine rather than politics. The sooner the vaccine is in place, the sooner we can return to service."

"Talk about this is 100th year of women voting and link to NPS site. https://g.co/kgs/v4x1AG"

"What a week of Tuesdays..."
Resources on Staying Neutral During Political Times
---
Have any of you had to go through the process of pitching for another Volunteer Coordinator or Manager? It might have even been yourself!
Oftentimes, when hiring a role like a Volunteer Manager or Volunteer Coordinator in a nonprofit setting, there needs to be evidence that the employee will be efficient and be worth the cost of hiring someone.
If you have ever written a proposal or presented the idea of a Volunteer Coordinator or Manager, please share here! We would love to hear from you about how to showcase the need and relevancy of a Volunteer Coordinator. It is very important for organizations to at least consider this!
Advice From The Comments on Proposing A Volunteer Coordinator
"Are you familiar with the Canadian Code for Volunteer Involvement? You can find it through volunteer Canada (volunteer.ca). It outlines standards that are vital to creating and running a volunteer engagement strategy. I think it's standard 3 that speaks to the importance of having well trained, qualified divide all responsible for volunteer engagement. It's a great start to a case for support."

We suggest finding case studies of organizations with Volunteer Coordinators and showing the success of a volunteer program with and without a Volunteer Coordinator!

Also, put a list together of all the things volunteer coordinator could do - and even ask other employees what they would like to get off their desk and give to a potential Volunteer Coordinator!
Resources on Hiring A Volunteer Coordinator