x
The Real Lives of Volunteer Coordinators
A Blog for us to Learn from Each Other
Volunteer Coordinator Resource Community Recap February 8 - February 15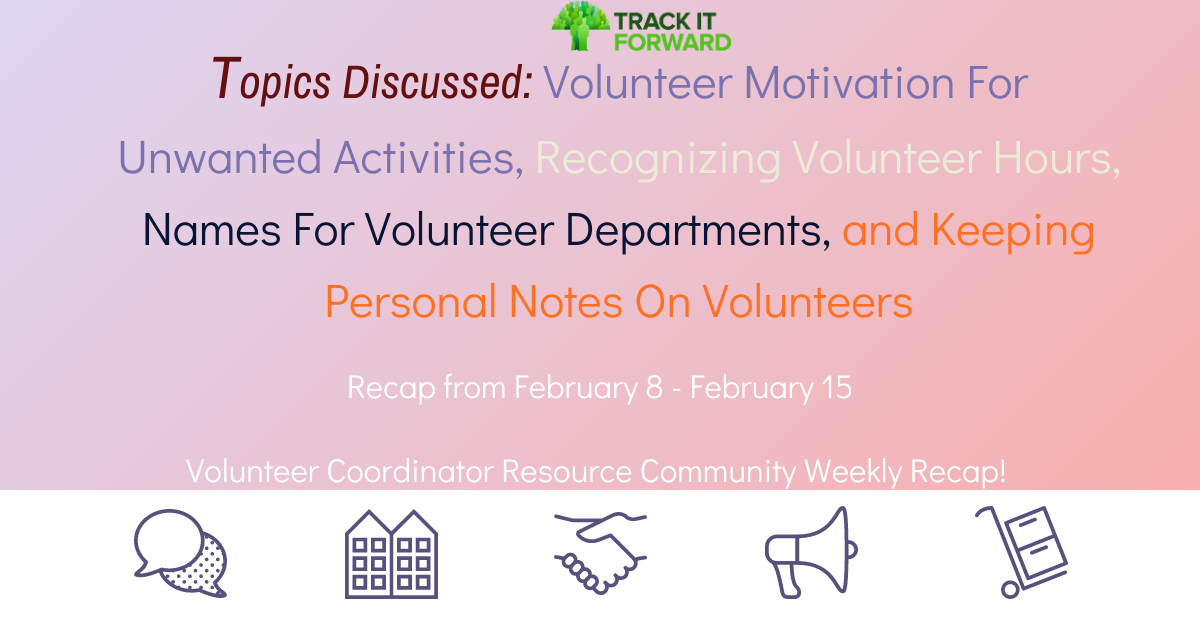 Being a Volunteer Coordinator or Manager is a lot of volunteer motivation, among multiple tasks. Motivating volunteers to sign up for events and volunteer can be harder than you want it to be, but it does not mean you have to give up!
All of your volunteers signed up to volunteer for a reason, as a Volunteer Coordinator, you can try to revive that reason each time you would like them to volunteer!
Specifically, you might feel a need to be more creative with volunteer motivation tactics and techniques for those unwanted volunteer activities. b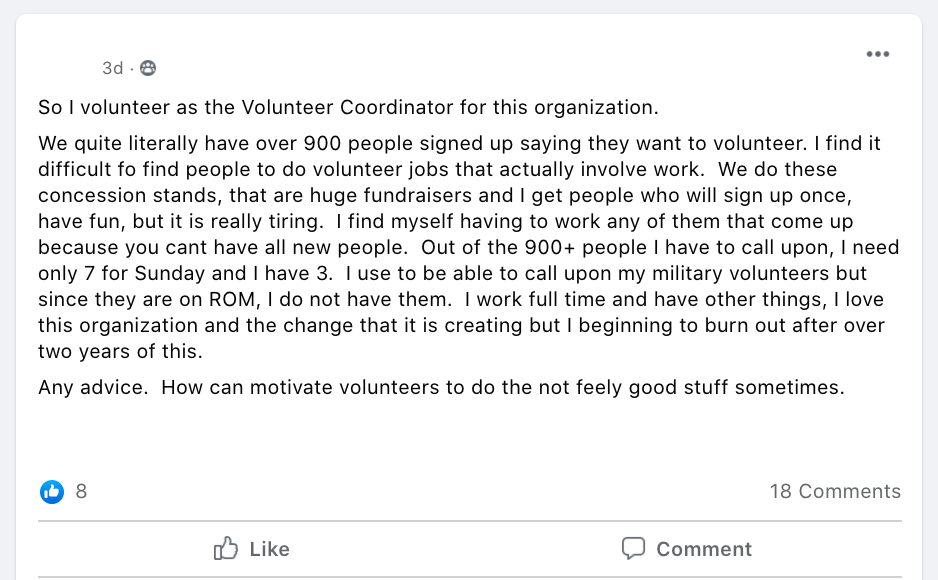 What The Comments Have To Say About Volunteer Motivation Towards Not Great Tasks
"We have a couple of different styles of programs that have some micro-benefits attached to each one. We also schedule things out long in advance. For booth work, we have only tiny shifts so it doesn't become exhausting."

"Have you looked at local college's sorority or fraternity that do charity work or clubs that share a similar mission as yours? Or the National Charity League? It may be a good idea to partner with organizations with service-minded volunteers already."

"If you have 900 people on the volunteer list, how current is this? Maybe go and clean up the list and trim it down to active people?"

"At our animal shelter, shelter essentials; laundry, dishes, etc is always a sore spot. No one ever wants to do it. Everyone wants to be with the animals. But I tell them that if they just throw a load in on the way to see a dog or cat and everyone pitches in, then it doesn't get ignored. And they all want fresh laundry for animals...create plans so the training includes the "dirty work" as well as preferred activities."

"What are you doing after they volunteering — tracking their hours, thanking them directly, celebrating them publicly like in a newsletter or social media post? Do their hours lead them to another level like being a lead volunteer or earning swag?"

"In terms of not needing to be there at every event, it sounds like investing some time in training experienced volunteers as 'shift leaders' would be helpful."
If you'd like to see all of the comments on this post, click here!
It is important to promote volunteer activities, and be upfront with how there might be some not so great activities that need to be done along with the great and fun volunteer activities. In addition, as one person commented, you need to evaluate the volunteers that you have in your contacts and see what type of volunteers you might want to be considered when recruiting. This could be short-term, long-term, one-time, or project volunteers!
Resources For Volunteer Motivation & Preparing Volunteers For Unwanted Tasks
---
Does your organization collect volunteer hours? It should! There are so many different benefits of tracking volunteer hours, we know!
Specifically, tracking volunteer hours for volunteer recognition is a big benefit, and one of the simplest ways to recognize volunteers.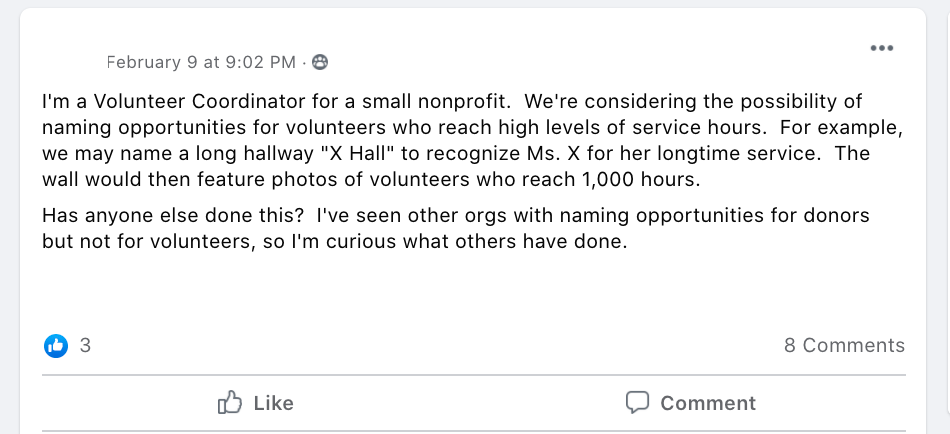 Comments About Volunteer Recognition For High Levels of Service Hours
"I work for a school district and we have a wall of heroes for notable contributors to the district.whether it's volunteers or alumni who have given back to the community in some way."

"I worked at a museum and I suggested we name a memorial scholarship after a board member that was instrumental in creating it."

"We have an outdoor seating area at our facility with a circle of chairs. It's popular area for the kids we serve to gather in that we call "The ring of honor". The area is paved with stone bricks that have volunteers names on them. Each year we honor a new set of volunteers and add a brick with their name. They receive a mini brick to take home. I love the idea of naming the hall way and including pictures!"
There are a lot of ways to track volunteer hours, and there are recognition tactics that are minimal or large that volunteers can get for their time! Not only is it good to recognize the donated time that your volunteers give, but it also might turn into a motivation tactic for future volunteerism!
Resources For Volunteer Recognition Via Hours Volunteered
To see the full Facebook Group post and interact with it, go here!
---
No matter how large or small your volunteer base is, it can be hard to keep track of all the details you would like to remember about your volunteers. Sometimes, you might want to remember a fun fact about them for a conversational piece, or something they are involved in that could be a connector to other volunteers. And other times, you might want to note more serious things to remember, like the loss of a loved one, or an allergy.
So, it is important to have a good system for writing down volunteer personal notes, it can help you feel closer to your volunteers, and be more organized!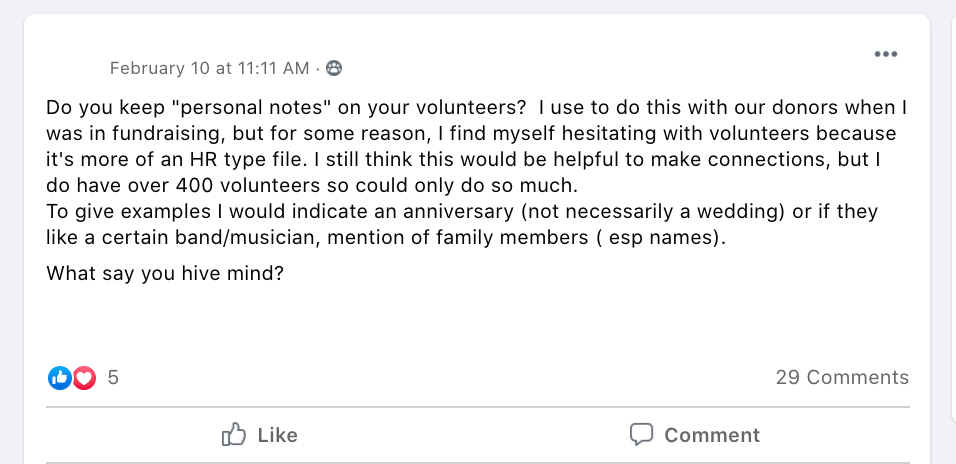 Comments About Keeping Personal Notes on Volunteers
"I work in an animal shelter, so I track the names of their pets"

"We do to an extent. As we learn things, we update it. Especially with health concerns too. it helps us be ahead of accommodations being made ahead of time. But we collect it mostly orgaanically."

"I would keep notes like this and turn the area off as accessible to anyone except management. I would try to be sure to not just notate issues, but praise as well, so anyone in the future would have a good, balanced impression of the volunteer and their history with the organization. It helped to see trends and patterns before bigger issues. "

"I make some limited notes in our data base so that future people in my position have a little background if needed."

"I have a calendar that I write the birthdays on and at the beginning of every month I write out cards for those birthdays."
Resources For Keeping Personal Notes on Volunteers
---
Volunteer program names can be a fun brainstorming session to have! Let's see what the Volunteer Coordinator Resource Community came up with!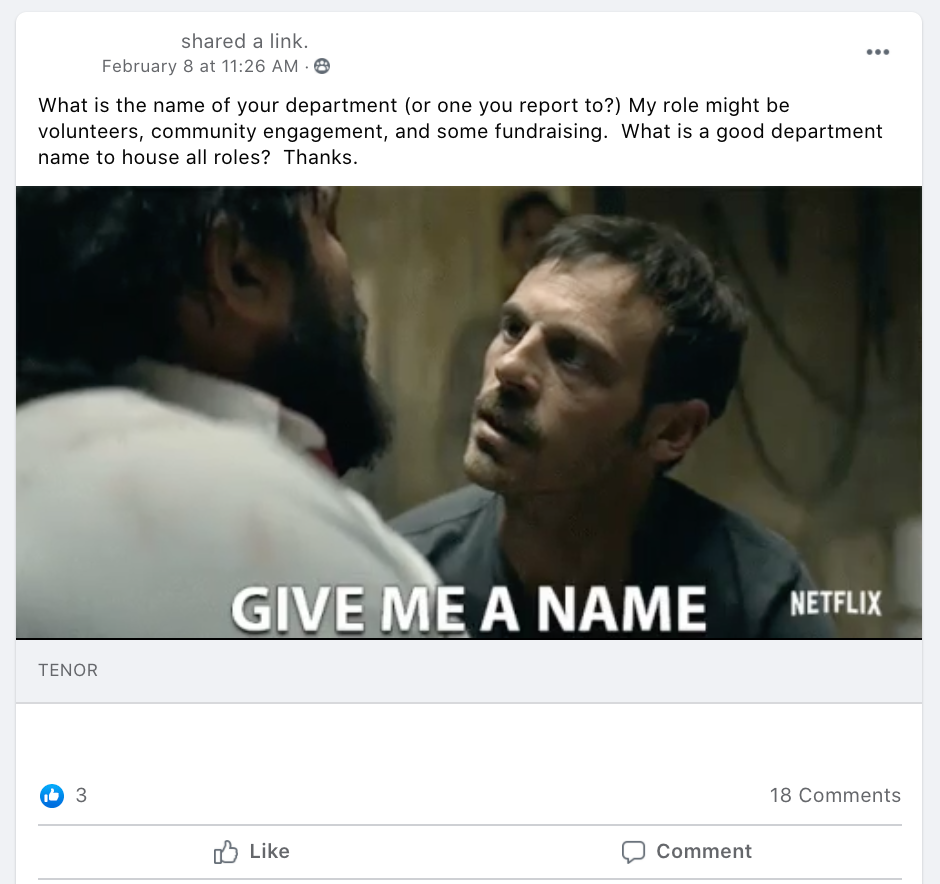 Public Outreach

Volunteer Department

Development & Marketing

Public Strategies

Community Engagement

Volunteer Services

Volunteer And Engagement
Drop your title or program title here, it's so good to see programs merging with departments!