x
The Real Lives of Volunteer Coordinators
A Blog for us to Learn from Each Other
Volunteer Management Handbook 101
We've all had to do it, either ask for a recommendation letter or write one. Sometimes it can be a great feeling and fun to do, but other times it can really be a drag. Why is that?? We don't necessarily know, but we are going to try to help you easily create great and genuine recommendation letters for your volunteers!
Volunteer recommendation letters can be used for various reasons: college applications, job applications, volunteering opportunities, and more. Writing one is a large responsibility and should be taken seriously. So before you write a recommendation letter, make sure to find out what the letter will be used for, what kind of information the volunteer expects, and who will be reading it.
Part of being a great volunteer manager is being able to recognize the hard work of each volunteer, and the specific things that make them stand out. Writing a personal and genuine recommendation letter is the best thing you can do for your volunteer, don't worry we can show you how!
And, you may want to grab those Roles & Responsibilities that you make for your volunteer agreement and handbooks because it will come in handy!
If you are looking to download some examples, we have put the 27 best examples we can find in this downloadable folder!
Differences Based on Where Volunteer Recommendation Letter Is Going
Volunteer recommendation letters are very important and recipients will want to see different things based on what they are being applied to. It is important that you talk to your volunteer about the recommendation letter before writing it to provide context and better personalize the letter! The most important question you can ask is where the letter will be going!
The three main reasons a volunteer will ask for a letter are College or University References, Leadership Opportunities, or for a Job Application.
College Application
Colleges are looking for stable individuals who go above and beyond and are responsible. They want students who are not going to cause issues for them, and are hopefully going to give them a good name due to their success! Many universities stress the importance of getting recommendations to their students.
Here are some things to highlight and focus on for a volunteer recommendation letter of a college applicant.
Give Aspects of Growth

List Their Responsibilities While Volunteering

Note how trustworthy they are

Explain why you think they will excel in college based on your observations of them in your organization.

Good words to use: growth, responsible, success, impactful
Leadership Opportunity
If the volunteer is willing to be the head of a program or department, they are hoping that you have seen distinct abilities in them that would make them a good leader.
Here's how you can note this in a volunteer recommendation letter.
Tell anecdotes of volunteer fixing an issue

Give background of volunteer punctuality, organizational skills, and evidence of working with others.

Explain how you would trust them as a leader in your program

Good words to use: strong, resilient in face of adversity, enthusiastic, organized
Job Application
When a volunteer comes to you for a recommendation letter for a job they are applying for, they are trusting you to explain why they are a good character AND why they would be a good fit for the job. It is important you gather details about the role.
Here's what you can include based on the information you get.
History of your relationship with volunteer and how long they have been there

Examples of them going above and beyond for the organization

Their distinct roles and responsibilities

Why you think they would be good at the job they are applying for.

Good words to use: advanced, passionate, eager, intellectual, analytic.
What to Include In A Volunteer Recommendation Letter
How long have you known the volunteer

Skills they have displayed over time

Accomplishments. Provide brief but detailed examples if possible.

Potential (such as leadership)

Additional information regarding qualities, character, and behavior

Summary of why you would recommend them and to what degree

Stories of their hard work

How they have been impactful to your organization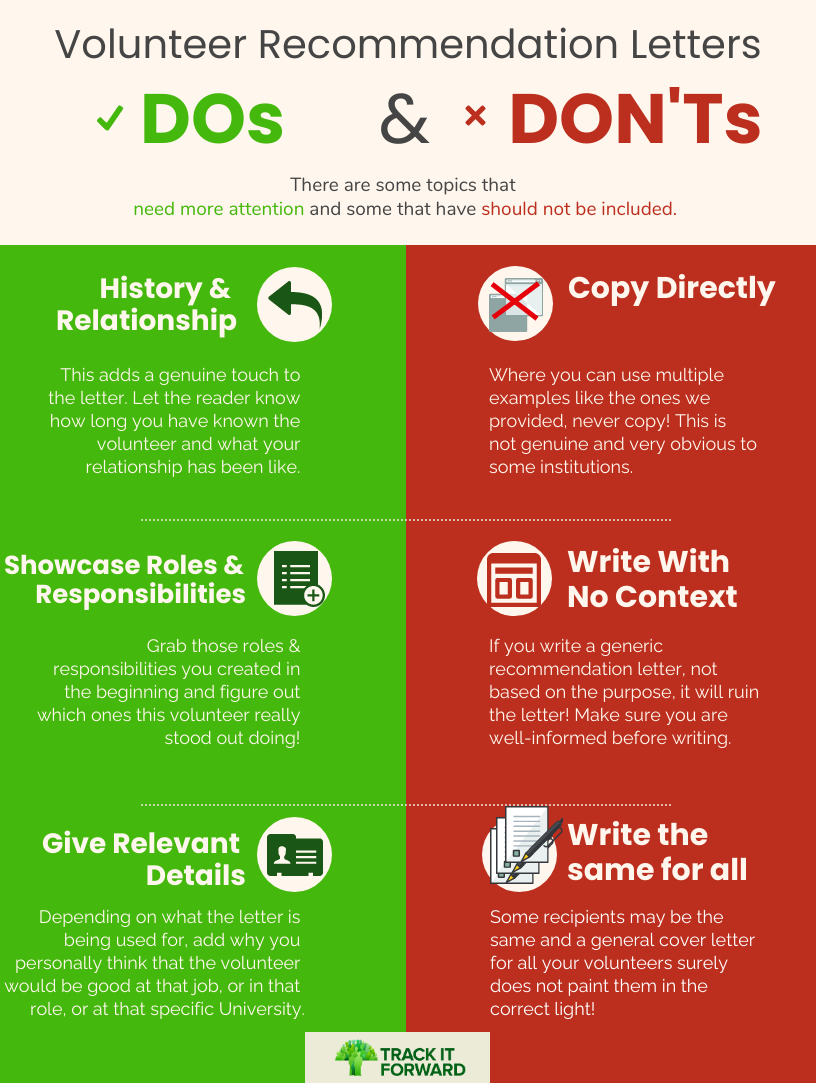 Things you shouldn't do when writing a volunteer letter
Copy directly from the web - [[sumo-click-trigger:d39a77d2-5d4d-4361-83cf-1e749a2fedd8]]these[/sumo-click-trigger]]are intended to give you ideas and inspire you or give you an idea of format and length.

Use the same exact one for everyone.

Start writing without getting more context from the volunteer

Put it last on your priority list

Make the volunteer feel uncomfortable for asking you
Volunteer Recommendation Letter Process
The process for writing cover letters might be a longer one than just copying them off the internet, but they will be more effective and personal if you go through this process. And, you should want to provide the best for your volunteer, they have given their time to help you and your organization!
Thank them for considering you a great recipient! Ask them why they thought to ask you, so you can gain perspective. Ask details like when they need it by, and then ask them if you can meet with them for a few more questions and context.

Have a meeting where you go over how long the volunteer has been in the organization, what the letter is for, and corresponding details based on the answer. (Why the volunteer would be a good fit for the job or role, why they are interested in a certain school, etc.) These details will help provide a personalized aspect so the recommendation letter recipient knows that the volunteer is serious about the prospect.

Start Your Research. If you are viewing this article, this step is basically done! You should find articles that walk you through the process, as well as give good examples of how you can format and how long your letter should be. NEVER copy examples. It is very obvious to some institutions and will not fair well for your volunteer.

Create Your Draft. Now, if you arent a writer this step may be hard for you. But that is okay, we are going to help get you through it! We have created a brief outline for you, which is in the downloadable folder that you can get by entering your email below. You will not only get examples but see how exactly you can outline your draft. If you have done all the above steps, it should be quite easy!

Lastly, check with your volunteer after you write the draft and let them know you are happy to change any wording or add additional information that the recipient may want! This is a great way to ensure that your volunteer is happy with it, and that you have done them a great service!

Good luck with your volunteer recommendation letters, and remember to download our helpful folder below for all the help you can get!
FAQs
1. Can you write a recommendation letter for a friend?
You should only write a recommendation letter for a friend if the recipient is asking for a character recommendation or if you are your friend's superior in a volunteer or employment role.
2. How long does a recommendation letter need to be?
Recommendation letters can actually be short! Most people prefer no longer than 2 pages!
Other Articles in this Series