x
The Real Lives of Volunteer Coordinators
A Blog for us to Learn from Each Other
Volunteer Management Handbook 101
What is a Volunteer Handbook?
If you are asking yourself this question, don't worry! We've done the hard work of going deep into Google's results and created an easy guide so you can quickly get the perfect volunteer handbook for your organization completed!
A volunteer handbook is a complete outline of all the different things a volunteer may want to know about the organization or the things they might come across while volunteering. It is extremely important to give volunteers a volunteer handbook before they start officially volunteering. This way, they can gain an accurate prediction of what their volunteering with your organization will look like!
Volunteer handbooks are composed of training materials, guidelines, volunteer agreement forms, and disclosure forms, among many other things! They can be a great guideline for a volunteer orientation, and allow volunteer managers to organize their thoughts to their volunteers.
A good volunteer handbook can take a long time to create from scratch. Some volunteer managers continue to add things to their handbooks throughout the whole year to refresh! It is a good idea to continually add ideas and thoughts that come to mind for a volunteer handbook and to ask other members of the organization what they think should be included. A lot of people will want to add what they wish they knew before volunteering, and these are great tips!
What to Include in a Volunteer Handbook?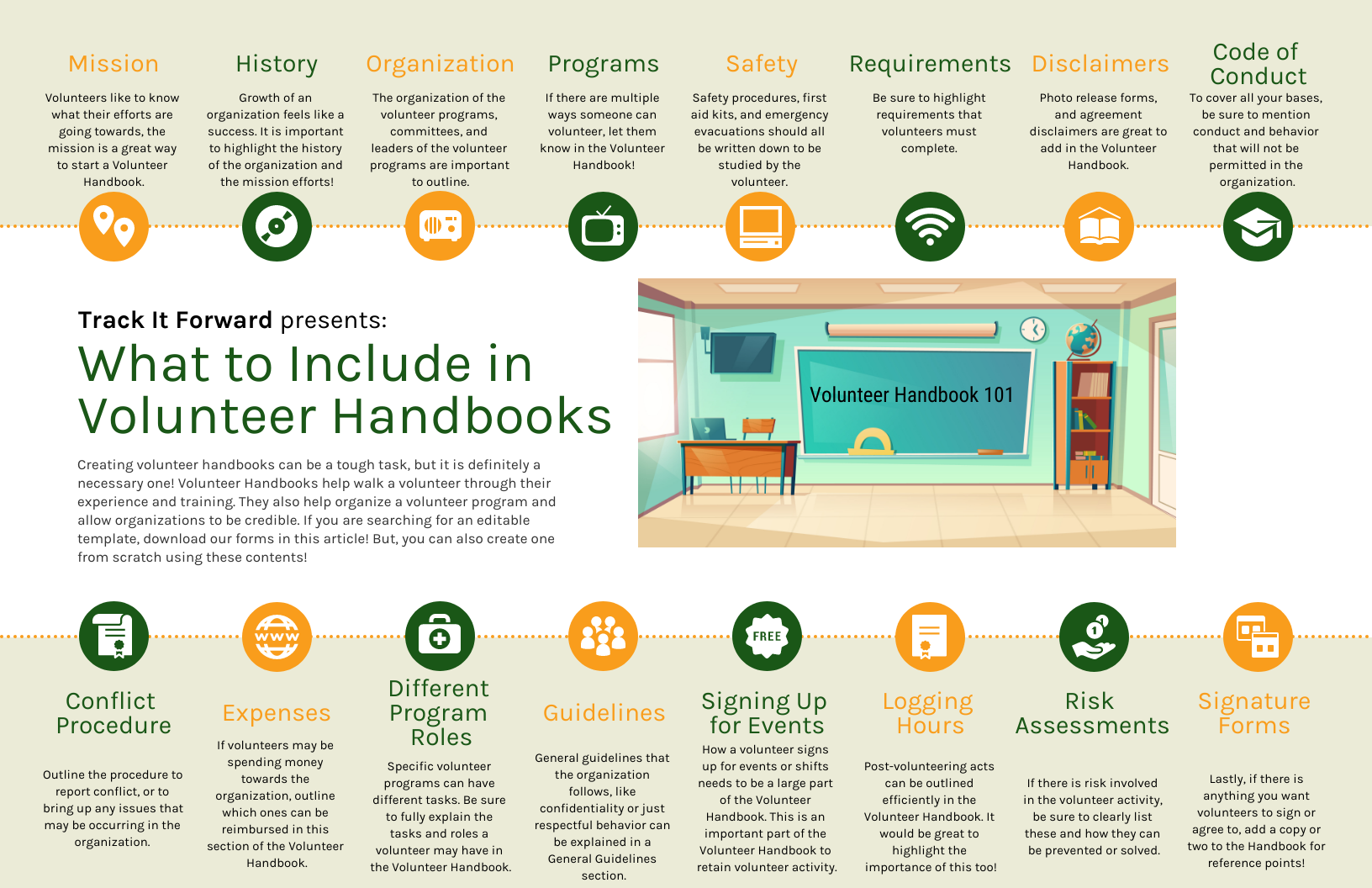 We have a whole downloadable piece of content that can give you basic outlines and table of contents for your volunteer handbook, as well as more expansive versions! We also have downloadable checklists of what you should be including in your handbook. You can download them here.
If you are creating a volunteer handbook from scratch or just refreshing yours, be sure to include these basics! There are many categories and ideas of what you may want to consider inputting in your volunteer handbook, whatever you deem important for your organization should be included. volunteer handbooks can be lengthy, and that is okay!
Organizational Background
Details about the organization as a whole are important to help give volunteers a clue as to how the organization runs, as well as how the volunteer program is helping. Volunteers are largely motivated by feeling involved and knowing their impact.
Here are a few sections you can add to your volunteer handbook to help highlight this.
Volunteer Program Mission
Organization History and Success
Organizational Set-up
Different Programs and Directors within the Organization
General Organization Guidelines
Safety
Safety measures should always be a part of volunteer handbooks. They help make volunteers feel safe and know what to do in case of an emergency.
Here are some sections you can add to the handbook to emphasize safety.
COVID-19 Policy
Emergency Evacuation Procedures
First-Aid Kit Location with Maps
Map of Closest Emergency Buildings
Risk Assessment of Volunteering - and how to prevent and solve these issues
Act of Volunteering
This is another important component of the volunteer handbook, as it is what the volunteer will probably be most interested in! There are many different things to note in the act of volunteering.
Here are some options of what you can layout for your volunteers in their handbook.
Description of each volunteer program and the tasks involved in each
A step-by-step walkthrough of a day in the life of a volunteer
Guidelines and rules of each specific volunteer program
How to Sign-up for volunteer shifts
Requirements for Volunteers
Hour Logging Procedures
Possible Expenses
Conflict Procedure
Legal Forms
If you want your volunteers to sign forms, there should be a whole section in the volunteer handbook with a copy of these forms, and a copy that they can sign.
Here are some examples:
Just want some templates or an outline that is pre-made? We have just that.
Creating A Volunteer Handbook For the First Time
If you are just starting out as a nonprofit organization, you may not have enough details yet to create a detailed volunteer handbook. Or maybe you've been around for a little bit, but your organization is finally starting to grow and you realized you never created a formal handbook for your volunteers. This would be the place to start.
Keep a running document of things you think you may want to add as you develop into your role. These can be things you find yourself repeating to volunteers, frequently asked questions, or just changes you make to the program. All of these are important to note- which means they should go in the volunteer handbook!
The samples included in this section are simple volunteer handbooks that we found but include all the necessities needed, as well as general outlines to follow when starting off. As time goes on, your organization grows, and new things arise, you can update your handbook as it comes.
Here is a screenshot of all the documents you will get once youdownload our volunteer handbook outlines!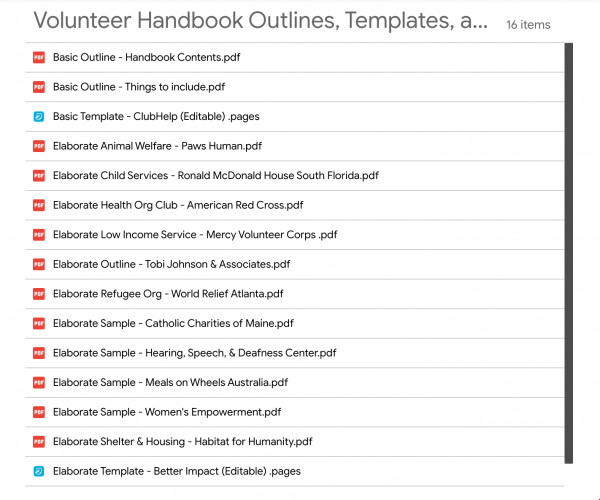 Updating Your Current Volunteer Handbook
Maybe your nonprofit already has a volunteer handbook, but it's been a while since it's been reviewed and newcomers are noticing things missing. Or maybe your organization is starting to really grow and along with that come growing pains that were not addressed in the volunteer handbook.
It is important to make time to sit down and see what you have and what needs to be added. Look through our documents to see what you may be missing that you can include in your volunteer handbook.
Try to place yourself as a volunteer to figure out what you wish you knew or had access to. Remember these volunteer handbooks are something that the volunteer keeps throughout their time as a volunteer in case they need to look back on anything their time of being a volunteer.
Why Having A Volunteer Handbook Is Important
Volunteer handbooks have both direct and indirect involvement in the success of a Volunteer Program. The process of creating and enforcing the volunteer handbook allows for volunteers to be more attentive and the program to be more evolved with upkeep.
The following are important areas that having a volunteer handbook affects, for the better!
Volunteer Recruitment - using the handbook as a recruitment tool will help volunteers feel they are welcomed and that the organization is used to welcoming new volunteers.
Volunteer Retainment - volunteers who have a better idea of their actions will want to stay longer and be more long-term volunteers. This can all be implemented with a Volunteer handbook.
Organizational Tactics to the Program - Writing out a volunteer handbook can help organize the program and the organization better, seeing it all together on paper.
Self-refection on Program Improvement - taking time to update and talk to volunteers about what they wish was in a handbook will allow you to improve not only the handbook but the program in general!
Varying Handbooks By Nonprofit Type
Every organization is different, so their volunteer handbooks will be too! Some organizations have more risk factors than others, some have 2 different committees or departments in a volunteer program, while others have 20. The way that organizations are set-up, as well as the type of nonprofit, can completely change how you make and deliver your volunteer handbooks!
Our handbook outlines and templates have some generic examples of different industries. Some are pretty simple and others are more elaborate, however, it's a good place to start if you need guidance with handbooks specific to health services, refugee services, low-income services, animal welfare, shelter & housing, etc. For more comprehensive guides and step-by-steps we recommend going to this website.
So here it is! The web scrubbed for all sorts of volunteer handbooks that you can use. As you can tell, there is no "one way" to get this done. Each organization has its own style, length, and type of information provided. As long as your volunteers and supervisors can use it to reference things along the way, this is a good place to start.
FAQs
1. How long does a volunteer handbook need to be?
Volunteer Handbooks can vary in length, but it should never be only 1 page. Volunteer Handbooks are meant to outline everything a volunteer could possibly need, so they can be very long!
2. What is the difference between a volunteer handbook and a volunteer welcome pack?
Volunteer Handbooks are more of a training guide and an explanation of all things volunteering with that organization. Volunteer welcome packs are usually more fun and contain a multitude of gifts and other things like orientation schedules.