x
The Real Lives of Volunteer Coordinators
A Blog for us to Learn from Each Other
Conditional logic is only available on the premium plan, at this time.
Who it's for: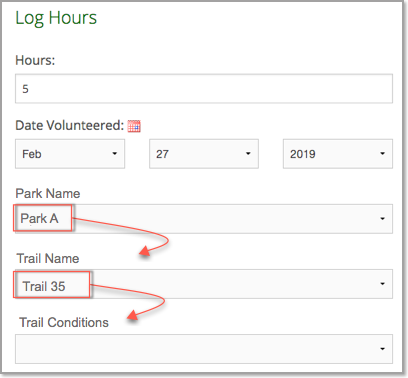 Our new conditional logic feature is for organizations who have extensive activity lists in their hour log and want to eliminate the endless scrolling and searching for the volunteers when they are logging hours.
How it works:
Once conditional logic is setup for the hour log, it's super easy for the volunteer to log their time. If you have a way to group or organize your answer options for each question, here's how it would appear.
Let's say your organization does trail work at 5 different parks, and each park has 10 trails. When volunteers log their hours, they need to specificy which park and trail they volunteered at. Instead of making volunteers select a trail from a list of 50 options, now, when they select Park "A", a new question appears to select a specific trail with options appearing only from Park "A".
This eliminates confusion, makes the hour logging much faster, and provides cleaner reports for the organizer. Most of the work is done up front when the organizer sets up the configurations, it can still be updating at any time, however, once it's done, it's super easy to use.
If you'd like to learn more about how this work, or if you have any suggestions on how you'd like this improved, please contact our support team. We always want to hear your feedback!