Children's Museum Tracks Hours for Volunteer Rewards and Funding
Event Calendar
Volunteers can sign up for shifts in the calendar
Milestones
Volunteers can view progress toward rewards points
Customer Service
Administrators receive fast and reliable service and support
Children's Museum Tracks Hours for Volunteer Rewards and Funding
Nutrien Wonderhub is a nonprofit children's museum in Saskatoon, Canada that's centered around exploration and play. They host a variety of programs and experiences throughout the year, all made possible by their dedicated staff and volunteers. "We're a place of gathering and a place of learning. We're a really energetic place to be," says Shannon Pybus, the museum's Community Experience Coordinator. She engages with community partners all over Saskatchewan in addition to managing the museum's volunteers.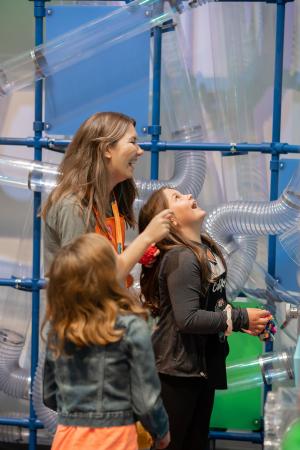 Nutrien Wonderhub offers a variety of volunteer opportunities across its many programs. "We let the volunteers choose how they want to contribute," Shannon says. "We have a morning storytime interactive with two of our volunteers…[who] are both preschool educators, and they are excellent. They create this program and bring it to us at no cost because they just love doing it!"
Other volunteer opportunities include working in visitor experience or on their special programs, which include the following:
Adult Nights
Youth Nights
'What's For Dinner?' Annual Fundraiser
Youth Camps
Wonder in the Park
The Search for Volunteer-Friendly Software
When the coordinators at Nutrien Wonderhub decided to search for a system for volunteer time tracking, they "wanted a place where volunteers could sign up for shifts, rather than having to constantly send out emails," Shannon explains. In addition to lowering the administrative burden, tracking hours with software like Track it Forward allows for improved reporting on volunteer activities. "We have lots of different grants and sponsorships, and they are looking at the number of volunteers we have and retain, and the number of hours our volunteers contribute to our organization," Shannon says. "The reports feature gives us quick access to those statistics."
"The reports feature gives us quick access to [volunteer hours] statistics."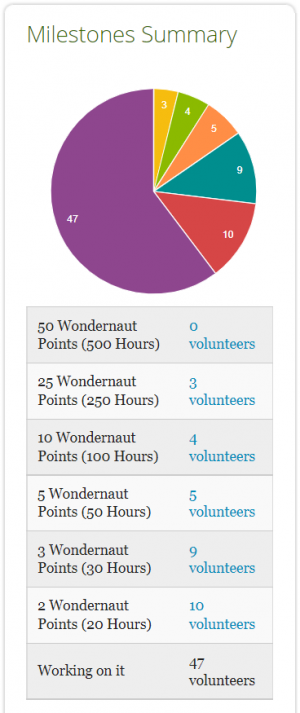 Volunteer Incentives
Nutrien Wonderhub also offers an incentive program to volunteers where they can earn 'Wondernaut Points' based on how many hours they volunteer. The points correlate to rewards like free Wonderhub admission, Wonderhub family passes, tickets to Adult Nights, and more! Nutrien Wonderhub uses Track it Forward's milestones feature to keep track of volunteer progress and award points. With this feature, volunteers can also view their progress on the dashboard when they log in.
"We want to make sure that our volunteers are getting recognized for the work they put in," Shannon says. Their robust volunteer appreciation program is sponsored by Robertson Stromberg LLP, one of the leading law firms in Saskatchewan. "They allow us to do amazing things to support our volunteers. We do a volunteer appreciation event in April, and we make sure we send out a little 'thank you' to all of our volunteers around the holiday season."
Track it Forward offers Fast, Reliable Support
As a volunteer manager, Shannon finds the organizer dashboard easy to use and also appreciates the fast customer service. "Customer assistance is very responsive for any questions we have. We ask 'Hey, is this possible?', and the answer is 'Yes, absolutely, here you go!' So that's awesome," she says. With Track it Forward software, Shannon can rest assured that hours are being tracked correctly without having to manually enter them all herself. "It makes me feel confident that we are tracking volunteer hours well…I find it to be a very useful software…and it's helpful to see our statistics and tracking throughout the year." Track it Forward's solution allows Shannon to focus her energies on the volunteer programs that create unforgettable experiences for children and families in the Saskatoon area.
Could your museum volunteers use a time tracking system like this?
See how Track it Forward can help!
Yes, Tell Me More