x
The Real Lives of Volunteer Coordinators
A Blog for us to Learn from Each Other
We want to shed some light on one of our favorite features - The Check In Kiosk App for Volunteers!
The Check In Kiosk app was designed for organizations who wish to have a check in and check out process for their volunteers and those who also want to keep track of volunteer time.
The Track It Forward Check In Kiosk combines a Check In Kiosk and time tracking technology to deliver both features in one app!
Let's dive into the nitty gritty details of The Volunteer Check In Kiosk.
Who The Volunteer Check In Kiosk App Is For:
Organizations that have volunteers check in and out on arrival to volunteer.

Admins who are ready to move on from paper check in and out sheets.

Organizations that do not require volunteers to sign up before volunteering

Organizations that like to view attendance sheets during an event.

Volunteer programs who want to incorporate volunteer time tracking with a volunteer check in kiosk.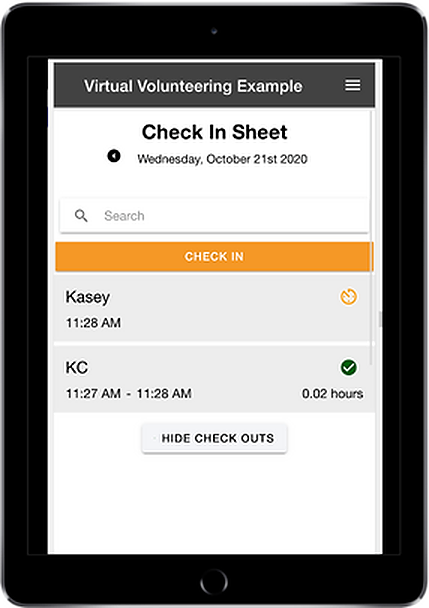 The volunteer Check In Kiosk is an app that works on all tablets and PCs. It is the perfect solution for someone who needs an easy implementation. You can set it and forget it!
What The Check In Kiosk Does For Volunteers and Organizations
Allows volunteers to easily check in and check out: You can have volunteers check in when they arrive at your location and check out when they are ready to leave.

Logs hours automatically: When volunteers check out, The Track it Forward Kiosk App is connected to a Track It Forward database, that admins have access to! This will automatically calculate the number of hours and minutes that the person volunteered for. Those hours can be automatically submitted to the volunteer's personal timesheet, or they can go into the approval queue - it's your choice!

Registers new volunteers on the kiosk: If you have a new volunteer that arrives at your organization and they are not registered with your organization or in the Track It Forward database for your organization, they can easily set up their profile on the kiosk. With just a few steps, they can register themselves in the Track It Forward database, create a volunteer profile for hour logging, and check in to the event! With a few easy steps, they have become a part of your organization and are logging hours!

Shows you which volunteers are currently checked in or have been in the building from the kiosk home screen: When you look at the Check In Kiosk, you will see who is currently checked in to the organization and who has checked out. This can be used as an attendance sheet and as an emergency sheet for reference of which volunteers are in the building.
How The Check In Kiosk Works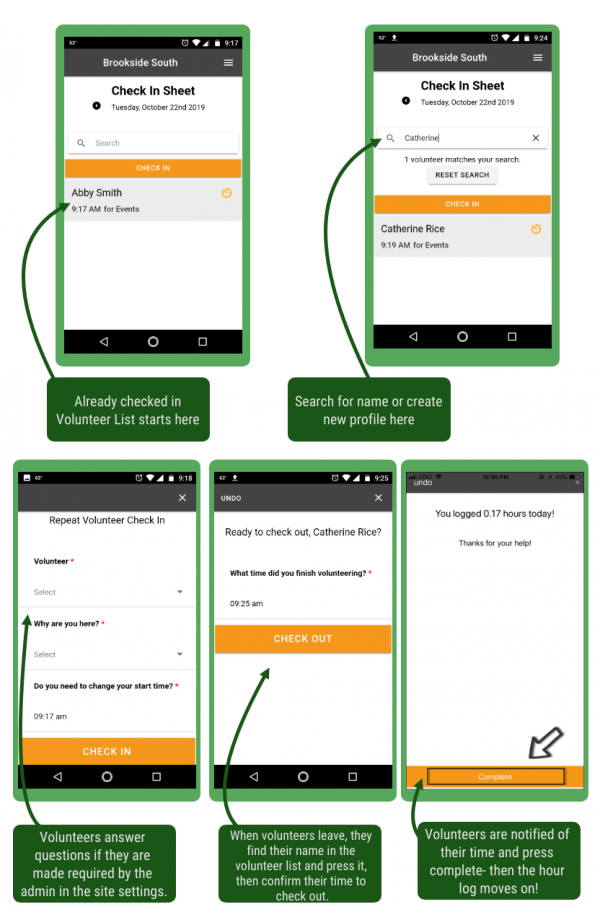 If you aren't familiar with Track It Forward, we will give you a little background:
Track It Forward is a time tracking software that allows volunteers to log hours under their name which creates a personal timesheet for them as a user. They also have a volunteer dashboard which they can log into to check their volunteer hours. This allows volunteers to have one user to log hours under so there is no chance for duplicate volunteers or hour log data.
Then, admins can pull reports about volunteer's time - either individually or from a group of volunteers as a whole. Track It Forward allows every time tracking feature to be customized - so with The Check In Kiosk, admins can set the kiosk up to have a question on check in that volunteers will have to answer. This question can be putting the volunteer activity or volunteer into a category that admins might want to pull specific reports from.
For example, a question might be "Which committee are you in?" or "What type of activity are you doing today?" Then, when the volunteer completes the event and checks out, not only will the time they volunteered be entered into the Track It Forward database to count towards a total, but it will be tagged as the answer given and can be used and sorted to pull reports on this specific category.
For more in-depth explanation of The Volunteer Check In Kiosk for those unfamiliar with Track It Forward, check out this article.
If you are familiar with Track It Forward, here is some more details on The Check In Kiosk for you:
The Check In Kiosk is part of the Advanced Plan with Track It Forward! We would be happy to talk to you about upgrading or just giving the features and a demonstration of The Check In Kiosk. Just contact us here!
The Check In Kiosk is an app operated by Track It Forward. It can also be used on a PC with a specified link. You can customize your Check In Kiosk by providing the following details:
Which volunteers will be able to check in on the kiosk (one-time, repeat, or groups)

Do you want the hours to be logged after check out?

Do the hours need to go into the approval queue or can they automatically be added to the database?

Should volunteers be choosingtheir specific activities (by answering questions) for categorized report purposes?
Then, you can just set up the kiosk at an event where volunteers will be checking in and out!
Volunteers can search for their name to check in if they are a registered Track It Forward volunteer under your organization, if not they can press check in and state that they are a new volunteer and register!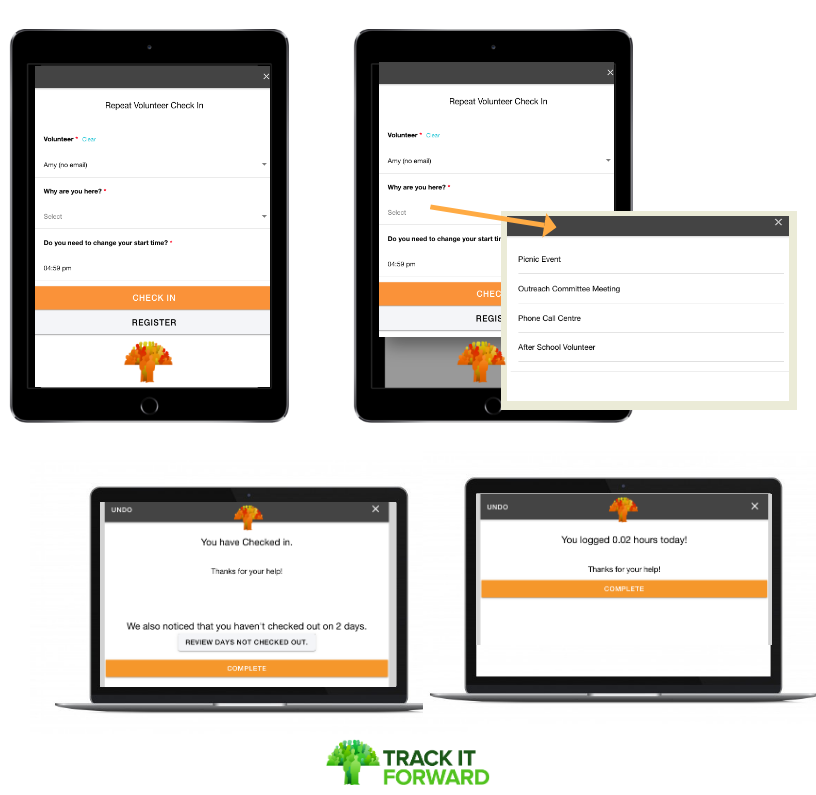 Why The Track It Forward Check In Kiosk Is The Best:
No new equipment necessary: Traditional kiosk systems are expensive, but this one doesn't require anything special. The Track it Forward volunteer check in app is available on the cloud, so you can access it on a tablet, a desktop computer, a mobile device or all of the above.

Everything is done in one spot: Not only do you have record of when your volunteers checked in and checked out, but their hours are automatically logged for them all on one platform. You don't have to spend time calculating or transferring hours from a paper sheet, a calendar sign up, or any other system, we've automated the whole process for you.

No need for sending out reminders: Gone are the days of trying to get volunteers to track their hours! If your volunteers use paper sign in sheets or have to log completed hours after they've volunteered, then you probably spend a good amount of time chasing down volunteers and blowing them up with emails reminding them to log their hours. You can now avoid all of that hassle.

No more paper storing and reading bad handwriting: How tedious and wasteful is it to maintain piles of sign in sheets!? In this day and age, there are better, more cost effective and easy to implement solutions available, such as this one.

Easy backtracking technology: Volunteers can see and confirm their time when checking out, volunteers will see their total time that they have volunteered.Secondly, if a volunteer hasn't checked out of a previous event and tries to check in to a second event, the system will tell them they are still checked into a different event. And if a volunteer forgets to check in, they can edit their check in time during check out or even when they check in later!
We've been really excited to roll out the volunteer check-in kiosk and we hope your organization can save time, save money, and save the headache by utilizing this new feature. Contact our support team if you have any questions, would like to learn more about how this works, or if you have any suggestions on how this can be improved. Any feedback is always good feedback!