x
The Real Lives of Volunteer Coordinators
A Blog for us to Learn from Each Other
Volunteer Coordinator Resource Community Recap 8/18 - 8/23
As the Volunteer Coordinator Resource Community gains more volunteer coordinators, more and more questions keep coming! One question that was particularly popular this week dealt with virtual volunteer orientations and how people were running them.
Many volunteer coordinators have had to do most of their training sessions or volunteer info sessions virtually instead of in-person due to COVID-19. Virtual volunteer orientations are a great way to keep potential volunteers safe while doing training. In addition, they are a great opportunity to showcase your organization's new volunteer programs that are COVID-cautious.
Virtual volunteer orientations are no easy task, though, which is why our Volunteer Coordinator Resource Community has been a huge help to many hoping to create their own virtual orientation.
If you have any example or recordings of your virtual volunteer orientation, share them with us here!
Many people in the comments were wondering the same thing! This is why it is always a great idea to just post any questions you have into this group, it is so receptive and resourceful.
Virtual volunteer orientations or open houses can be creative and fun if you have the right mindset!
Recorded Virtual Volunteer Orientation and Open House Resources
One of the Volunteer Coordinators posted their video - head to the post to see it!
Secondly, volunteer recruitment has been a bit of a hard task these days. Many volunteer coordinators have noted that faith-based volunteers are always very loyal and willing to help. For organizations that are not faith-based, this may seem like unfamiliar territory. But, there are plenty of faith-based groups that want to volunteer for many organizations.
A Volunteer Manager from the group was looking to turn towards faith-based organizations and volunteers for help in their organization and was wondering how other organizations have implemented groups of volunteers into their organization.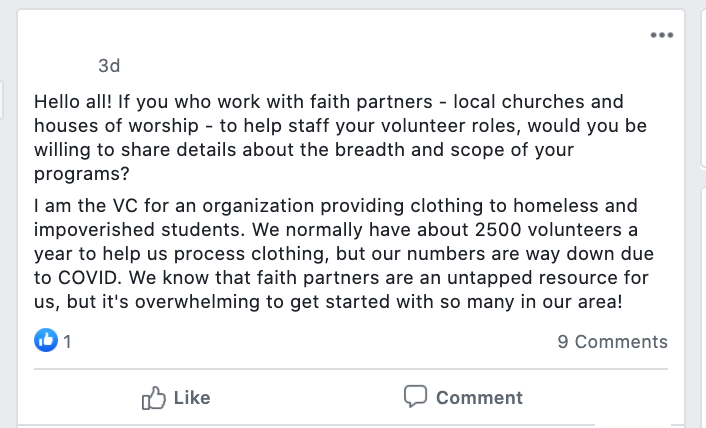 "This would be a great project for a virtual volunteer or intern. Begin compiling a spreadsheet of potential contacts at area churches for you. I'd start with who is geographically closest to your location. Look at their website, Facebook, see if they have a newsletter. Find the best contact and set up a time to chat."

"Several volunteers could even break your city up into zones and tackle the researching in their zone. I've had orgs ask to be featured in my newsletter when they needed help and after learning more I said yes. Have to make the right contact. Churches in our area have "life groups" or service groups within the congregation that each have a cause area they care about."

"College students who are studying online may also be more likely to want to serve during this time."

We think that you should start email campaigns and ask your volunteers if they know any organizations that would want to send volunteers over. Start being active when going towards community service groups and organizations that have volunteer incentives!
Resources on Volunteer Recruitment With Other Organizations
Lastly, a volunteer manager was wondering if any other volunteer organizations did mental health or wellbeing checks and what their programs were like. Some volunteer organizations have their volunteers getting into very serious things that can weigh on an individual's mind. It is important to talk about these things and to be a voice of wellbeing to volunteers!

This is a great topic of conversation, if you have any advice, please comment here!
Helpful tips from the comments:
"We don't have a written policy but during our 40-hour training we talk about self-care and the signs of compassion fatigue."

"I have an open dialog with my volunteers and they come to me when they are needing to be put on "inactive" status for a while. I check in with my volunteers once a month to see how things are going. My volunteers work with victims of domestic violence and a lot of my volunteers are survivors so checking in with them is crucial."

"I send out a volunteer newsletter on the 15th of every month. We have a volunteer meeting on the last Wednesday of the month (which more people have attended since we moved to Zoom). I also have constant communication with our staff that work directly with volunteers so if staff notifies me of a volunteer dealing with a particularly rough Domestic Violence call or that a volunteer wasn't their usual self or if a volunteer did an amazing job, I call the volunteer to check in or congratulate."

"Thanks for bringing this topic up! I'd love to hear from others what they do for their volunteers! Makes me consider including it in our volunteer orientations moving forward!"

"We are currently running a course on wellbeing for volunteer coordinators - looking after ourselves and volunteers and I was going to suggest that wellbeing is made into policy."
Resources
---
Read Next: