x
The Real Lives of Volunteer Coordinators
A Blog for us to Learn from Each Other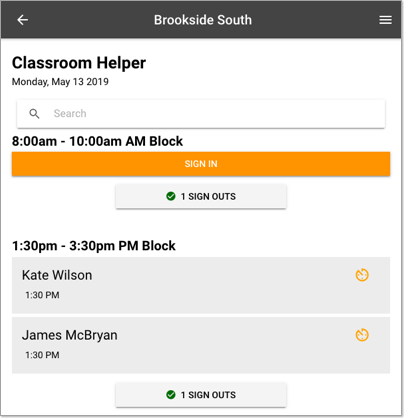 Save time after your volunteering events by using the new Digital Sign In Sheet!
Who it's for:
The digital sign in sheet feature is perfect for the organizer who runs different volunteering events, requires volunteers to sign up in advance, and needs each individual's hours logged after the event is over. The hassle is now over because we've streamlined this process more than ever. Here's how!
What it does:
The digital sign in sheet allows your volunteers to sign into events when they arrive, sign out when they leave and their hours are automatically logged for them.
Volunteers can:
Sign in and sign out of their scheduled shift: Track it Forward never had anything like this before. But now, you can have volunteers sign in when they arrive at your event and sign out when then are leaving.
Log hours automatically: When volunteers sign out, Track it Forward will automatically calculate the number of hours and minutes that the person volunteered for. Those hours can be automatically submitted to the volunteer's personal timesheet, or they can go into the approval queue - it's your choice!
Sign in and sign out of an available slot: Sometimes volunteers may forget to sign up, but they want to volunteer. So if someone shows up last minute, they can sign up and sign in immediately.
Register on the spot: If you have a new volunteer that arrives at your event and they are not registered, they can easily set up their profile with a few easy steps, sign in and are on their way to logging hours.
Organizers can: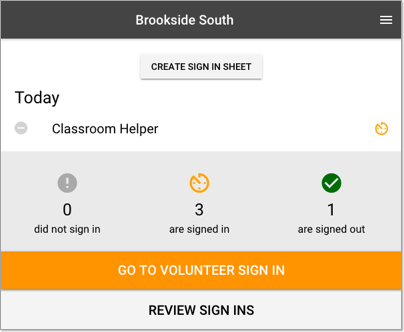 Review which volunteers are currently signed in: If there is ever an emergency, you can quickly access the digital sign in sheet to view who is currently signed in at the event, who was there earlier in the day and is now signed out, as well as who is signed up to come in later.
Sign in one time volunteers and groups: We know that sometimes volunteers come to an event with no intention of returning in the future or sometimes people volunteer as a group. You may not need to track individual hours for those people, now you don't have to.
Sign in and sign out volunteers in bulk: If you don't want volunteers to sign themselves in at a station, you can sign everyone in at one time yourself. One click and you're done!
Why it's a better solution:
Everything is done in one spot:

Not only do you have record of when your volunteers signed in and signed out, but their hours are automatically logged for them all on one platform. You don't have to spend time calculating or transferring hours from a paper sheet, a calendar sign up, or any other system, we've automated the whole process for you.
Volunteers don't have to remember to log their hours: Since hours are logged automatically, don't worry about your volunteers forgetting to log their hours after an event. If they signed out, their hours have already been logged for them.
Organizers don't need to log or verify hours: Save time after the event by eliminating the approval and verification process. You can still turn those configurations on, however, depending on how you set up your station, you can bypass the whole process after the event is over.
No new equipment necessary: The event sign in kiosk doesn't require anything special. The Track it Forward event sign in sheet is available on the cloud, so you can use access it on a tablet, a desktop computer, a mobile device or all of the above.
We've been really excited to roll out the digital sign in sheet and we hope your organization can save time, save money, and save the headache by utilizing this new feature. Contact our support team if you have any questions, would like to learn more about how this works, or if you have any suggestions on how this can be improved. Any feedback is always good feedback!