Use A Sign-In Sheet That Tracks Time & Is Connected With Your Event Calendar!
Our Digital Event Sign-In Sheet helps automate processes like signing up for events, signing into an event, and tracking time for that event - all in one device!
Interested? We'd love to chat!
Easily set up a Digital Sign-In Sheet From the Mobile App
Within the mobile app, you will configure the settings for the Digital Event Sign In Sheet by picking the event that you would like volunteers to sign in for. This will easily configure the Digital Sign In Sheet to create a sheet for this event. Choose if other volunteers can sign into the event if activities are chosen for hour logs to be categorized, and how you would like the hour log to compute after sign out!
See Sign In Sheets From A Bird's Eye View & Bulk Sign In
When you first log into your Event Sign In Sheet from the Track It Forward app, you will be greeted with a screen that looks like this, you can see how many volunteers are signed in currently, how many are signed out, and how many have RSVPd but not signed in. You can also bulk sign volunteers in and out by clicking Review Sign Ins.
When Volunteers RSVP, Their Name Appears Automatically
Those volunteers who have RSVP'd to the event have an expedited sign-in process, as they are able to simply click on their name and sign in to the event! Volunteer Coordinators or managers can also sign volunteers who have RSVP'd in themselves and easily change the sign in or sign out time within the Digital Event Sign-In Sheet on the app.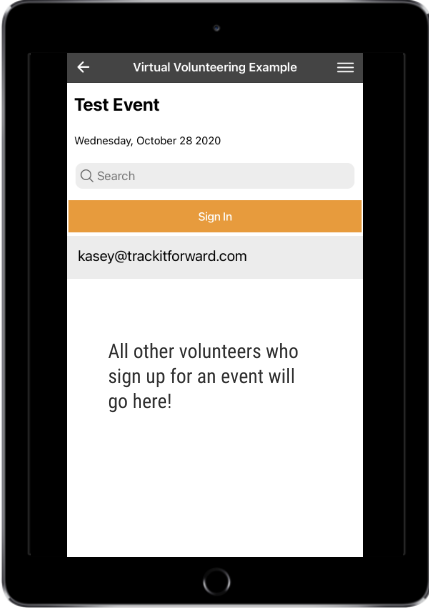 Allow Volunteers To Choose Their Activity For Categorized Reports
If you have Track It Forward set up to log different activities, this can be done on the Digital Event Sign-In Sheet, too. By doing this, volunteer's time that is logged through the sheet will go towards the volunteer program's total and also be tagged as a certain activity. Then, reports can be pulled from hours completed in total or from specific activities alone.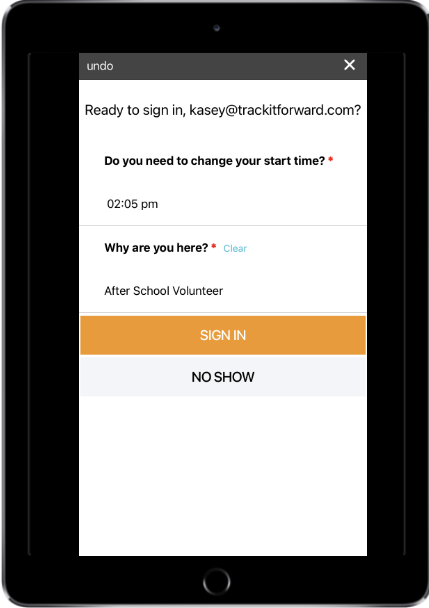 Clearly See Who is Signed In, Who Has Signed Out, And Hours Completed
The Digital Event Sign-In Sheet is pretty transparent. After a volunteer signs in, their name appears with an orange clock next to it. This means they are still signed in to the event. When they sign out, a green check will be next to their name and filed into the "Sign Outs" folder, which can be clicked on and viewed. Volunteers will also see how much time they have logged volunteering upon sign out.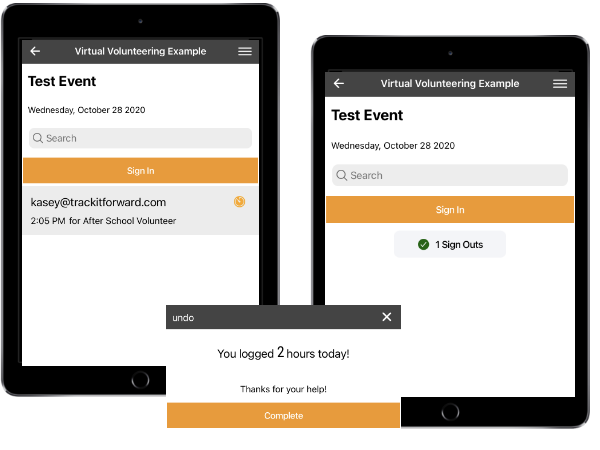 Is this something your organization would love?
You can start a free trial today, commitment-free!