x
The Real Lives of Volunteer Coordinators
A Blog for us to Learn from Each Other
We have finally made it possible to send out email blasts! It might not seem like a whole lot has changed from your Organizer Dashboard, but there are 4 important things to note:
How to Send an Email Blast
In Organizer Dashboard >> Volunteers
Select the volunteers you want to send the email to (or just the Select All button in the upper left)
Select the action "Send Email"
Selecting only Specific Volunteers
Some organizers don't know about this, but if you click on the "magnifying glass" icon, a search filter button appears. If you've categorized your volunteers into groups with a picker field, you can filter down the list to just those volunteers.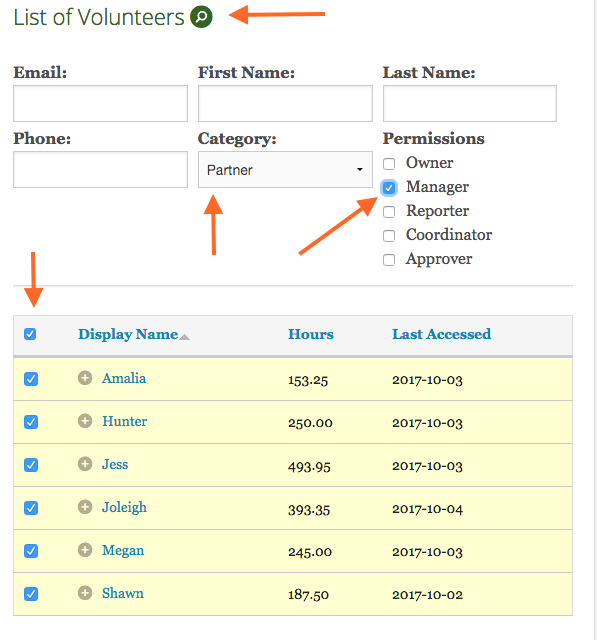 We've just added the ability to use the "Select All" button when you use the filters so you can select certain groups before sending out the email blast.
Unsubscriptions
Because you are sending email blasts, they need to be able to be unsubscribed from. That's the main reason we've been dragging our feet with building this out. Now, attached to every email blast (and event invite email) will be a unsubscribe link. When you send an email out, the system will tell you if any of the volunteers have unsubscribed so you know who will not receive the email.

Despite not being able to send messages to these volunteers, there are a lot of pros of allowing volunteers to unsubscribe:
We comply with federal law
They won't outright block your email altogether, allowing you to send personal emails
They won't block Track it Forward emails, which are important for resetting paswords
You know which volunteers are becoming less engaged
You won't be endlessy wondering why certain individuals aren't responding
Paid Organizations Only
The email blast feature is only for organizations who pay. The reason for this is that sending emails actually cost money. And when you're sending to a bunch of volunteers, the costs do start adding up. Currently we are allowing organizations to send unlimited emails as long as they are on a paid plan, no matter the size. We may put limits on in the future depending on usage, but we'll notify if we ever decide that.