Pasadena Educational Foundation Uses Track It Forward Amidst The Pandemic
Customized Profile
Configuring different profile questions to categorize volunteers.
Quick Response Time
With easy software comes flexible configuring and a quick call to action.
Event Calendar
In a time where people want to volunteer, the event calendar provides a multitude of options.
How Track It Forward Helped Pasadena Educational Foundation Respond Quickly During COVID-19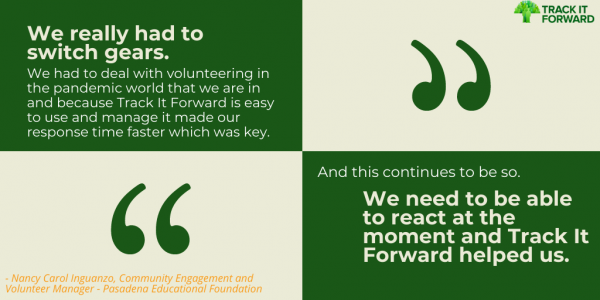 As COVID-19 has hit, many organizations have been struggling to maintain operations. This has been especially true for nonprofit organizations and schools. The Pasadena Educational Foundation (PEF) is a nonprofit organization that focuses on supporting the Pasadena public schools, so you can only imagine how their world was flipped upside down when the pandemic hit.
But even with the school system's quick move to remote learning, PEF has been able to implement and encourage volunteer programs with COVID-19 safety precaution guidelines in place.
What is Pasadena Educational Foundation
The Pasadena Educational Foundation supports the Pasadena Unified School District by raising funds in the form of individual, corporate, government, and foundation grants and through community outreach. Each year they raise $12-$15 million to go toward the Pasadena Unified School district.
Pasadena Education Foundation's vision is "every Pasadena Unified School District student will receive an excellent education so that each may reach his or her full potential and become a joyful and fully engaged member of our democratic society."
Community Engagement and Volunteer Manager Nancy Carol Inguanzo explains how important of a role volunteers play in the success of Pasadena Educational Foundation: "We have to rely on our volunteers to round out what we do. We have volunteers who help us with grant research, volunteers who help us with events, and volunteers come in to do things at specific schools. One of the reasons we are able to do so much is because we have the help of community volunteers and an incredible volunteer board who put in a lot of hours for us."
Pasadena Educational Foundation Programs
PEF separates the different programs they run in four different categories: In the Classroom, Grants & Awards, Health & Wellbeing, and Outreach. Volunteers can work to help implement these programs, volunteer at events, be partners, or help raise money.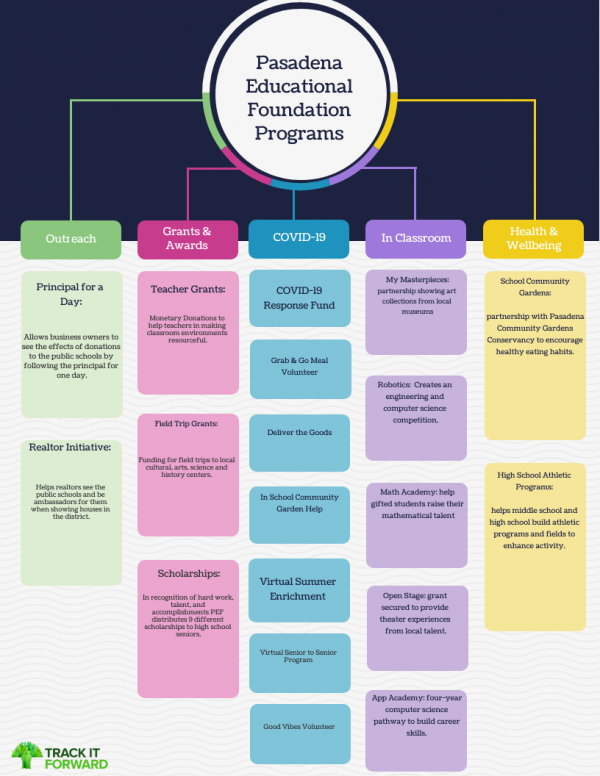 In the Classroom
PEF creates different educational programs that directly impact the classroom environment. The different programs include Summer Enrichment, My Masterpieces, Robotics, Math Academy, Open Stage, App Academy, and 3D Printers.
Grants & Awards
PEF raises money and support to apply for grants, awards, and scholarships to help students, teachers, and schools in Pasadena. In 2017, PEF awarded a total of $200,000 to Pasadena teachers and principals and provided grants to support 300 educational field trips to the public schools in Pasadena. Pasadena Educational Foundation creates teacher grants, field trip grants, and scholarships.
Health & Wellbeing
Pasadena Educational Foundation works on creating wellness programs for children beyond their educational value. They support and create opportunities for students to learn how to be a healthier individual. This includes school community gardens for better eating habits and recreation facilities in schools for activity use.
Outreach
The outreach category is for all of the community events and partnerships that the Pasadena Educational Foundation creates. There are a variety of events that PEF plans, participates in, and sponsors. These include activities such as Principal for a Day and Realtor Initiative.
Volunteering During the Pandemic with the Pasadena Educational Foundation
As the pandemic hit, Pasadena Educational Foundation was met with many obstacles. There were no more in-classroom opportunities and events were not going to easily be planned. But, the whole mission of the Pasadena Educational Foundation is to provide for students, no matter what. Quickly, PEF mobilized to help the schools during the pandemic.
From March, PEF almost doubled the number of volunteers that were anticipated they'd need to help PEF's initiatives. They now have over 200 independent individuals who are helping them with their COVID-19 related volunteer programs.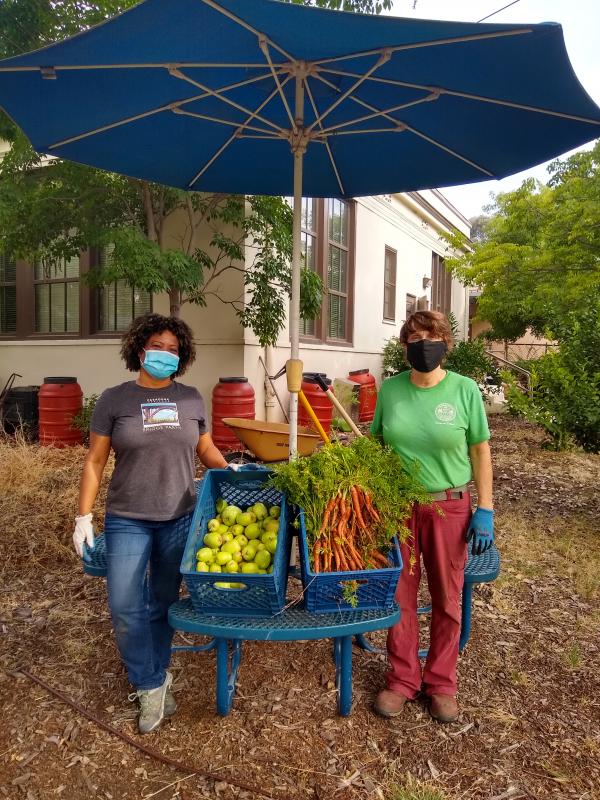 Pasadena Educational Foundation and Track It Forward
In late February of this year, Nancy Carol decided to try Track It Forward for her organization. She had plans to slowly ease into the software, initially signing up for the 100-member package.
Her main goal was to find a software that was easy to use for both herself and her volunteers. She wanted software that would take little maintenance after set-up and provide volunteers an hour log process and event calendar.
She has found Track It Forward to be straightforward to use and set-up.
Before using Track It Forward, they used different software that was not a good fit for their organization. "We could never use it for the capacity that it was intended for. And you had to think backward in order to set things up. There were a lot of conditional statements, almost like coding."
With Track It Forward, she has been able to combine all of her volunteer hour-logging into one place. Also, she likes the ease of the reporting tool. Nancy Carol can extract hours from specific programs quickly to show to a grant writer. This quickens up the process for their grant writer to produce the grants that will help the school systems!
Nancy Carol's plans for easing into the software, unfortunately, got rushed when COVID-19 hit and forced everyone to shelter in place. But, Pasadena Educational Foundation knew now was the time to accelerate their initiatives.
Nancy Carol says, "We are using Track It Forward in ways that I never anticipated, I was really thankful that it was easy to use, and I still am (thankful)."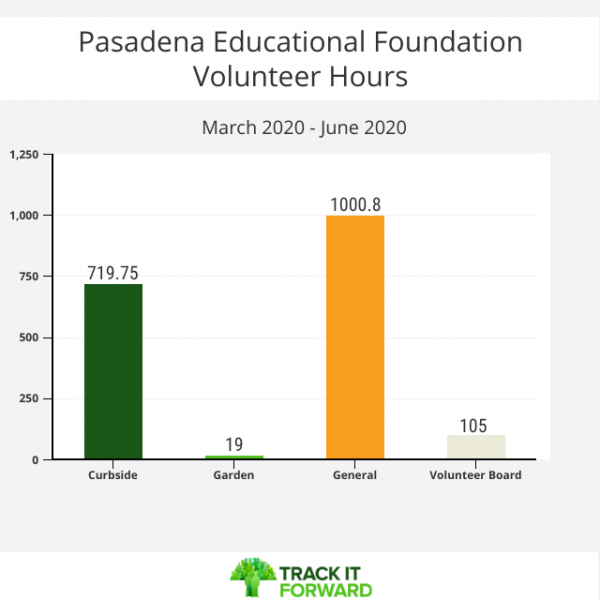 Using Track It Forward During the Pandemic
As COVID-19 forced schools to go to remote learning, PEF was instantly brought into action.
Nancy Carol says, "When everything got turned on its head, and we had to all stay at home, the first thing that happened was the school district turned into a hub for distributing meals for families."
Meals were to be given out to any and all families who needed them through a federally-subsidized program. However, many district food service employees who were at higher risk of contracting COVID-19 could not work. This is where PEF sprung to action. PEF garnered volunteers to help pass out meals via a Curbside Volunteer program, thus helping the school district deliver thousands of meals to needy families.
"I was able to get those meal site options up on the software within a few hours. It has been rolling along nicely. It is easy for the volunteers to sign up; it is easy for me to manage; it is intuitive. All of these things were key to helping volunteers get meals to families that needed them."
Feature Spotlight: Events Calendar
Nancy Carol started to make use of the event calendar in Track It Forward right away. She was able to upload the curbside events and have volunteers RSVP to work these stations.
Nancy Carol says using this calendar has helped her plan out volunteer options and the curbside locations very simply.
By using the event calendar, Nancy Carol has been able to use Track It Forward in a database way to help with the management aspect of being a Volunteer Manager.
When a volunteer RSVPs to the event, they get a reminder sent to their email before the event, and they receive a reminder email to log their hours when the event is over.
This saves Nancy Carol time in reminding the volunteers and in having to feel responsible for who shows up. She says, "It's been very flexible, and it has enabled us to actually make things happen instead of thinking okay, how am I going to set this up to make this happen."
Nancy Carol also takes advantage of hour approval features. She can go in and approve when people log their hours. It is essential to have accurate hour counts for PEF due to their use of this data in reports to gain funding via grants.
Eventually, older children were out of school. Typically, this is when summer programs with PEF would startup. As coronavirus had not calmed down, PEF wanted to further meet the needs of PUSD schools and specifically fill the gap for high school students who are required to earn community service hours for graduation. This was when Nancy Carol started adding opportunities like Good Vibes Volunteering and the Senior to Senior Program, which are virtual volunteering programs.
With more and more people wanting to help, Nancy Carol had to upgrade to 200 volunteers in the software. As people were stuck inside, Nancy Carol knew getting out into the community would be good for volunteers and for the schools, so Help in the Garden was reinstated under the guidance of the Pasadena Health Department.
Nancy Carol says, "We want to make as many opportunities available to the students that we are trying to support."
To coincide with these new programs, she decided to customize the profile fields in Track It Forward.
Feature Spotlight: Customized Profile Field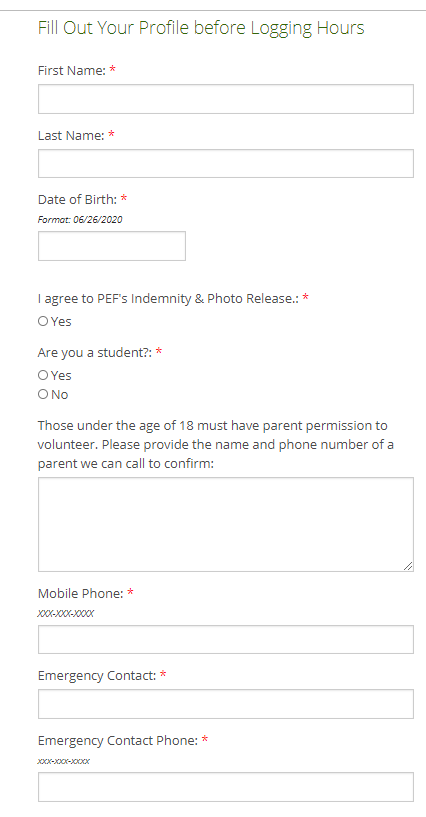 When a volunteer signs up with Track It Forward, the admin of the website has the power to customize what questions are asked in their profile set-up. They also have the option to make certain questions mandatory.
This is exactly what Nancy Carol did. She set up the profile to show the ages of volunteers, and if they were under 18, they had to have parental or guardian approval to volunteer. This not only helped Nancy Carol when it came to organizing the volunteers but in the future, she will be able to use the email blast feature to send emails out to the volunteers based on their profile.
For example: if she has a donation marketing email, she will not send this to the students because she does not want to ask students to donate money.
As shelter in place order and social distancing is still applied, having student volunteers is a great way to encourage the youth to be a part of the community during the hard times of the pandemic.
PEF allowing students to volunteer has been a great initiative for increasing volunteers. With the profile customization tool, this has been made possible and there is always extra information in the volunteer profile, like a safety contact, if needed.
The Pasadena Educational Foundation's outreach efforts are a great example of an organization persevering through the pandemic and working to be a volunteer resource hub. The use of virtual opportunities, social distancing events, and event creation amidst a pandemic is an excellent example of maintaining an organization's mission in a challenging environment.
Nancy Carol says: "Track It Forward makes my job easier. I can focus more outwardly on partnerships and volunteers rather than having to spend countless hours on a program trying to get things set up. Therefore, more things are getting done because I do not have to focus on the software. It frees up your time. That's really what you want software to do. You want it to be intuitive so you don't have to spend time learning how to use it. It is supposed to make your job easier."
Track It Forward encourages all organizations to do whatever is best for them to stay safe and keep their volunteers safe throughout the pandemic. Pasadena Educational Foundation has done this and maintained a volunteer program, which is great to see.
Do you have a volunteer program similar to PEF?
Or do you need help setting up a software in COVID-19?
Contact us!