x
The Real Lives of Volunteer Coordinators
A Blog for us to Learn from Each Other
Google Apps: Free for Nonprofits
Google Apps is a suite of tools that includes email, calendars, shared, online document authoring, and more - all for free to nonprofits. Your school or organization may already use Google Apps to communicate with employees and students - and you can use it to organize and communicate with volunteers.
Here are three helpful tools you can deploy to make it easier to coordinate volunteers. You can get access to these tools with just a gmail account - but if your organization uses Google Apps, you can keep all of your "stuff" together under one domain.
We know many people will benefit from using Google Apps in their volunteer program, but we also know that many people would benefit from using Track It Forward as well. Check out our free comparison guide to learn more about using both Google Apps and Track It Forward for your volunteer program!
Google Calendars
Having a calendar and schedule is critical to most organizations that rely on volunteers. Use a Google Calendar to share and publicize your activities, and allow people to RSVP and get reminders.
You can (and should) create a separate calendar for volunteer activities from your calendar page. This new calendar can be displayed on its own, shared, and managed by multiple people.
Make sure that your new calendar is public, and shared so everyone can see event details.
Create a calendar at http://calendar.google.com.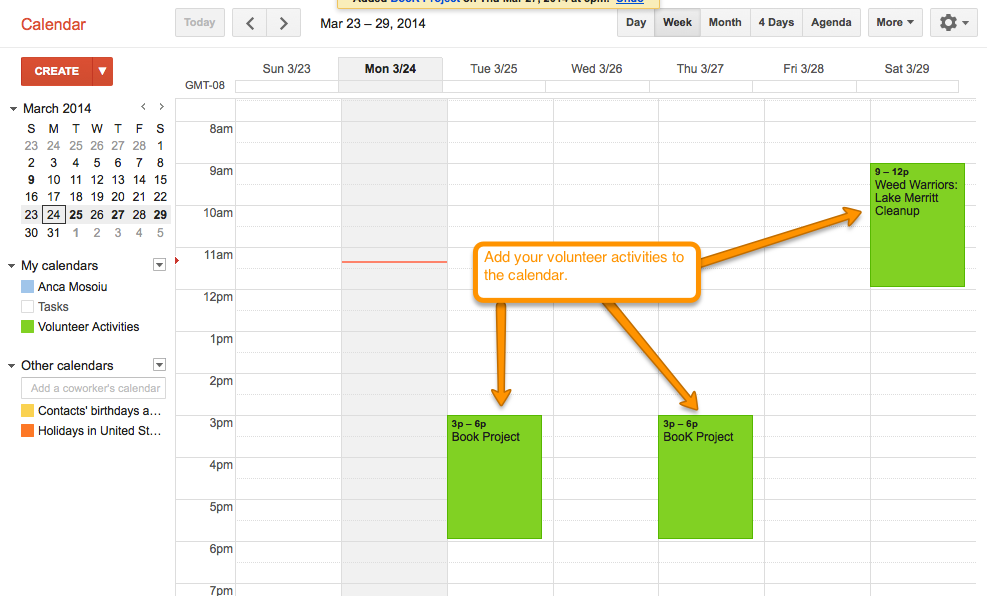 Create a Calendar and add your events for volunteers
Google Groups
Use Google Groups to conduct discussions and planning with your volunteers. Google groups are mailing lists, which allow everyone to communicate without having to know everyone's email address. A volunteer coordinator at a charter school can add all parent volunteers to the list, and email them all at once.
Group discussions are archived online by Google, so you can always go back and check messages from before. No more need to dig in your predecessor's inbox to find a record of last year's conversations.
All you need to start a Google Group is a gmail account - so you can do it now by going to http://groups.google.com.
Forms with Google Drive
Create a Form Google forms allow you to create interactive data entry forms to help you save time and paper. You can use Google Forms to:
- Sign people up for an event
- Sign people in to an event
- Perform rudimentary time tracking
Your forms will add all collected data to a spreadsheet, which gives you some ability to run reports and do math.
Google forms can be embedded inside web pages where you have access to pasting an iFrame - or you can link users to your forms.
To create a Google Form, just go to http://drive.google.com, and create a "New Form". Tell the results to go into a new spreadsheet, and you're good to go.
Take a look at our example Volunteer Signup Form - and the results.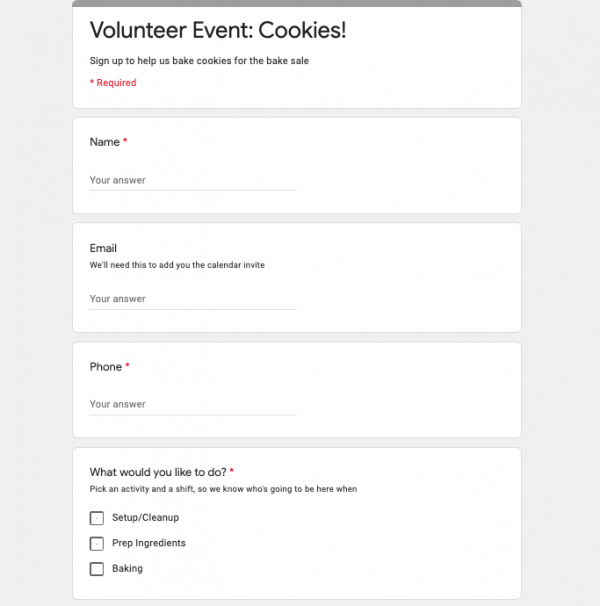 Some Cons Of Using Google Apps
While all of the Google applications are free, there are some drawbacks that you would not have if you chose to pay for a light volunteer management software, like Track It Forward.
Here are some example cons of using Google Apps For Your Nonprofit:
A lot of manual entry for an organizer/administrator which is time-consuming.

Many steps for a volunteer to sign up for an event - which might add confusion.

The spreadsheets made from Google Forms have to be set up manually and correctly to generate accurate numbers - which increases human error.

Extra steps need to be taken to edit hours that might have been entered incorrectly or if someone does less or extra.

Volunteers do not get to see their hours submitted at their leisure, they have to ask you for it.
In general, using Google Apps can lead to a lot more work for the Volunteer Coordinator and does not deliver the most accurate results. A Volunteer Coordinator must enter all of the formulas for the spreadsheet to calculate and create reports, create new Google Forms each time they want volunteers to log hours or sign up to volunteer, and more depending on how in-depth you want your tracking to be and how often volunteers will want to know their hour total.
How Track it Forward Fits in
If you need to run volunteer time tracking reports without lots of math in your spreadsheet, and more of an automated process you can easily use Track it Forward! We are one of the least expensive volunteer time tracking software that you can find, and with everything we do and create - we have the administrators, volunteer coordinators, and volunteer's level of ease in mind. Embedded into a Google Site, or used as a kiosk at your event, Track it Forward lets your volunteers track their own time. Or, you can even import information collected through a Google Form, if you prefer to use a google system that you have set up. When it comes to Track It Forward, the layout is quite simple and there are multiple options for you to use our software in a variety of ways and methods that best fit your organization.
Volunteers have their own dashboard, unlike google apps, they can log time, check-in on their total hours logged, see a leaderboard to add a friendly competition, and even see their progress towards a goal.
There is an event calendar if you opt to use it, where volunteers can sign up for events or shifts of these events. Then, they can either log their hours after their shift on our free mobile app, or an administrator can verify their attendance and time at the event, and the hour is logged.
In addition, a digital sign-in sheet or check-in kiosk can be used to check volunteers in and out of events, and their time would be automatically logged after check out.
All of the data stays in the software, and reports can be pulled instantly by admins.
We have plenty of options for in-depth features to help make volunteer time tracking and pulling reports simple. It is important to note that just because something is free and can do the bare minimum, does not always mean it is worth it!