x
The Real Lives of Volunteer Coordinators
A Blog for us to Learn from Each Other
This is the first in what will be a series of posts discussing the use of free and open source technology for charter schools, nonprofits, and grassroots organizations. If you're specifically looking for a way to keep track of volunteer hours, make sure you download our copy of this exclusive ebook.
Google Apps: Free for Nonprofits
Google Apps is a suite of tools that includes email, calendars, shared, online document authoring, and more - all for free to nonprofits. Your school or organization may already use Google Apps to communicate with employees and students - and you can use it to organize and communicate with volunteers.
Here are three helpful tools you can deploy to make it easier to coordinate volunteers. You can get access to these tools with just a gmail account - but if your organization uses Google Apps, you can keep all of your "stuff" together under one custom domain.
Google Calendars
Having a calendar and schedule is critical to most organizations that rely on volunteers. Use a Google Calendar to share and publicize your activities, and allow people to RSVP and get reminders.
You can (and should) create a separate calendar for volunteer activities from your calendar page. This new calendar can be displayed on its own, shared, and managed by multiple people.
Make sure that your new calendar is public, and shared so everyone can see event details.
Create a calendar at http://calendar.google.com.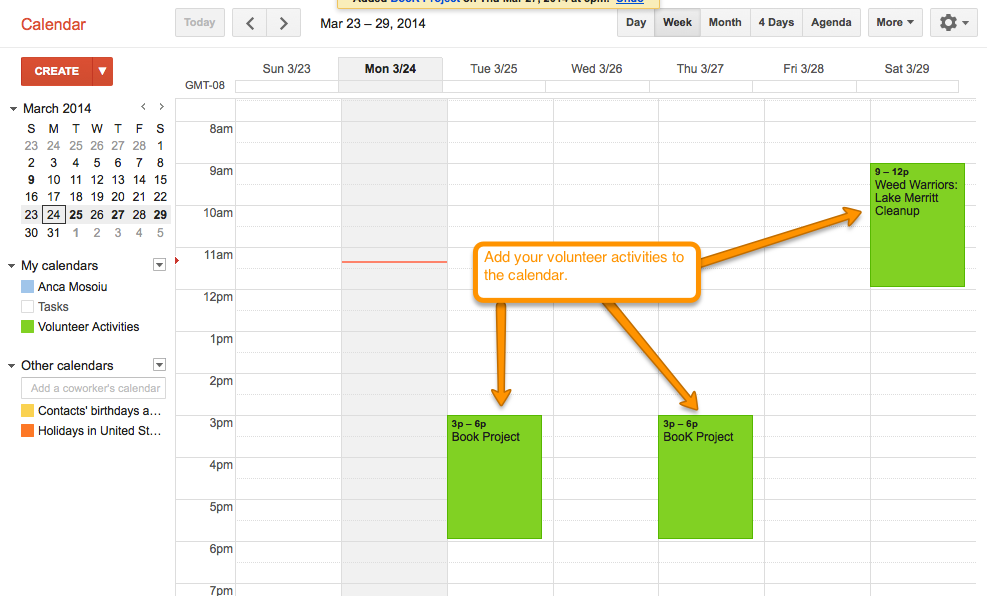 Create a Calendar and add your events for volunteers
Google Groups
Use Google Groups to conduct discussions and planning with your volunteers. Google groups are mailing lists, which allow everyone to communicate without having to know everyone's email address. A volunteer coordinator at a charter school can add all parent volunteers to the list, and email them all at once.
Group discussions are archived online by Google, so you can always go back and check messages from before. No more need to dig in your predecessor's inbox to find a record of last year's conversations.
All you need to start a Google Group is a gmail account - so you can do it now by going to http://groups.google.com.
Forms with Google Drive
S
Create a Formaving the best for last! Google forms allow you to create interactive data entry forms to help you save time and paper. You can use Google Forms to:
- Sign people up for an event
- Sign people in to an event
- Perform rudimentary time tracking
Your forms will add all collected data to a spreadsheet, which gives you some ability to run reports and do math.
Google forms can be embedded inside web pages where you have access to pasting an iFrame - or you can link users to your forms.
To create a Google Form, just go to http://drive.google.com, and create a "New Form". Tell the results to go into a new spreadsheet, and you're good to go.
Take a look at our example Volunteer Signup Form - and the results.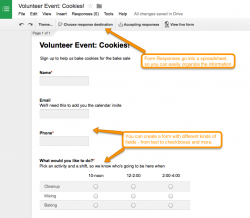 How Track it Forward fits in
If you need to run volunteer time tracking reports without lots of math in your spreadsheet, you can use Track it Forward!
Embedded into a Google Site, or used as a kiosk at your event, Track it Forward lets your volunteers track their own time. Or, you can import information collected through a Google Form.
Whatever you do, a little bit of knowledge about these free tools will go a long way. We hope to bring you more in-depth tutorials in the future.