x
The Real Lives of Volunteer Coordinators
A Blog for us to Learn from Each Other
This week, the Volunteer Coordinator Resource Group was not as popular, but did provide some helpful conversations to members of the group!
First, a lovely volunteer coordinator offered others to her CVA exam study group. While this sounds extremely nice, some of us were left wondering what exactly is the CVA Exam? And those who have taken it were happy to wish the others luck studying!
So, we have some answers- thanks to helpful comments and some research.
What is the CVA Exam?
To start, let's clarify that CVA is Certification of Volunteer Administration.
The eligibility criteria are the following, from the Council For Certification of Volunteer Administration:
Minimum of the equivalent of three years full-time experience related to volunteer resources management. This experience can be a combination of several part-time positions, and can include both salaried and non-salaried roles.

Minimum of 30 percent of current position related to volunteer resources management.

Documentation of education and related experience.
The CVA helps volunteer managers be more qualified for their role and reinforces their commitment to the responsibilities of being a volunteer coordinator or manager.
The CVA exam itself is taken from a computer and is full of multiple-choice questions to help decide what would be best in certain scenarios. Those who do not have their certifications yet, you can learn more about the CVA exam and process here.
For anyone who has their CVA, do you have any tips for any volunteer coordinators studying? Or for anyone who is considering it? Let us know in the original CVA exam facebook post here! And if you are studying- you can join the study group linked in the Facebook post as well!
Adding a CVA to your resume may be a great way to stand out when applying for more leadership positions within your organization or role, as well as if you are looking for a different role.
Another buzz of conversation came from hospice volunteers. Two posts this week were about hospice volunteers, and in a way, they intertwine.
Hospice Volunteers
To start, a fellow hospice volunteer manager was struggling with keeping virtual and at home volunteering alive for their hospice volunteers. For volunteers who normally do all of their volunteering inside of a building, this is definitely hard!
So, how can you keep your hospice volunteers busy? It may require a different way of communicating and looking at your task load.
Here are some pieces of advice from the comments:
"I do weekly live stream/video chats to keep them updates and let them visit our facility virtually."

Send projects home with them

Have interested volunteers work on things like a newsletter or another initiative that is an "extra" job of yours

Provide education and training for them to better themselves in the role!
But then, another hospice volunteer manager posted about something else that may actually be another project for hospice volunteers to take on.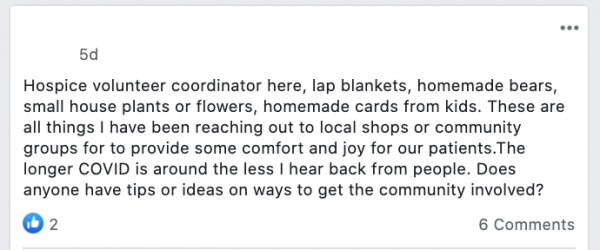 Hospice volunteers can reach out to the community for some of these items listed above! Or they can come up with ways to reach out to the community for other reasons like fundraising.
Here's some advice from the community:
"We've started socially distant concerts and therapy dog visits."

I have a church group that makes prayer shawls that we give to our patients- have you tried churches?"

"I think it would be a good COVID-friendly volunteer opportunity to pitch to the community. Something they can complete from the safety of their home with contactless delivery and make a huge impact!"

"I would play up the safe to do at home aspect. HS students might be looking for projects. We've been promoting similar opportunities on our website."
Hospice Volunteer Resources
And last but not least, we had a post that was asking some pretty engaging questions. Almost all volunteer programs have unwanted duties that volunteers sometimes are asked to do. For example, cleaning, doing laundry, taking the trash out, and more! So, how do you help volunteers feel not so nasty about these unwanted duties?
Some thoughts from the comments:
"Perhaps a special recognition certificate for so many loads of laundry, ect."

"We haven't found a way to make it glamorous- but staff make a HUGE DEAL when volunteers help in these capacities. Posting thank you's and shout outs, stopping by and telling the person how much they appreciate it, etc. THAT is what makes them come back, I think."

"Shoutouts in newsletters"

For animal shelter volunteers: "If there is a comfortable space to be with the animals, maybe offer a reward of a complimentary beverage and some quiet time to pet/cuddle/socialize one of the animals."

"Could you pair that task with something else they usually want to do, like playing with the animals after so many loads are done?

"Maybe make it a special crew with their own T-shirts or something too"

"Stress the importance of the role and why it is critically important for volunteers to take on this unglamorous role. Many people want to help out in a significant way and might make the mistaken assumption that cleaning is not that important."
Resources For Getting Volunteers To Do "Unglamourous" Work