x
The Real Lives of Volunteer Coordinators
A Blog for us to Learn from Each Other
With the beginning of summer, many schools that rely on volunteer time are looking for ways to "reset" their time tracking so they can track milestones better.
We've made this possible with our June release! Track it Forward now enables front-end reporting based on a start date, while also maintaining your full log of hours going back to the beginning of your tracking.
Here's how it works
Visit your site management console and find "Start Date".

Enter any date (for our sample organization, we start tracking each year) and your graphs, milestones, and more will only reflect time entered after that date.
The 'top 10 volunteers' graph now shows only time entered since Januar 1, 2014.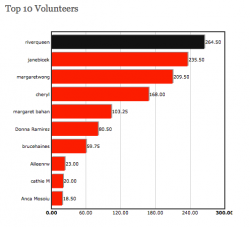 What are some uses for this?
This is especially useful for schools and organizations that have volunteer hour requirements for each semester or school year. For example, many charter schools require parents to volunteer for a certain number of hours each semester.
With a combination of milestones and start date, you can see how many families are meeting this goal. Here's a milestone report for our test organization:
What if I change my mind?
You can always go back and remove the start date, or change it when you run reports and exports. For example, on the reports screen, the "Date Volunteered From" is pre-populated with the start date.

(click to enlarge these images)