x
The Real Lives of Volunteer Coordinators
A Blog for us to Learn from Each Other
Volunteer Coordinator Resource Community Weekly Recap September 21-28
This past week there were not too many engaging posts, but there were some more in-depth questions about volunteering during COVID-19 and how to ensure volunteers are at ease and that volunteers are still engaged during limited operation.
There were some new posts about podcasts that volunteer managers may find interesting - check out the page to see those if you are interested!
Starting with keeping volunteers engaged during COVID-19 - this is definitely a hard task. Volunteer engagement and retainment on its own is something that seems to be a moving target. Volunteer managers always need to update and put some of their attention on their existing volunteers, keeping them motivated, keeping them engaged, and keeping them as volunteers in general!
Volunteer engagement during COVID-19 is especially tricky. You might be asking volunteers to volunteer at home, virtually, or alone. All of this can be different and feel not as impactful or fun as volunteers are used to. Or, there might just not be enough work to go around at this point in time for volunteers, but you still want them to be engaged for the time when there is something for them to do!
If either of these situations describes your organization, and you are worrying about volunteer engagement during COVID - you are most definitely not alone!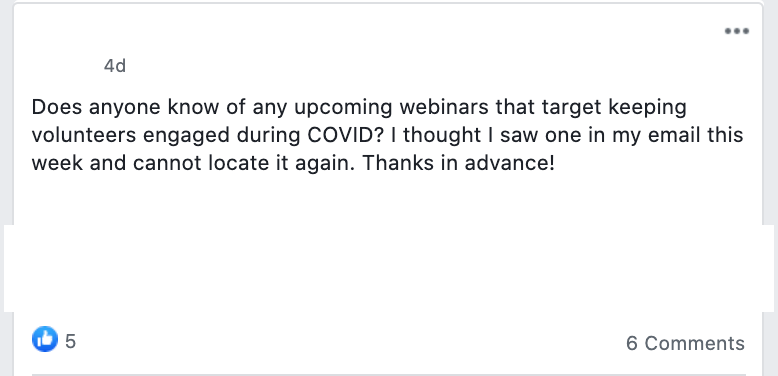 Here are some things we suggest for volunteer engagement during COVID-19.
Create virtual volunteering or at-home opportunities for them.

Start a volunteer Facebook group for your volunteers to stay connected. Create games, quizzes, and even post organization updates or feedback questions in there.

Start a volunteer newsletter - have certain volunteers explain their situation during COVID and just updates on volunteering

Do a "social media takeover" with volunteers having them explain what the organization means to them and sharing their own photos.
Resources & Webinars For Volunteer Engagement During COVID
If you have any resources, webinars, or tips to add- feel free to comment on the original post here.
---
The next topic, which has not been covered in this group before was about FAQ sheets for volunteers as they are returning to an in-person volunteer session. This is a great resource for volunteers to have! It is also a great opportunity for you to make it clear of the different precautions and safety measures that have gone into place for volunteers as they volunteer during COVID.
Here are the things that have been included in this volunteer FAQ sheet about Coronavirus:
What safety precautions have been put into place to keep everyone safe in response to the COVID-19 pandemic?

How is social distancing being monitored?

What happens when someone at the organization tests positive for COVID-19?

Who should return to volunteering now?

When should volunteers stay home?
We suggest making a few more things noted in the FAQ sheet like:
What processes do I need to follow in order to volunteer?

Is everyone required to wear a mask at all times? Are we responsible for bringing our own PPE?

How often are things sanitized in the organization?

Is there a screening process for all people entering the organization?
If you have more questions that you know volunteers will want to be answered in an FAQ sheet - let us know here!
Resources on Creating Volunteer FAQ Sheets For COVID - Related Questions