x
The Real Lives of Volunteer Coordinators
A Blog for us to Learn from Each Other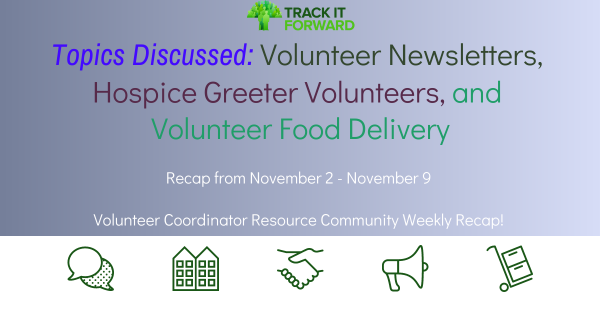 Volunteer Newsletters have been a pretty big talk of the Volunteer Coordinator Resource Community. We have had two different recaps where volunteer newsletters were the talk of the week!
Of course, this makes sense due to the fact that volunteer newsletters are a great virtual way to engage and retain volunteers. But, volunteer newsletters only really work well if you work really hard on them to tailor them to your volunteer audience.
It's true, volunteer newsletters only work as well as the amount of effort you put into them.
But, don't fret! We decided to make a large guide encompassing how to start a volunteer newsletter, what questions to ask yourself, what to include, and even some examples from our very helpful Volunteer Coordinators in the Volunteer Coordinator Resource Community.
So, we thought why not share it here - in the Facebook Group Recaps - where it seems to be most popular!
---
Hospice volunteers are a great asset to any community, there are a lot of Hospice Volunteer Managers in The Volunteer Coordinator Resource Community! This week specifically, a Volunteer Manager had a question for other Hospice Volunteer Coordinators about Hospice Greeters and the requirements needed to be a hospice volunteer greeter.
If you have anything to add to this post, click here!
Comments About Hospice Volunteer Requirements
"TB is required for all of our volunteers"

"Annually, they have to do the tb test."

"To count the volunteer hours toward the 5%, Medicare is pretty specific that a comprehensive training needs to happen as opposed to just orienting to a floor or unit. For the TB, Medicare usually says requirements for volunteers should mirror what staff requirements are."
Resources For Hospice Volunteer Managers About Hospice Volunteer Requirements
---
A volunteer task that has been and always will be quite popular is food delivery. Food delivery can be to individuals or to organizations, or for some volunteer programs - it can be on behalf of an organization like Meals on Wheels when they need extra help.
A Volunteer Coordinator was asking a logistics question about working with others when having volunteers deliver food, and we thought it was a great opportunity to bring up the act of voluntary food delivering to those who need it!

The comments on this post told the Coordinator that they have done things similar but have not charged a delivery fee. To comment on this post, click here.
Resources About Volunteer Food Delivery
Getting Started With Meals on Wheels (as an organization you can have a volunteer initiative of doing this as a group)

With American Thanksgiving and Holidays around the corner - maybe think of starting a program or partnership like this in your community!