x
The Real Lives of Volunteer Coordinators
A Blog for us to Learn from Each Other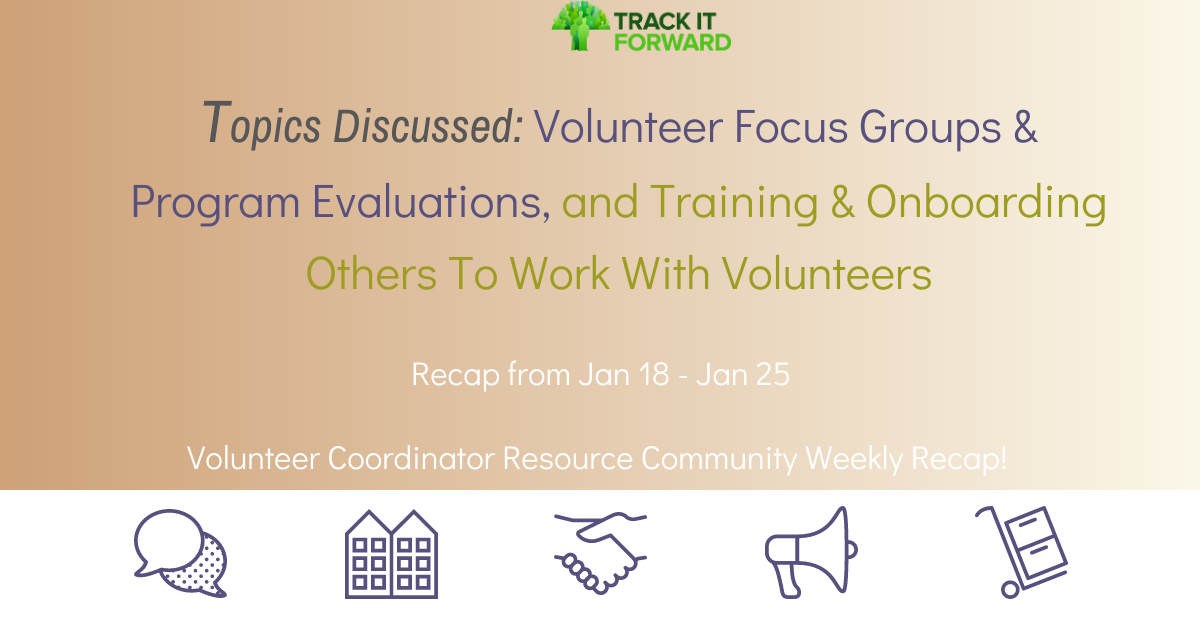 Volunteer Coordinator Resource Community Recap 1/25-21
There are a lot of different ways to be a volunteer coordinator. There are different approaches to obtaining volunteers, training volunteers, retaining volunteers, and even just the environment that you build for your volunteers!
Trying to gauge your volunteers' happiness with your volunteer program can be hard at some times. Oftentimes, volunteers might not like something, but are too uncomfortable to say it, or don't have a solution to fix the problem.
But, unfortunately, sometimes it is the volunteer coordinator's responsibility to find the best solution to problems that volunteer programs have. You are not only the volunteer coordinator, but the volunteer program coordinator, and that means you might have to do a little testing.
How you perform an evaluation on your volunteer program is up to you, you could use surveys, a focus group, or even compare two different techniques and quickly ask volunteers which they liked better.
Here's what the comments had to say:
"I've done a bi annual survey (survey monkey or google forms) but what I've found works best is regular informal in person check ins, I get more info this way because often folks will approach me with stuff I didn't think to ask about, or issues they are having with staff or what ever, that comes from the relationship building of the regular check in'

"I am starting to encourage the team leaders, who are volunteers, to check in individually with each of their team members at least twice a year via text and/or phone calls- to say hi, thank the team members for their service, ask if they have any questions, and if anything notable or unsual has come up while volunteering lately. I think that often volunteers will convey more info to other volunteers than they might to a staff member...

Met on Zoom. Only about 5 volunteers. Asked everyone what they thought of certain aspects of our program. As the meeting went on we got some really good information. Created an Excel spreadsheet with their comments and then sent them a summation to see if they had anything else to add.
If you are hoping to evaluate your volunteer program's success and how much volunteers enjoy your program, you have options!
Do a volunteer focus group where you tell the focus group your initiatives and they will pay extra attention to your efforts and give you honest feedback.

Ask a group of volunteers for their feedback, in general

Create a "leadership" initiative for volunteers to have a leadership role and ask others how they feel and give feedback.

Create a regular survey and ask people to rate how they enjoyed a certain activity or tactic.
Here are some resources for volunteer program evaluation:
If you have any more ideas to add to this topic, comment on the post here!
---
Oftentimes, volunteer coordinators can feel like they are in an endless cycle of volunteer recruitment, onboarding, engagement, and retaining. And honestly, it is a great way to look at it. It's good to keep yourself constantly going around that cycle if you can!
But, this can be a hard concept to learn as a new volunteer coordinator. Especially if a new staff member comes in and wants to help. It is hard to help in just one aspect if that person does not think of the full volunteer coordinator role cycle.
So, how do you fully get across to other volunteer leaders and coordinators how your volunteer program works?
The answer is not so clear, it is different for every person! The best advice would be to take time to list out the responsibilities you have, why you do those things, and why they are important. By emphasizing the purpose and the importance of different tasks, there will be more understanding when it comes to transitioning.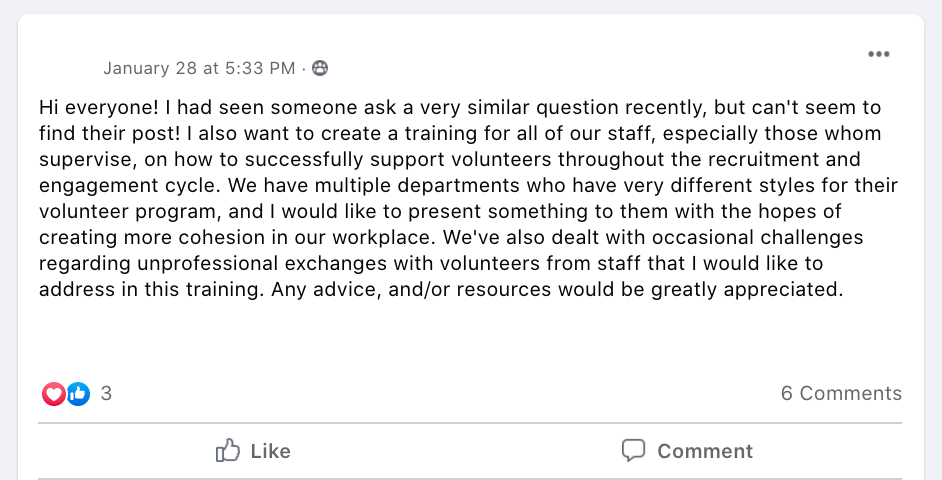 If you have any comments or advice to give, comment on this post here!
Here are some more resources to consider: