x
The Real Lives of Volunteer Coordinators
A Blog for us to Learn from Each Other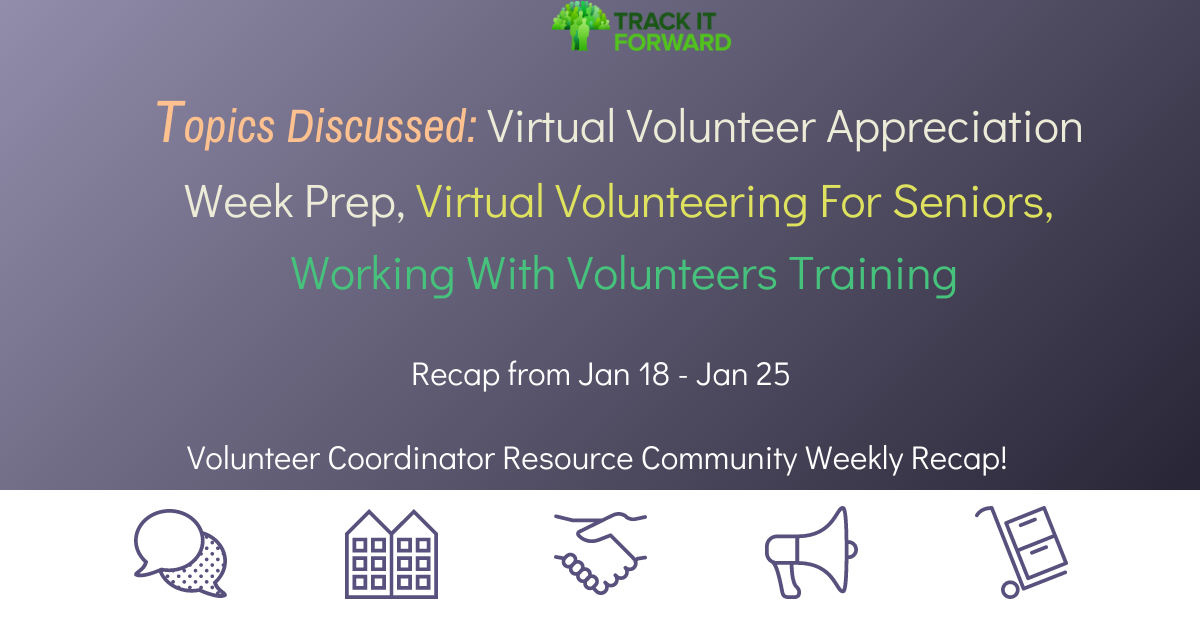 It's quite crazy to think that most people are going to be planning yet another Virtual Volunteer Appreciation Week for their volunteers. For many organizations, Volunteer Appreciation Week is a great opportunity to showcase your gratitude towards your volunteers. And yet, like most things, it is a bit more difficult to accomplish with COVID-19 still being a heavy threat.
But, the good thing is, there are many people in the Volunteer Coordinator Resource Community that have planned a virtual volunteer appreciation week or events before, and they are here to give some tips!

To read this full post, or comment more tips, click here!

To view this post in its entirety, click here.
Here are some tips from the comments of both of these posts about Virtual Volunteer Appreciation Week
"I'm in the midst of planning our virtual appreciation night. I have had the staff make videos honoring our award winners for the year. I'm also putting together a photo slideshow so everyone can see what our volunteers have accomplished."

"I was thinking of a some mini talent-shows via Zoom, featuring both volunteers and staff. See who'd be willing to perform spoken word (poetry or essay or a story), sing, standup comedy, dance, or even given a mini-presentation for 2- 5minutes. I admit that I was a bit wary when a colleague proposed this for my employer's annual employee-giving campaign, but it turned out to be a big success!"

"I thought of having a nice gift basket delivered that week at their home. Many of them are still staying home."

"we've moved to recognizing volunteers on social media, sending handwritten thank you notes, and that kind of thing. BUT we did that after talking to our volunteers about what we did - they told us they didn't want one more luncheon to put on their calendar and for us to spend money on that event when we could use it for our programs. That said, they like to be thanked. We write upsome of our more consistent volunteers in newsletters and that kind of thing all year round but make a bigger deal out of all volunteers that week of April. "

"We're doing a virtual comedy night"

"We did a drive by take out meal of baked ziti, bread, salad, and dessert with staff holding signs of thanks and waving. It was a huge hit!"

"We are going to mail out our logo'd masks (which are really nice and high quality), hand written cards that were created from a client's photo, social media, and website updates. From survey feedback I have gathered our volunteers don't want recognition in an event format, but are interested in more education and skill building. My plan is to do 6 education sessions a year for volunteers and also recognize them individually on a personal level."

"We did a drive by take out meal of baked ziti, bread, salad, and dessert with staff holding signs of thanks and waving. It was a huge hit!"
Now that you might have some virtual volunteer appreciation ideas, maybe you can start planning in advance, just so you don't feel overwhelmed when the time comes!
Speaking of volunteer appreciation, sometimes you run into an issue where you have to spend money in order to get a new budget. A volunteer coordinator in the Facebook group is currently seeking ways to spend volunteer appreciation budgets ASAP and is wondering what the most creative and best gift cards might be.
Everyone loves a good gift card, it is probably one of the easiest gifts for volunteer appreciation.
A lot of people agreed about giving out volunteer appreciation gift cards! Let's see what they had to say.
"Local nonprofits have had a great relationship with a locally-owned convenience/gas retailer. Invite similar, locally-invested businesses to partner in your recognition and offer cards for food, gas, quick-stop essentials? "

"I am jealous as I am not allowed to do gift cards anymore as it's apparently an accounting nightmare! If I was able to I would buy downtown gift cards, which can be used at over 30 different business in our downtown area. Our downtown business council runs it and I believe most cities have some version as well. Might be worth a look!"

"Not sure where you're based but do be careful with volunteers and gift cards! In the UK volunteers being gifted anything of cash value can be seen as payment and you can run into issues with employability law!!"

"I (and other managers) have purchased this journal! We also did cooler/lunchboxes and hand sanitizer in the past! Www.amazon.com/author/nicolersmith"

"We once did annual passes for our state parks. Volunteers loved them and it continued to be a gift year round"

"We actually did Sheetz this past december for in their christmas cards, that way it could be used for food or gas and covers every age. You can order them online, but if you want less than $10 amount you will need to call. They were very responsive and kind."
To view all of the comments, or add more - click here.
Resources For All Volunteer Appreciation
---
Virtual Volunteering has become wildly popular, and while there are so many great ideas out there - it definitely takes a certain type of creativity to come up with virtual volunteering activities that include senior citizens, or those who are technology challenged.
This is a specific niche that really could use some answers, as the virtual volunteering realm will not be going away, especially for the older generation that are more susceptible to COVID-19.
A lot of people are wondering the same thing as the post above. If you have any ideas, please comments here!
Advice From The Comments On Senior-Friendly Virtual Volunteering
"Is it possible to ask for volunteers who can teach seniors how to use technology? We've found that many of our seniors have smartphones and computers. They mostly need help with apps. We conduct classes via Zoom or Teams and send detailed equipment requirements and login info ahead of time. We also include a phone number for a designated tech support person on our team to help if the instructions are not enough. Not everyone is interested or can participate, but those who do are very grateful."

"Book club reading to each other and talking about chapters!"

"For hospice volunteers, they are not allowed to see patients right now. Mine are going to record a video and I will send it to our nurse to play for the patient"

"Also gardening in house and community. We are doing pet enrichment gardening. Also they can sew pet beds and or make pet treats fr vegetables they grow or buy and cook."
---
In the reverse direction, some Volunteer Coordinators often have to train other members of staff on working with volunteers. This is a specific task that most larger organizations have, but it can often be difficult to train how to work with volunteers since there are so many little things that volunteer coordinators do in one day!
Advice From The Comments On Volunteer Management Training:
'Within their first month on the job I set up a 2 hour Introduction to VS; which includes going over our philosophy on volunteerism, the volunteer lifecycle, expectations as a supervisor, VS role to support supervisors, complaint process, get then access to the volunteer management platform and then run through all the tools available to them. It's a lot but I find if I don't get to them early on then they can either have bad habits or be trained incorrectly on the platform.'

"We're just starting to have quarterly orientation sessions with new hires. We just revamped our onboarding process for new hires so we also included the volunteer and student programs."

"We do an onboarding with each new staff member that will be supervising volunteers where we go over the supervisor handbook and answer any questions. We also do quarterly lunch and learns with any staff that work with volunteers (around 200 in our City). They are on all kinds of topics including how to find new opportunities, writing job descriptions, managing difficult volunteer situations, appreciation on a budget, etc. We also were going to new hire orientation to introduce ourselves and the department and had a little flyer for new staff."

"I did the leadership and management course to become a full member of the institute. It really is the best course. I needed to learn how to be more resilient."
Resources For Training To Work With Volunteers