x
The Real Lives of Volunteer Coordinators
A Blog for us to Learn from Each Other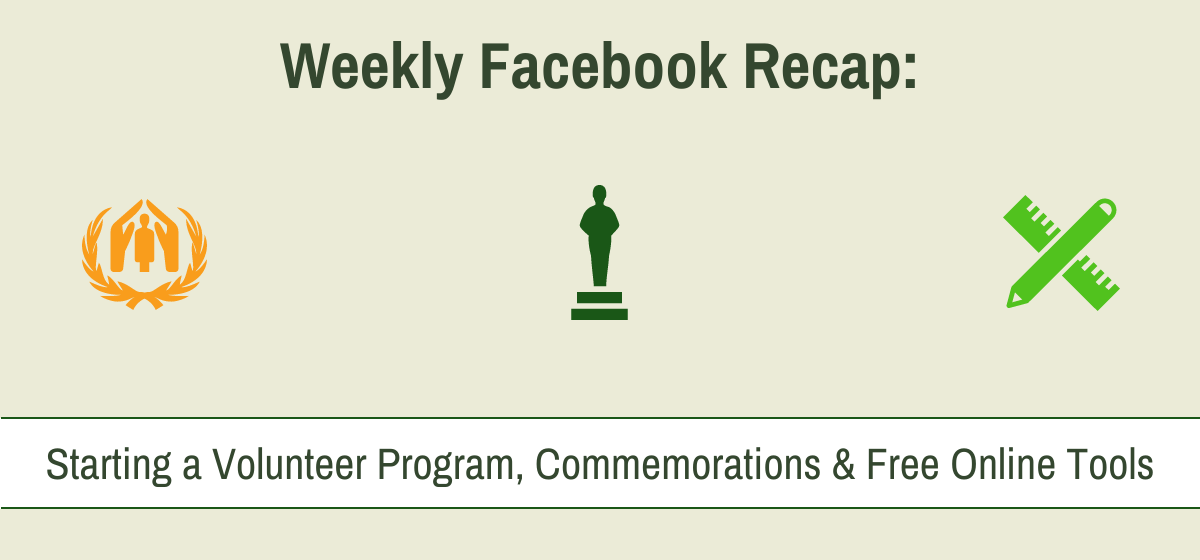 Recap for March 21st - March 27th
Thank you to everyone who contributed to the Facebook community this past week!
Starting a Volunteer Program from Scratch
It can be a bit overwhelming when you first become a volunteer coordinator inheriting a volunteer program. However, it can be even more stressful when you're starting a volunteer program from scratch on top of it! It can be difficult to know where to begin, but luckily our coordinator community has some great advice!
Comments and resources
"Check out the Volunteer Pro website. Amazing Resources…Advertise online through your channels…Depending on the roles, you can send position descriptions to your local universities."

"[Next Steps:] Volunteer recruitment, training, and retention."
Commemorating Volunteers
Many nonprofit and service organizations have a large percentage of volunteers who are older and declining in health. The reality that these organizations face is that some of their active or current volunteers may pass away on a regular basis. Our coordinator community has come up with some wonderful ideas on how to commemorate and memorialize these dedicated volunteers.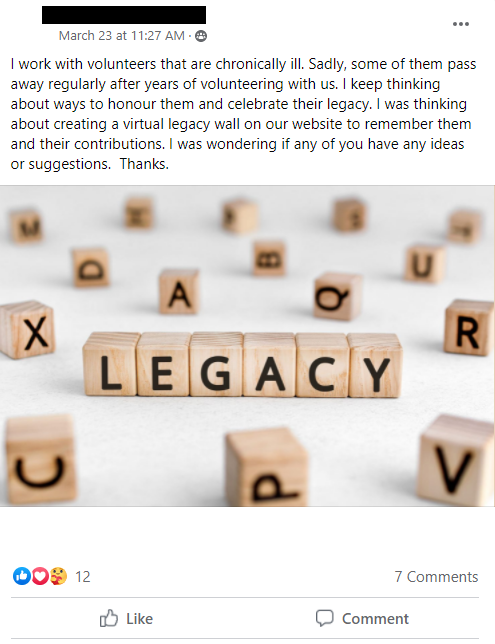 Comments from the group
"What about their photo, and a short bio about what they did for the organization and things that made them special? You could even (depending on what your organization does) include comments by clients they served."

"You could also showcase them during national volunteer week. You can add a tab on your volunteer page (memorial like you stated with a space where others can leave remarks when they possibly volunteered with them so the family could read)."

"Lovely idea! May be worth ensuring consent from family members if not already included in volunteering documentation. We always include an in memoriam page in our annual report as well."
Google Forms and Other Free Tools for Volunteer Management
Google Forms can be a great tool and resource for volunteer management, especially when it comes to collecting online forms such as volunteer applications or agreements. Our community has offered some other great ideas for using Google Forms, and Track it Forward has an article on other free tools you can use!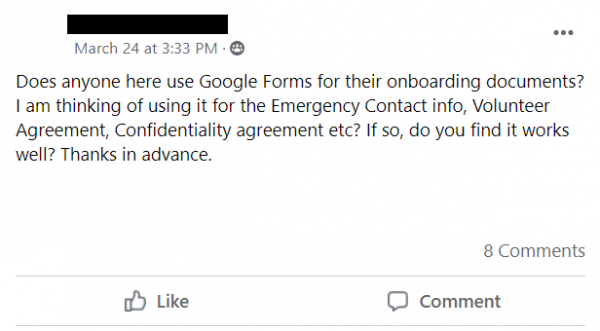 Comments from the group
"We use it for our volunteer applications and for our safety guidelines confirmation. Some have trouble but I offer them a paper form."


"I am using them for my new CIC as referral forms and expression of interest forms for volunteers. It's really good for surveys as well, the data displays really well for that and you can export it straight into a spreadsheet to keep track of all the info. Hope this helps."