x
The Real Lives of Volunteer Coordinators
A Blog for us to Learn from Each Other
To stay relevant in the 21st century, it's essentially required for organizations to use some type of tool for their day-to-day functioning. You need tools to communicate with team members working remotely, tools to create eye-catching advertisements, and tools to manage your social media outlets. The issue is, there are so many tools to choose from and often they can be very expensive. We know that nonprofits can have a hard time finding high-quality and free tools!
Luckily, there is a solution! Companies that develop tools and software recognize the importance of nonprofits and the essential role they play in addressing societal issues. As a way to give back to the community, there are often discounted or free tools specifically created for nonprofits. We've compiled the best free tools for nonprofits that are actually worth using. These free tools can help streamline the process of grant writing, advertising, budget management and so much more!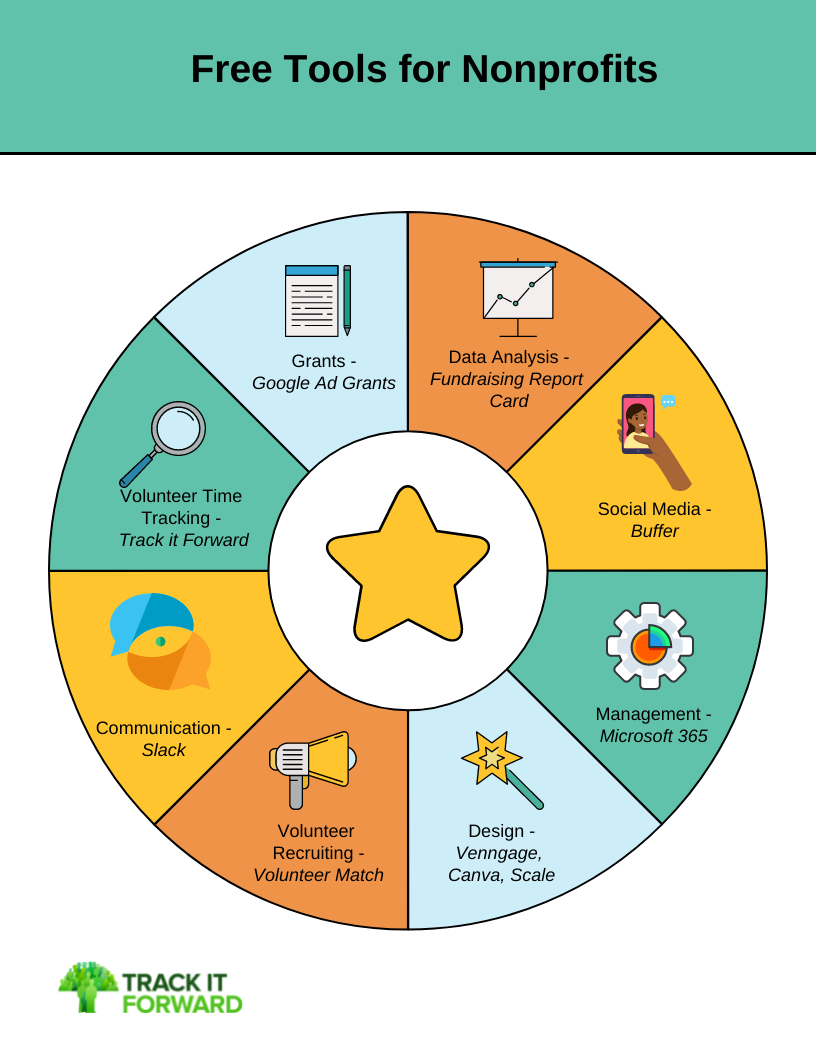 " title="" width="816" height="1056" class="imagecache wysiwyg_imageupload 0 imagecache imagecache-product_full" style=""/>
Marketing Tools Free For Nonprofits
Marketing is extremely important for any nonprofit as it tells the audience what your organization does and why it's important as well as potentially allowing support from the community and recruiting volunteers. Getting your organization and nonprofit's mission to be well-known and creating brand awareness will help attract the right people to your nonprofit and ultimately increase funding and success towards your organization's mission.
Nonprofit Grants Tool
A key for success in nonprofits is often outsourcing philanthropic sources for funding and support. These can come in the form of grants, and can be quite hard to find! Luckily, Google Ad Grants help nonprofits attract donors, recruit volunteers and raise awareness through Google Search Ads. This means even if you are a small nonprofit, you can appear in the top list of websites when people search for topics related to your nonprofit on Google.
Each qualifying nonprofit has access to up to $10,000 per month in ads shown on Google. With free $10,000/month, your nonprofit can create successful digital marketing campaigns to get the recognition you finally deserve!
Design Tools For Nonprofits
Know nothing about designing infographics, social media visuals, or advertisements? No problem! Venngage has over a thousand free design templates to choose from to create the perfect design for your nonprofit.
A lot of the templates are free, but if you want to get access to premium designs and unlimited downloads, Venngage offers their premium memberships to nonprofits for 50% off.
Similar to Venngage, Canva offers beautiful customizable templates to help with your designs.
With Canva, there's no need to pay for designs. Canva offers 75 million+ premium images and videos and unique fonts for free.
Nonprofits have a special deal where 10 members receive Canva Pro's premium features all for free. With these features, you have access to premium designs and can customize a "Brand Kit" to keep the font, color, and logo consistent across team members.
Sometimes it's hard to find illustrations that are gender-inclusive or specific to your nonprofits industry. Luckily, we found a solution for you!
Scale is an illustration company that offers the option to change the gender and skin color preferences for all illustrations on their website. They even have a color-picker to adapt the illustrations to your brand identity. They have new illustrations each day and it's completely free!
These illustrations can be used in your website, marketing campaign, or a visual guide to explain your organization's mission. A picture can speak a thousand words and Scale can help personalize the message you portray with their unique customization tools.
These images can be used on a website, landing page, for social media, or even for print-outs and posters!
Social Media Tool
Nowadays, having multiple social media platforms is a must for any organization. You might have Twitter, Instagram, Facebook, and Pinterest all for your organization! But the maintenance can be a bit exhausting when there are so many other important tasks to get done within your organization.
With Buffer, you can schedule your social media posts ahead of time, so you don't have to worry about it in the middle of other tasks! You can pick one day a month to plan out all your social media posts to go live without having to remember to post for that day.
Buffer is free for 3 social channels and 10 scheduled posts a month for any user.
For nonprofits, all Buffer plans are 50% off. This means you could schedule 100 posts with 8 channels for only $7.50/month.
Data Analysis Tool For Nonprofits
Do you find yourself spending hours at your computer trying to create graphs in Excel or Google Sheets? Creating eye-catching graphs to display your donation growth and overall performance can be simplified with Fundraising Report Card!
This software was created specifically for nonprofits to help streamline the process of displaying complex information into beautiful graphs. You can instantly compare the effectiveness of different fundraising activities or donor segments with performance dashboards built into this software.
The best part about this, it's a completely free tool for nonprofits!
Volunteer Management Tools Free For Nonprofits
Volunteers are vital to any nonprofit as they can often help raise awareness, build stronger relationships with the community, and add extra skill sets to your organization.
But, if volunteers don't feel supported or impactful to your organization, they might not be invested in volunteering. It is important to have volunteers that are committed to your mission and to make sure you are constantly committed to recognizing volunteers for their work. Sometimes, this requires some extra tools that are automated to help you and your volunteers stick together.
Volunteer Recruiting Tool For Nonprofits
Finding volunteers who are both passionate about your organization and committed to your cause can be difficult. But with VolunteerMatch, you can get a larger number of highly qualified volunteers perfect for your nonprofit!
Every day, thousands of volunteers search VolunteerMatch for opportunities in their community. When volunteers see your listing, they simply click on it to connect with your organization and get involved. There are over 131,000 organizations participating in the VolunteerMatch network, it's the most well-known volunteer recruitment tool online.
The best part, creating an account and listing your nonprofit is completely free!
Volunteer Tracking Tool
Tracking the time of volunteers is crucial in applying for grants, sharing information with your donors, and building credibility as an organization. You can also use volunteer time data when analyzing your nonprofit and volunteer program to create new strategies for volunteers to help support your mission in the best way! With Track it Forward, volunteers can log their hours easily through a desktop or mobile device.
Volunteers can also sign up for shifts and volunteer coordinators can easily send reminders or announcements through this free tool for nonprofits.
It's free for the organizations with less than 25 volunteers and Track it Forward also offers free 30-day trials for all other premium plans and features.
Admin Tools Free For Nonprofits
Since there are often many moving parts in a nonprofit, it's important to have quality admin tools to keep everything organized. As your nonprofit grows, having reliable communication lines and a central data storage location will help keep your nonprofit running smoothly.
Communication Tool
Good communication within your organization is necessary for any nonprofit to run without a hitch. Apple defines slack as "bringing team communication and collaboration into one place so you can get more work done! It's faster, better organized, and more secure than email.
Slack is available on any device, so you can find and access your team and your work, whether you're at your desk or on the go."
For nonprofits specifically, Slack offers their standard plan (250 or fewer members) a free upgrade!
Management Tool
With any nonprofit, it's important for members to have an email address, a video conferencing platform, and a location to store data. Thankfully, Microsoft has your back!
You can securely run and grow your nonprofit and bring groups together from all around the world. With Office 365, you can access your grant applications and reports anywhere, anytime, with their remote file sharing and online storage.
Another bonus is that since Microsoft is such a widely used software, almost everyone has used Word, Excel, and Powerpoint at some point in their life so no extensive training will be required.
Microsoft 365 Business Premium is free for nonprofits up to 10 users and discounted at $5 user/month for additional users. This is a great price compared to their usual $20 user/month.
With all of these free tools and exclusive deals for nonprofits available, your nonprofit workflow can be more optimized, without spending nearly as much money! Best case scenario, your job just got a lot easier; Worst case scenario, it didn't help out but you learned something new. In either case, little to no budget was wasted; so give these tools a try!