x
The Real Lives of Volunteer Coordinators
A Blog for us to Learn from Each Other
There's no question that COVID-19 has been a challenging time with school closures, social distancing, and shelter in place. Understandably, these unprecedented circumstances have led many schools to suspend service learning and community service activities for students.
But, at the same time, other schools have found creative ways to reframe their service program and keep students involved with volunteering from home! School volunteer coordinators have used technology and creative ideas to embrace school volunteering during the pandemic.
While COVID-19 is pressing many challenges on the scholastic system, it is also creating a lot of free time for students and families. A global pandemic is a perfect example of when the community needs to come together, virtually of course, and help out. Volunteering and service projects in schools preach this daily, so there is no reason to stop your school volunteering programs now.
It is important for schools to adapt and create opportunities for students to participate in service learning projects, community service acts, and volunteerism from home.
Click here to download our guide!
Ideas for School Volunteering During COVID-19
We work with hundreds of schools each year to track the required service hours and student involvement with the community. We know how beneficial community service is for high school students to learn and be involved in the community so we wanted to create a quick reference guide for student volunteerism while sheltering in place.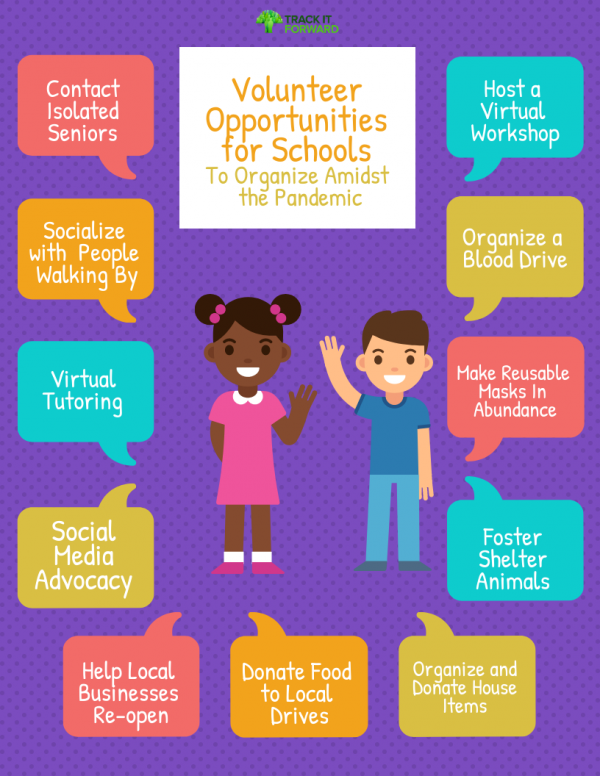 School Virtual Volunteering the Pandemic
Many traditional volunteer opportunities have been suspended, but we've seen some students volunteering more than ever! Virtual volunteerism is a popular option to stay engaged while staying at home.
Ideas for Virtual Volunteering
Virtual Volunteering may seem odd at first, but a lot of volunteering in today's technology starts with some virtual practices. School students can feel engaged in behind the scenes volunteering from participating in a school virtual volunteering activity.
Here are some more virtual volunteering ideas for schools:
Organize virtual meetings to go over future events in the school year

Become a digital advocate for larger organizations like Red Cross

Organizing virtual events for younger students

Call senior citizens or those living alone to do check-ins and provide communication

Archive historical documents for museums.

Students Neighborhood Involvement Volunteering During the Pandemic
There's also a shift to neighborhood involvement and helping out at home. For schools that track community service hours, this is a great way to keep students involved when many nonprofits are closed.
These would be great volunteer hours for schools that like students to organize some of their own volunteer hours. So these would be things that an administrator would not have to organize themselves, just encourage them to do on their own time!
Ideas for Neighborhood Involvement for Students During COVID-19
Assisting neighbors with yard work
Getting groceries for the elderly
Helping with cleanup projects
Offering special skills like car detailing, car-washing and gardening to neighbors


Student Volunteering Helping Specifically with COVID-19 Relief
Students may be very confused and concerned about the world in this time, as we all may! It is important to showcase to students that a national crisis is a great way to showcase humanity and volunteer. Students volunteering directly in response to COVID-19 is a great opportunity for them to self reflect and learn about the country and relief efforts.
How to Organize COVID-19 Relief Volunteer Opportunities for Students
Create a list of needy care package recipients and ask students to make something for them.
Provide supplies and virtual lessons on sewing face masks.
Ask local businesses who are opening up if they need help advertising mask-wearing laws on their social media or even by creating posters/ flyers.
Organize a local food drive to donate to organizations.


Resources for Schools Volunteering During The Pandemic
Points of Light - this organization gives great tips for different activities, categories, and volunteering within these school subjects.
Do Something - this brings projects from real-world issues together virtually. This is a great opportunity to showcase how actions during a pandemic can be helpful.
Foundation of International Medical Relief for Children - this organization is hosting modules and virtual events weekly in place of their summer volunteer program. This would be a great opportunity to encourage students to volunteer virtually and gain service learning experience.
Additionally, there are numerous opportunities to spread some cheer and positive messaging in the community. Students are creating sidewalk chalk art, organizing teddy bear hunts, and painting kindness rocks. If you have a talent or know someone who does, you can organize a social distance block party or virtual concert!
There's so much more to consider and ways to engage students in community service during this time! We've compiled a 4-page guide that highlights: reasons to encourage student involvement, considerations for reshaping your service program, examples of volunteer activities, and ideas for neighborhood involvement
Here is a preview of page 1 of our guide: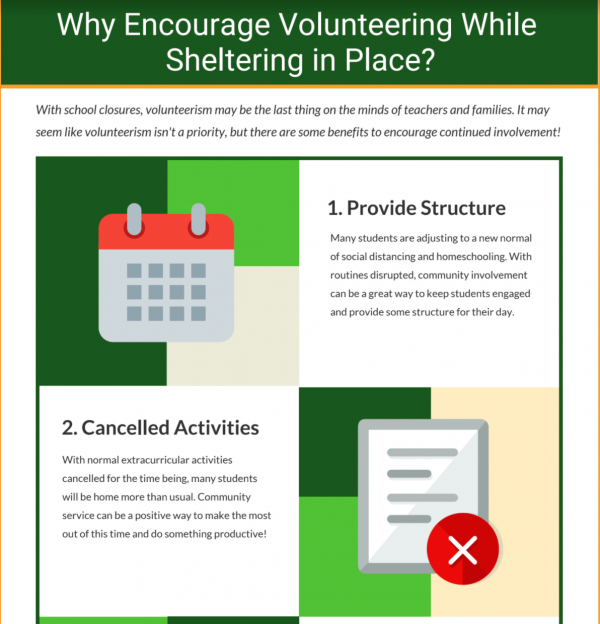 Click here to download our guide!
How Track It Forward Can Help Track School Volunteer Hours During The Pandemic
You may find it harder to track your students' volunteer hours while they are not coming to school. Track It Forward is a volunteer tracking software that makes hour logging, report running, and tracking very simple.
We work with a multitude of schools who find using our software is simple, easy and helps them organize their students and the different types of activities that can be done.
FAQs
How to keep students volunteering over the summer?
Create long-term projects that will require a checking process monthly and multiple days of activities. Organize activities that can be done from home, anytime or anywhere so students can easily do them wherever they are located for the summer.
How to hold volunteer opportunities during COVID-19?
Check out the virtual opportunities listed above, in our guides, or from volunteer organizations like Volunteer Match.
Can students volunteer during shelter in place?
Yes! Students can do virtual volunteering, work from home volunteering, or even their own volunteer initiatives. Any sort of helping in this time can be considered volunteering.