x
The Real Lives of Volunteer Coordinators
A Blog for us to Learn from Each Other
What We Learned from our Volunteer Coordinator Resource Facebook Group June 29 - July 5
There were many posts this week that got a lot of engagement, especially posts from new members! We love being able to provide a resource community for all volunteer coordinators. Check out these engaging posts about virtual volunteering, transitioning into volunteer precautions during COVID-19, creative nursing home programs, and what different co
ordinators consider to be important for an info session and for orientation.
1. Personal Protection Equipment
Have anything to add on this topic? Comment here.
Advice from the comments:
"Hi we provide PPE kits for all our volunteers and staff (same kit) that includes: Masks, gloves, hand sanitizer and small pack of Kleenex's all packed in individual zip lock bags then placed in a drawstring backpack with an individual notepad and pen and their name tag"
If they are outside also pack a water bottle and encourage them to bring their own sunscreen to avoid sharing.
We suggest sending out a COVID-19 precaution email showing what you will be supplying and what they should bring of their own, this will not only inform volunteers of safety precautions but allow them to be prepared!
Resources
2. Nursing Home Initiatives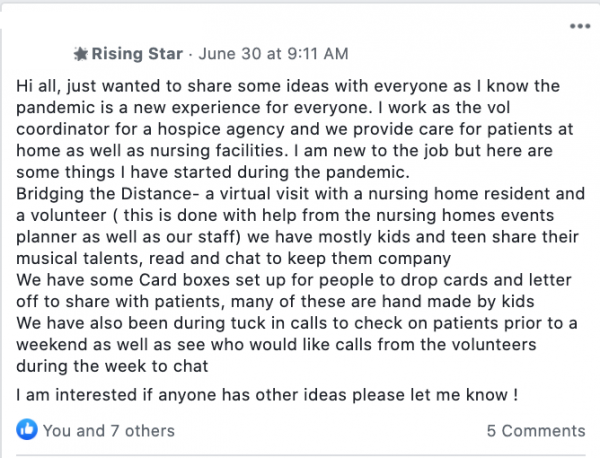 Do you have any ideas to add? Let us know!
Helpful comments:
"Have you see those puzzle books you can get at Walgreen type places where you find words- any of those cheap books to stimulate games. (alone mental stimulation)
Mobility exercises on youtube and facetime via phone
Online board games
Depending on the level of care, some of these options may bot be doable, think of interactive ways to help stimulate the brain, that are not too hard to configure!
Resources
Check out Volunteer Match to see what type of volunteer opportunities other businesses are posting in relation to nursing homes to see if your organization could do the same!
3. Educational Virtual Learning Platforms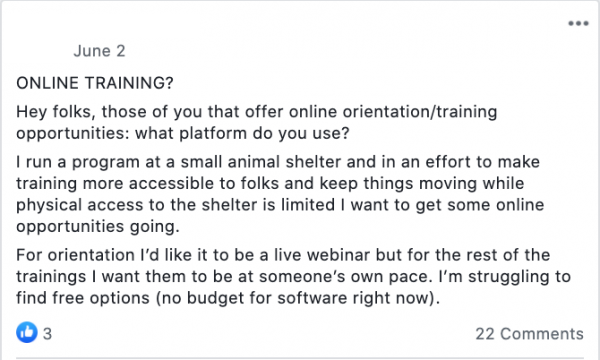 Have you used any of these platforms? Or do you have any other advice? Comment here.
This is an old post but generated comments over the past week! Check them out:
"Could you upload training videos to Youtube and then have volunteers complete an online quiz to test their knowledge? I believe Survey Monkey has a free quiz making function."
"Moodlecloud is free. I also really like talentlms.
"We will be using Google Meet and allowing those who don't have a Google account to call in by phone."
"We use zoom and record them and upload to youtube."
"Zoom has been a phenomenal tool for us. We've already done 3 zoom orientation from 9am-4pm so its long, but i do evaluations and they all come back positive. Breakout rooms, a function of zoom, is an awesome tool ... great for adult learning and interaction."
Tip: "For every 5-15 minutes of presenting, there should be one type of interaction."
Resources
4. Information Sessions vs Orientation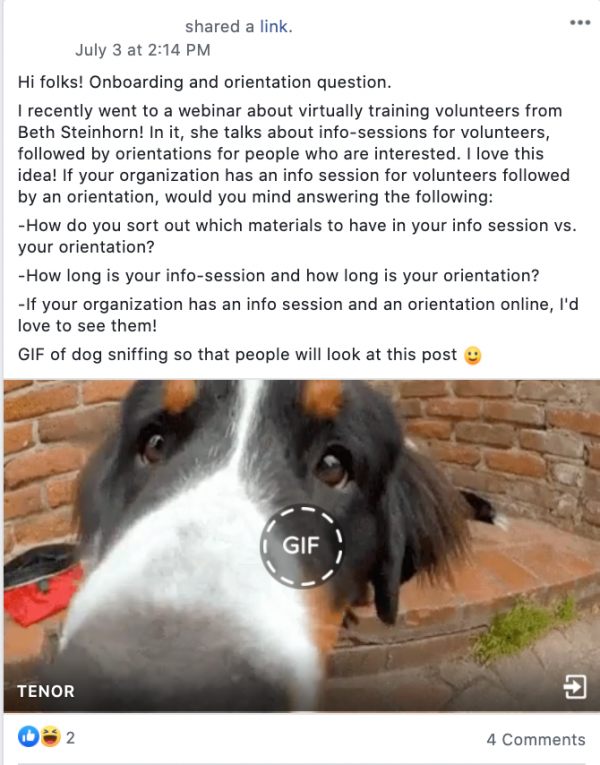 Do you have either of these practices down? Give us the insight here!
Advice from the comments:
"We used to have an info session but stopped doing them as we did not feel it was giving us a good ROI. It was more of a time suck for us. We found less than 1/3 of the people that attended our info session came to the orientation which is a 66% drop out rate vs. 15% of volunteers coming directly to orientation not completing the process. Our info meeting was 1 hour an we showed a 7 minute video about our volunteer opportunity."
"I am planning an online orientation class on zoom. While I'm not doing an info session, I'm having zoom calls with each interested person to give them more info about our mission, the volunteer orientation class, our volunteer positions, etc. also it'll be a time to ask them what they're interested in and go over the class before it starts."
I have been doing orientation classes on Zoom since March with each interested volunteer.
First I send each interested volunteer the volunteer docs (application, photo /video consent, oath of confidentiality...) then the zoom meeting is set up where I welcome them to the team, follow our volunteer onboarding protocol, talk about the organization, virtual tour of our website, etc. Discuss their goals and interests to ensure we are the right fit and can set them up for success, discuss the current virtual volunteer roles, ... this meeting lasts about 40-45 minutes."
"I have been doing volunteer information sessions since I started the volunteer program. It is a way to gauge how interested the volunteer is. It helps weed out the volunteers who won't be as committed. I also do a volunteer orientation on top of the info. It sounds like a lot but again it gives a volunteer clear direction and guidance. Since Covid-19 everything is done through zoom. The info sessions last about 30 minutes and include an informal interview with the potential volunteer. It's 1:1 and we talk about the organization, volunteer positions, and volunteer process. Those are my core topics. Orientation goes into detail about the organization, volunteer requirements, training, etc."
We recommend doing info sessions for new volunteers or volunteers who are unsure about their commitment, it helps organize potential volunteers into groups and then you can do orientation for those who are at the level of commitment you need at the time.
Resources