Promote University Student Volunteerism with Progress and Engagement Tracking
Customizable Volunteer Profiles
Collect custom data including photo uploads for verification
Track Progress with Milestones
Set milestones for hours and volunteers can view their progress
Volunteer Engagement Reports
Export custom reports on volunteer data
University Student Life Organization Promotes Volunteerism Through Track it Forward
Swinburne University of Technology in Melbourne, Australia has a great way to motivate students to volunteer. The Emerging Leaders Program allows students to be recognized for their extracurricular volunteer work within their community on their academic transcript.
This is where the Swinburne Student Life Volunteering Program comes in! The Swinburne Student Life Volunteering Program is a nonprofit organization that creates a sense of belonging and helps students develop job-ready skills and experience through coordinating and encouraging volunteerism.
The Program's Leadership and Volunteering Team Leader Sara Luckman says the main goal of the program is to help the university's larger mission of creating job-ready graduates. She says, "Linking students to industry, and volunteering is sort of part of that, or at least has the element of giving back to the community."
Swinburne Student Life Volunteering Program creates an event calendar full of volunteer opportunities for those students who want to volunteer through the program. They promote a variety of volunteer opportunities for students, which could be technical course-related or soft skills that supplement what they are learning in class.
The Volunteering Program recognizes the importance of students developing interpersonal skills, emotional intelligence, and getting involved in community service when they are studying and in coursework. These skills are valued by employers and therefore help students increase their chances of securing a job upon graduation. Volunteering is one of these experiences that will allow students to gain more experience and skills.
Swinburne Student Life Volunteering Program has a dual purpose, with students attracted to the program for both resume-building and social reasons.
Sara says, "Most students get involved because they are starting to get an understanding that volunteering is being recognized by employers. It's not only paid work, employers like to see students who have taken themselves outside of the classroom and decided to improve their skills by actually getting practical experience."
In order to become a volunteer with Swinburne Student Life Volunteering Program, students must do 3 things:
Get a Working With Children Check
Complete The Consent Matters Program
Register an Account with Track it Forward
How Swinburne Student Life Volunteering Program Uses Track It Forward
There are several reasons why Swinburne Student Life Volunteering Program wants to accurately track volunteer hours. Since they report to a university and some data might go on a transcript, hours need to be accurate. In addition, they have other requirements and motivation tactics they have found to be successful to motivate student volunteers. Using all of this in one location is ideal, and what they have learned to do with Track It Forward.
1. To register and track new student volunteers
Since students need to sign up and pass two other checks - Working With Children and Consent Matters - allowing them to register on a platform like Track It Forward improves the visibility of which interested students have created an account and done all the checks.
Once students have showcased their interest in volunteering with Swinburne Student Life Volunteering Program, they can easily be monitored through Track It Forward to see when all of their checks have been submitted and they can start volunteering.

Track It Forward requires new students who sign up to become part of the volunteer program to be approved by an administrator. Students are only approved after their Working With Children and Consent Matters details are submitted!
Then, after they are approved, they have access to the volunteer opportunities event calendar in Track It Forward and can easily start volunteering!
The member approval process within Track It Forward allows volunteer registration to include and require a photo upload of the Consent Matters Certificate and a confirmation number of the Working With Children check. This allows administrators to easily see who is eligible to be an approved volunteer, and who needs to wait to be approved or even be contacted again about the compliance measures.
Track It Forward allows this process to occur through the customizable volunteer profile option. Once it is set up, this will be easy to track and analyze!
2. To track student volunteerism for the Empowering Leaders Program
Since Swinburne Student Life Volunteering Program is connected to Swinburne University, it is important that they keep track of which volunteer activities students participate in, especially if students are wanting to volunteer in order to showcase their work on their transcripts through the Empowering Leaders Program.
Students that are approved to volunteer through Swinburne Student Life Volunteering Program can sign up for a multitude of volunteer opportunities through the event calendar. Then they log their hours through their Track It Forward account anytime after the event is over.
Each of these events and hour logs is categorized into activities. This is helpful for volunteer program administrators to use for reports, and for Swinburne Student Life Volunteering Program to give to the University.
3. To Promote Volunteerism Through Milestones
The Program encourages student volunteers to go beyond the 40 hours that are required in the Empowering Leaders Program. They do this by sending out newsletters and reminding students of all their volunteer opportunities. In these newsletters, they showcase leaderboards for volunteers who might be interested in friendly competition.
Swinburne Student Life Volunteering Program has set up four different milestones to help encourage volunteers to meet. These are 25, 50, 100, and 200-hour milestones. Volunteers can see their progress towards these milestones when they log hours. It is a great motivator to keep them going towards these hour totals.
Swinburne Student Life Volunteering Program administrators can also easily see which volunteers have met or are working towards certain milestones goals. Then they can acknowledge student volunteers' efforts!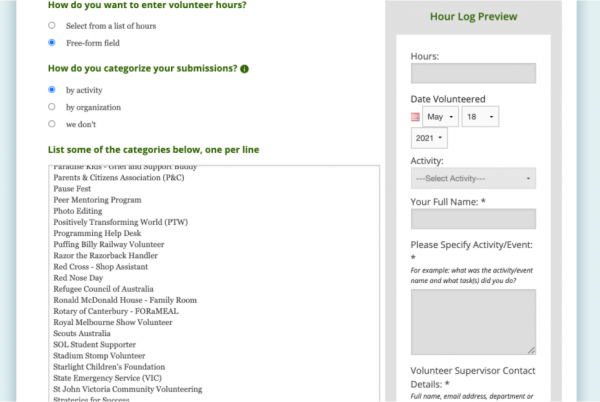 4. To Pull Reports
Like any nonprofit organization, Swinburne Student Life Volunteering Program has to pull reports on the volunteerism they promote and organize. In addition, reports are important for internal evaluation.
Swinburne Student Life Volunteering Program is able to see which volunteer opportunities are most impactful and popular, as well as which volunteers are engaged. Reports are helpful for Swinburne to see which volunteers might need to be engaged more, and what type of volunteer opportunities they should be rescheduling.
Sara says, "We track hours, number of registrations, and the percentage of students who are active because it is an important measurement of engagement."
Track it Forward allows many different types of reports to be pulled. The reports are customizable and can allow as much or as little information as possible. They can also be organized by volunteer, activity, milestones, or any information that is accessible! In addition, the reports can be saved and taken again over and over.
5. To Help Organize The Program
Overall, Swinburne Student Life Volunteering Program feels that their use of Track It Forward has allowed them to become more organized and professional as a nonprofit organization.
Sara says: "I think for any organization, it's just a very easy and simple way to engage students, let them know what's happening, and particularly to track compliance and professionalize your program. Volunteering and nonprofits are often seen as just trying to make things happen, they don't have that professional image, but we are professional. And students see the effort we put into it."
Prior to using Track It Forward, Swinburne Student Life Volunteering Program used paper forms to track volunteer data. Sara recalls there were boxes of paper forms and data that never felt quite as organized as it does to have an automated digital system like Track It Forward.
She says, "There were boxes full of paper. As you can imagine, Track it Forward was a life changer for the program. In terms of staff being able to do all the other things they wanted to do rather than paperwork."
Switching to digital tracking like Track It Forward allows programs like Swinburne Student Life Volunteering Program to become organized, automated, and spend less time on monotonous paperwork. Then, they can focus on the important parts of the program like creating a volunteer community within Swinburne students.
Sara says, '"(Track It Forward) makes it easy for us to get things done so that we can do the things that we want to be doing like putting more effort into events and making sure the students feel like they are part of the community we create."
Do you work for a university that could use tools like this?
See how Track it Forward can help!
Yes, Tell Me More