Parks Division & Recreation Programs Track Volunteers
GPS & Photos
See real time location and photos of issues and concerns.
Empower Park Lovers as Volunteers
Bring a like-minded community together to help protect environments.
Personal Outreach
Personalize volunteer management with motivators
How The City of Chico, Parks Division Tracks Volunteer Hours
The City of Chico Parks Division is in the maintenance service of all things parks and greenways in the City of Chico. Their largest park, Bidwell Park, is 3,670 acres. This division manages the maintenance of all the parks, donations, park reservations, park rangers, events, special use permits, and trees and plant administration. For over 22 years, the Parks Division has had formal volunteer programs in place to help maintain the parks and keep them safe. With Bidwell Park being one of the largest municipal parks in the United States, this is no small task!
Volunteers commit at least 4 hours a month to trail and park maintenance through adopt-a-spot, litter control, trail maintenance, and habitat repair. Many people are walking around the park, taking photos, reporting issues, and helping with trail maintenance. This can all be considered volunteering with the Chico Parks Division! But how do you track all the volunteers and all the issues that need to be addressed?
Park Services Coordinator Shane Romain is managing the PALS Volunteer Program for Chico Parks Division. In this program, people can volunteer in many different ways. A challenging part about maintaining the dynamic volunteer program is ensuring that their hours are tracked and that their finds are making a difference. There are more than 100 volunteers tracking their hours regularly and special events bring in hundreds more one-time volunteers whose contributions are also logged.
Track it Forward was able to help solve this issue and save Volunteer Coordinators at the Parks Division up to 30% of their time!
What is PALS?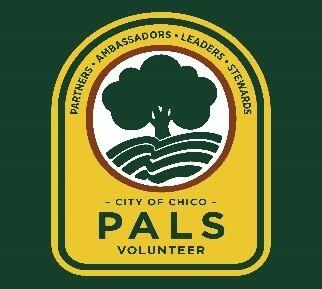 The PALS volunteer program works with different types of volunteers - Partners, Ambassadors, Leaders, and Stewards.
Partners are volunteers from nonprofits or communities like universities who help with larger events by supplying people to help run the events.

Ambassadors are volunteers who help report any issues with the park and also communicate important news or updates to the public about Bidwell Park or other greenways.

Leaders are specially trained volunteers who lead groups through the park or who help lead events that take place in the park.

Stewards are volunteers who like to be out in the park often and help the upkeep of the parks, greenways, and trails. They help report illegal encampment, vegetation growth, plants and flower maintenance, or any issues they may come across while using the parks and greenways on their own time.
"It's a robust volunteer program," Romain says, "It was pretty fragmented, so I wanted to bring it all together. "
Problems With Fragmented Volunteer Program
Prior to the reformatting of the volunteer program and the use of Track It Forward, Romain and other volunteer leaders were using spreadsheets to track hours of all volunteers. When it was time to file a report, they each had to manually submit their team's hour statistics. Romain researched and tried various software for tracking. He found that the programs were time-consuming and difficult to use.
Romain says that many volunteers enjoy reporting and helping the park stay clean and maintained. One of the best ways for volunteers to complete hours and help trail maintenance is to use a mobile application that can help them send photos, coordinates, and a description of the issues they found. This was originally through the other software. But, Romain quickly found the old software to be frustrating for his volunteers.
Volunteers would stop using other electronic tracking applications because they were so frustrated with issues they were having operating the app, taking photos, and sending the exact coordinates of the issue, meaning they would have less to report to Shane.
"When I started looking at Track It Forward, it was really attractive. I saw how you can do photos and you can do hours. It's really a one-stop-shop."
Volunteer Tracking and Photo Sharing all in One Place
When it comes to tracking volunteer hours, Track It Forward has many options for volunteer programs. Here's how the Chico Parks Division uses our features to track their volunteers and help create a user-friendly alternative for submitting photos and maintenance issues in the parks and greenways:
Hour Logging.

Volunteers track their hours by simply submitting a log online or on the mobile app.

The GPS Field.

On the mobile app, volunteers who report issues with the park can attach their GPS location to their hours log. This is a feature installed by the coordinator that can be done when logging hours.

This was originally created to show proof of being at a location for volunteers who need to have their hours verified.

For Chico Parks Division, they use it as a communication tool. When Romain approves these hours, he sends them a message to let them know he is addressing the problem they sent in.

The Photo Field

. They also have installed an additional file upload to each volunteer log so people can send in photos. "I use the photo feature for a lot of different things. Our park is huge and we have folks out volunteering all over the park. If they find a tree in the trail, they take a pic with the [GPS] location and will send it. By landmarks I can almost pinpoint exactly where it is, and judge the size to know what tools we'll need. A picture's worth a thousand words in that aspect," Romain says. He also gets pictures of unique flowers, or of volunteers on horseback, which he then uses for marketing and promotional materials.

The Reports.

Volunteer Coordinators can pull reports on all volunteers or volunteers from a certain event. Track It Forward creates different reports based on the information you want to include and creates an excel sheet for the coordinator to download.

The Milestones.

TThis allows coordinators and volunteers to see how much of their goal they have attended to. Coordinators can see who may need a bit of encouragement when doing more hours and who is doing an extreme amount that should be commended. It also is a great motivator for volunteers to do more hours and reach their milestones. This feature is automatically installed in the dashboard.

The Event Calendar.

Track It Forward can embed widgets into an organization's website, like the event calendar, to help track events and track volunteer RSVPs. As time goes on, Romain has found new ways to use the events calendar. "The biggest thing I have discovered is [generating] reports from events," Romain says. "This is so awesome, with the click of a button I can see which people are signed up and RSVP's for which area."

The Email.

Track It Forward allows organizers to group volunteers based on specific measurements and send out emails to them in bulk. So, if volunteers are specifically stewards, Romain can select the custom-created steward's category and send them emails from the Track It Forward Dashboard. He now uses the feature to reach out to volunteers on a regular basis. "[Track it Forward] has helped with communications," Romain says. "Being able to send out an email to the whole volunteer base for upcoming events is awesome!"
Romain says Track It Forward has been "super easy, it flows like a google calendar or something that people are already using." And his volunteers think so too! Even the ones that were reluctant to try a new app due to past difficulties have found it easier to use and have been using it more. He gets more pictures than ever before and more reports of issues in the field due to the ease of submitting photos through the app.
Romain has also felt he can be more personal and in touch with his volunteers through using Track It Forward, and specifically with the milestone feature. He has been able to see that within a month of using Track It Forward, 25% of his volunteers reached their quarterly milestone goal. He can easily reach out to volunteers, check in on them, and ask what can be done to help them contribute more to the volunteer initiatives. In addition, with this feature, organizers can share milestone results with volunteers to encourage friendly competition by enabling the leaderboard. "For me, [this] tracking is very helpful too. If there is a volunteer who hasn't submitted [hours] in a while but usually does, I can check in with them," Romain says.
Due to volunteers tracking their own hours and Track It Forward running the reports for him, Romain says 20-30% of his time has been saved. This way, Romain can get back to working efficiently in resolving issues within the parks, trails, and greenways of Chico, California.
Want to connect with other volunteer coordinators like this?
You can ask for advice, share best practices, and network with each other!
Join Our Facebook Community