x
The Real Lives of Volunteer Coordinators
A Blog for us to Learn from Each Other
As Volunteer Coordinators, it is essential that you have an outlet to vent, reach out to, gather resources, spark new ideas, and learn about the newest tools for volunteer management. Volunteer Coordinating and Managing is a hard job, with multiple varying responsibilities and hats to wear.
You may have heard of the classic Beetles song where they say, "I get by with a little help from my friends," you also might know that this rings true to a lot of daily life tasks. We know that the Beetles weren't Volunteer Coordinators, but we think this saying is especially true for Volunteer Coordinators and managers. You really can use a lot of help in this role, and we decided to do something about it.
Over a year ago, we created The Volunteer Coordinator Resource Community Facebook group. To be honest, this page was mostly designed so we could be more involved in the Volunteer Coordinator community, as we design a product for Volunteer Coordinators to use. But, it turned into so much more. This online community has been a great resource for many volunteer coordinators to connect, network, bounce ideas, and gain more information and knowledge on their role as Volunteer Coordinators.
The Online Community For Volunteer Coordinators
So far, this online community has covered topics such as:
Volunteers returning after COVID

Job Loss During COVID

Keeping Volunteers Engaged

CVA Exams

Virtual Volunteer Orientation

Volunteer Newsletters

Fundraising Events

Volunteer Management Software
AND so much more!!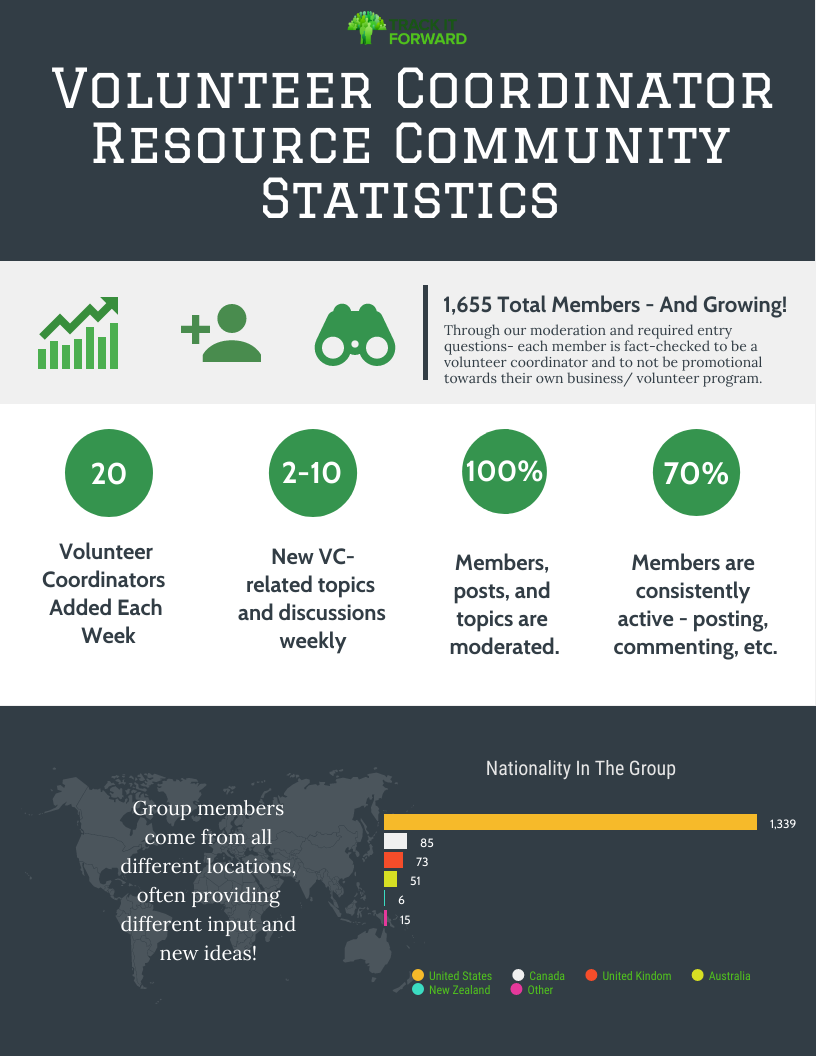 This online community for volunteer coordinators is a great way for volunteer coordinators to connect with each other. Multiple volunteer coordinators have gotten email contacts, and been able to private message each other. The online community is a great networking tool for volunteer coordinators.
In addition, the Volunteer Coordinator Resource Community is a great resource for coming up with new ideas for your volunteer program. Many times, we have different coordinators who reach out about different ideas they have and ask for opinions or suggestions. This is a great way to outsource an online community that understands your needs as a volunteer coordinator.
We know, if you are a Volunteer Coordinator, this group will help you out somehow along the way of your role. Check it out!
The Newsletter
This Volunteer Coordinator newsletter is a great weekly resource for your inbox. And, there is a reason it is a duo with the Facebook group!
The Volunteer Coordinator Newsletter is called "Keeping Up With The Volunteer Coordinators" and it mainly consists of a recap of the Volunteer Coordinator Resource Community Facebook Group - but more!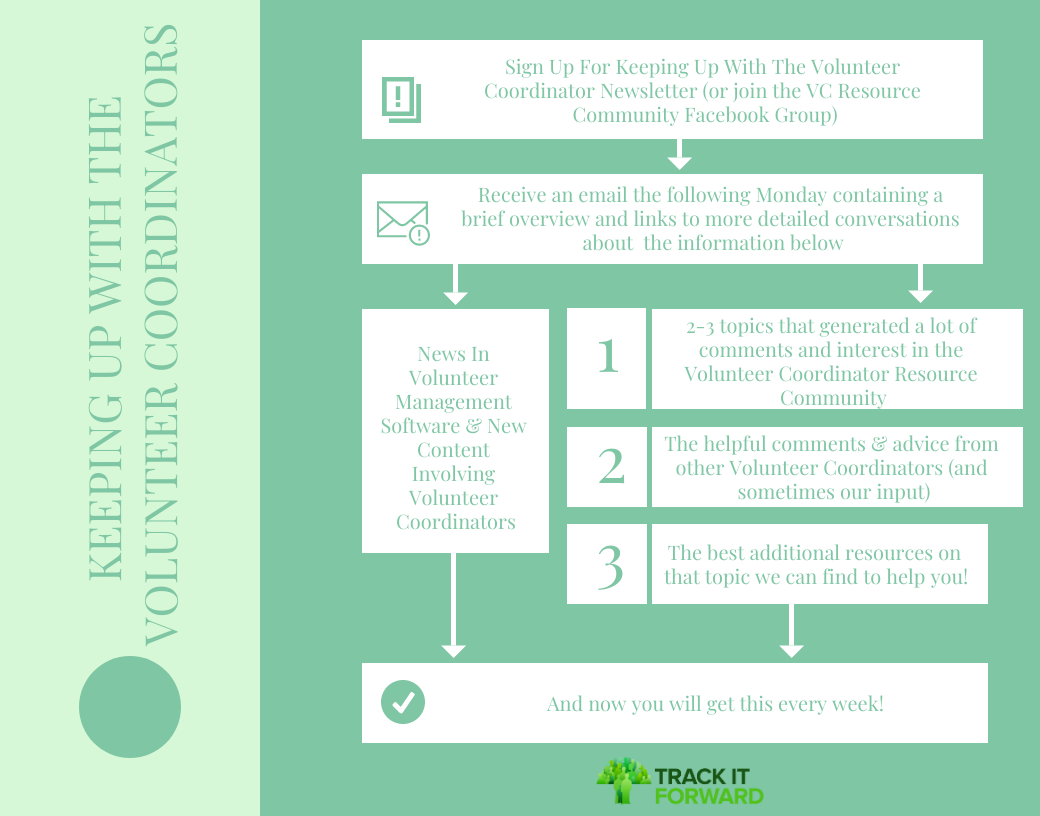 This Volunteer Coordinator Newsletter is not only a recap of the most important and engaging posts, but additional resources that we outsource, and advice from our team of previous volunteer coordinators.
But that's not it! Since we are a volunteer time tracking software system, we also give updates on the volunteer management software community, and any sort of content we think is interesting!
The Newsletter delivers to your inbox every Monday! It is the most on-demand way, that we know of, to get a multitude of information on varying topics in the Volunteer Coordinator Community.
So what are you waiting for? You can simply join the facebook group to automatically get added to the newsletter, or you can insert your email address below!