x
The Real Lives of Volunteer Coordinators
A Blog for us to Learn from Each Other
We want to make sure we are working on the projects and changes to our software that matter the most to our customers. So, if you have a Track It Forward account, we need your help!
Oftentimes we get asked to make little changes to the sites of our wonderful customers, and we are happy to oblige. But, this got us wondering- what if other people would like these changes too, but weren't sure how to ask?
So, we are simply going to ask you!
What should we work on next? Our development team is prioritizing projects for the upcoming months and they'd love your feedback!
We have some awesome ideas in our Suggestion Forum, such as:
Update administrative permissions in bulk

Duplicate event and RSVP list to schedule volunteers for multiple days

Enhance the milestone report to export data on which volunteers were already awarded
Overall, we've identified 19 ideas that our team is considering for their next project! Now we need your help to narrow it down and make sure we're picking the most impactful features.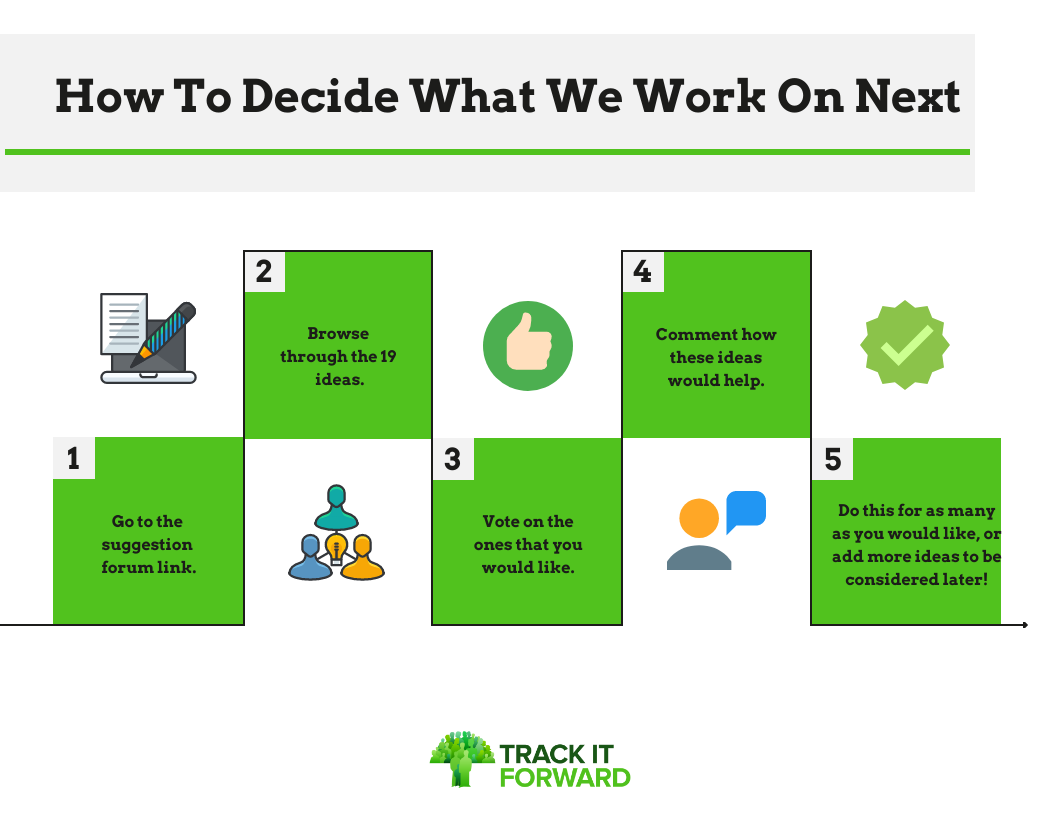 To vote on your favorite idea, click this link to visit our suggestion forum. Find your favorite ideas in the list and add your votes to show support!
In addition to votes, adding comments to ideas is highly encouraged! Providing additional feedback with comments can help our team understand why the feature is important, how much time it would save, and how much of an impact it would make.
We truly want you all to be as happy as you can with Track It Forward, and we hope that you will let us know how we can improve!
If you don't see what you would love us to work on, let us know what you are looking for, through the link listed above, and we might consider it later!