Beta Club tracks 5,000+ Hours Annually with Custom Hour Logs and Verifications
Milestones
Students can easily view progress toward club requirements
Events Calendar
Students can sign up for volunteer opportunities online
Verification
Students can verify outside volunteer activities with photos
Award-Winning Beta Club Tracks Thousands of Service Hours
The National Beta Club, founded in 1934, is an honor society for students from 4th grade through 12th grade in the United States and in American schools abroad. "The motto of National Beta Club is 'Let us Lead by Serving Others'," says Linda Frederick, the executive sponsor of the East Jackson High School Beta Club chapter. "At East Jackson, we try to help kids see that it is important for them to learn how to be servant leaders, both within their school community and within the larger community."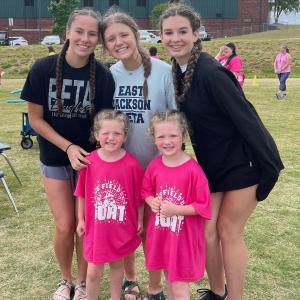 East Jackson Comprehensive High School is located in the small town of Commerce, Georgia, and is home to an award-winning Beta Club chapter. In 2018, EJCHS Beta Club became the first high school to be inducted into the National Beta Hall of Fame. This year alone, they have completed over 5,000 service hours, making them one of the top performing clubs in the nation, and they've earned the National School of Distinction Award and the National All Star School Award.
"You have to average 50 hours per member to gain the [All Star] distinction," Linda explains. "We are one of the top Beta Clubs in the nation in community service, and I attribute a lot of that to our ability to organize and track hours through Track it Forward."
A Time Tracking System that Works
It's always been important for the EJCHS Beta Club to track hours, not only for distinctions and awards, but for maintaining club status. Students are required to complete a minimum of 25 service hours each school year. When Linda became the executive sponsor of the club in 2018, she implemented a lot of changes to help lead the club to success.
At the time, they were using paper and pencil to track hours in a large three-ring binder. "It was really difficult…to manage service hours for so many kids because at the time we had 120 members, and they each had to have 25 service hours…in a couple of different categories, and it was a lot of paperwork," she says. "It was kind of a nightmare, between the officers and myself, we were just really struggling to try and keep up with everything." This is when she decided to search for a software solution, and found Track it Forward. "It was definitely what we needed," Linda says. "We have been using it faithfully ever since, and I do not know how I could…manage the club without it!"
"We have been using [Track it Forward] faithfully ever since, and I do not know how I could…manage the club without it!"
Custom Categories and Verifications
With Track it Forward, the students are able to easily log into the app and log their hours in different categories. Of the 25 minimum hours required, 10 must be within the school community and 10 must be outside of school in the greater community. School service hours can include working concession stands at athletic events, leading parent tours, and tutoring their peers. "We wanted to make sure that they were also looking beyond the borders of the school…to recognize needs in the community," Linda explains. This also gives students the opportunity to pursue their own passions within the community service realm, such as working on environmental issues, with children, or with the elderly.
"We have system set up whereby we have several events each month…that the kids can go and participate in those things, or because Track it Forward is so flexible, they can find things they're interested in…and then they can go and do those events and log all their information in Track it Forward." The customization options in Track it Forward allow for hours to be categorized in all kinds of ways. The club has fundraising goals for their local food bank and homeless shelter, and so the final 5 hours correspond to fundraising. "What we did is just translate that into hours," Linda explains. "So each student is required to fundraise at least $50 worth of profit for the club each year, and…$10 equals 1 hour."
In addition to these customizations, a major feature that EJCHS Beta Club uses is photo verification. Students are required to upload a photo with their hour log submission. This is an optional advanced feature that organizations can enable for their volunteers. Linda explains that this actually allows for more freedom for the students when it comes to service hours. "They're not limited to [a service opportunity] where there's going to be a sponsor or officer to verify they were there, so it gives them a little more autonomy. We require them to be wearing their East Jackson Beta shirt [in the picture] that shows where they are and what they're doing." The photos act not only as a verification, but as a record of club activity. The club's historian will go through the pictures stored in Track it Forward and choose ones to be featured on social media, announcements, member awards, and slideshows.
Beyond Record Keeping
Linda also shared a personal story about the importance of this photo record to the EJCHS Beta Club. In the fall of 2021, one of their recently graduated officers passed away at just 20 years old. "It was really heartbreaking for a lot of us in the community…but having that [photo] verification on Track it Forward became even more meaningful to me and to…our school community," Linda says. She was able to pull photos from Track it Forward to be used in events to honor the student's memory and family. "While it's a super feature to document the life of your club and the way students are engaging in the organization, it also proved in an unfortunate circumstance to be really helpful and comforting to the people who knew and loved that particular student."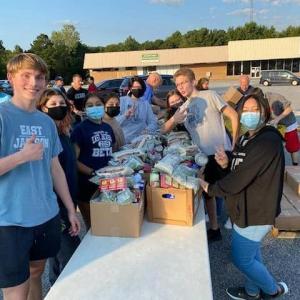 The EJCHS Beta Club continues to make lasting memories while breaking records and winning awards for their deep commitment to their school and community. We are proud to see that Track it Forward has helped such an important and dedicated club get rid of the busy work and get back to doing what matters most - serving their tight-knit community.
"I am proud of our kids, proud of our organization, and we have come a long way in a very short amount of time," Linda says. "I really do give a lot of the credit for it to you all [at Track it Forward]."
Could your student service club use something like this?
Learn more about the Track it Foward Solution!
Learn More