The Check In Kiosk App Provides An Efficient Volunteer Check-In Process
Volunteers check in and out, log their hours, and create an attendance sheet when they use The Volunteer Check In Kiosk!
Let us show you The Check In Kiosk!
Optimized Volunteer Check In Process
Eliminate the need for office admins to spend time checking volunteers in and out. Now, volunteers can do it themselves through our Check In Kiosk app which can be on any tablet, laptop, or desktop. It will have volunteer's names in the system if they are registered with your organization for even quicker check-in and hour logging.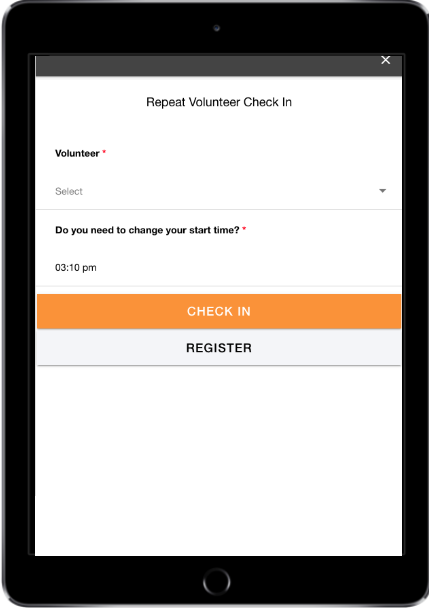 The Volunteer Check In Kiosk and Hour Logging Together
When volunteers check out, hours are automatically calculated and either submitted to the volunteer's personal timesheet, or they can go into the approval queue - if you have this set up. Hour log data is submitted under the volunteer's account to the exact minute they volunteered according to their check in and check out times.
View a Volunteer Attendance Sheet on the Kiosk App
If there is ever an emergency, you can easily view The Check In Kiosk to view who is currently signed in and onsite, as well as who was there earlier in the day and is now signed out. Those who have signed out have a green checkmark next to their name, and those that are still checked in have an orange circle!
Co-existing Volunteer Check In Kiosks In Multiple Locations
The Check In Kiosk App can be used on different devices at multiple locations at different times! This means you can have kiosks running on the same day in different locations and events, or have multiple kiosks at one event! There will be no overlap of the data from the hour log and the kiosk will work as functioned!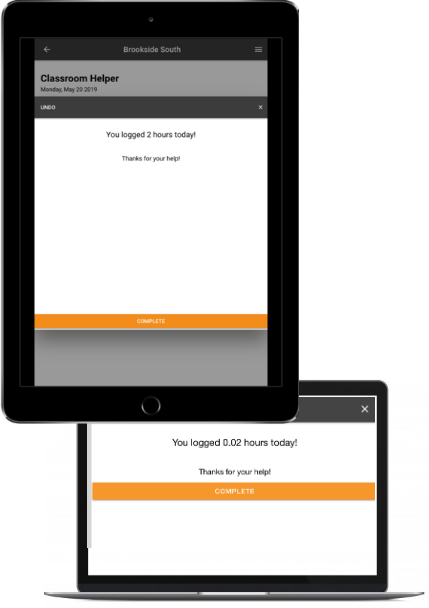 One-Time Volunteers Can Register At The Check In Kiosk
If your organization has a lot of one-time volunteers or volunteers who might have forgotten to create a Track It Forward account - this is a great feature. Since all of the hour log data has to go towards a Track It Forward member account, The Check In Kiosk has to operate under registered users. But, users can register directly in The Check In Kiosk app upon Check In!
Customize The Check In Kiosk For Categorized Reports
The Check In Kiosk App automatically logs hours to be used in reports from Track It Forward. Track It Forward reports can be categorized by activity. So, this means that you can categorize The Check In Kiosk hour logs as well! This will help pull reports based on activities or committees - however, you would like! In addition, since everything is operated under Track It Forward, using The Check In Kiosk creates less risk of duplicate hour logs or inaccurate data in reports.
Try The Check In Kiosk For Free With A Free Trial
We Know You'll Love it