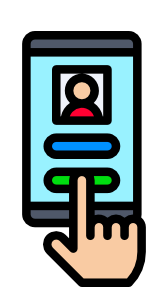 Streamlined Volunteer Check In Process
Eliminate additional administrative work with instantly verified volunteer check-ins and automated hour tracking
Contact us to try it out!
Have volunteers check in and out of your organization
Eliminate the need for office admins to spend time checking volunteers in and out. Now, volunteers can do it themselves through our kiosk, which is available on a desktop computer, tablet or any mobile device.
Log hours automatically
When volunteers check out, hours are automatically calculated and either submitted to the volunteer's personal timesheet, or they can go into the approval queue - it's your choice!
View who is currently inside your organization
If there is ever an emergency, you can easily access the sign in sheet to view who is currently signed in and onsite, as well as who was there earlier in the day and is now signed out.
Use it as a digital event sign in sheet
Don't waste your efforts on paper sign in sheets that need to be transcribed after the event. Save some steps by having volunteers check in during their scheduled event shifts or sign up on the spot.
Try Track it Forward Free for 30 Days!