Youth Mentoring Chapter Implements Successful Programs with Transparent Time Tracking
Hours Transparency
Volunteers know where their hour contributions are going
Milestone Tracking
Awards are given based on hours completed
Leaderboard Ranking
Leaderboard shows the top-ranked volunteers based on hours
100 Black Men of Las Vegas increases Transparency using Track it Forward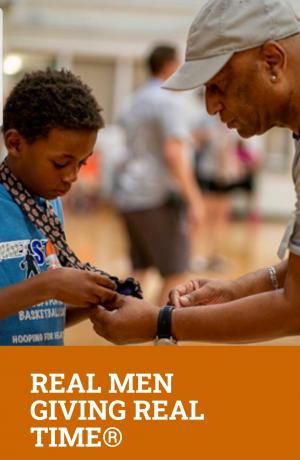 100 Black Men of America is one of the nation's top African-American led mentoring organizations for local youth from elementary school through adulthood. Since its inception in 1963, this national organization has been improving communities and leading youth programs through local chapter initiatives. One such chapter is 100 Black Men of Las Vegas, which was founded in 1999.
They provide mentoring programs focused on improving opportunities for local elementary school kids through college-age students in need. "Our mantra is 'What they see is what they'll be', so we strive to live by that motto" says Russell Whitmore, member of the IT Committee and Co-Chair of the Collegiate 100. There are around 80 active members, and Russell Whitmore has been with the chapter since 2018. They offer a consistent, wide range of programming that takes place both in-person and online.
"One of our programs that has been really successful…is called Crossroads. It's a life skills training program. We have two different age ranges; we focus on middle school kids in one session and the second session is for teenagers," Russell explains. "For the smaller kids…we discuss how to deal with bullying, how to manage anxiety, how to make friends, [and] standing up for your rights. Then for the teenagers we talk about college applications, how to write a bio, interviewing…and then we'll bring in experts in different fields to talk about different career paths".
This is just one example of the programs offered by 100 Black Men of Las Vegas. Others include Teen Talk, a local teen-run radio station, Pathways, a career pathway learning program, Rites of Passage, which celebrates the transition from childhood to young adulthood, and the Youth Economic Empowerment Club, which teaches youth about the importance of credit and how to open and manage a bank account. So, what's the key to their successful programs? Volunteers, of course!
"One of the [member] requirements is volunteering 60 hours each year," says Russell. "About two years ago some of the newer members asked how we were tracking [hours]. I believe it was being done by excel and it was inconsistent." That's when they knew they needed to look for a new solution and the former CEO found Track it Forward. With Track it Forward, 100 Black Men of Las Vegas has been able to increase transparency and accountability for its members.
With Track it Forward, members can log volunteer hours based on different activities. "Some of the categories we have are IT, Chapter Meetings, Volunteering, Events, and Finance." On a monthly basis, Russell pulls reports in Track it Forward categorized by member name, activity, and number of hours, which he shares with the committee chairs as well as the rest of the members. "At the beginning of each chapter meeting when the agenda allows, I take about 5-10 minutes and talk about where the focus of our hours is going."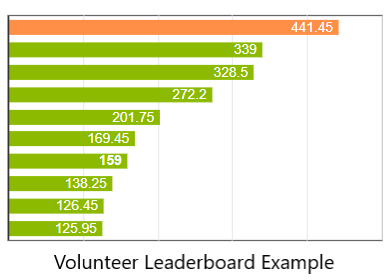 In addition to tracking the various member activities, 100 Black Men of Las Vegas tracks progress toward milestones. Members receive annual awards based on the number of hours they complete. They're also able to monitor their own progress through Track it Forward thanks to the leaderboard feature. Russell says members like seeing the leaderboard. "[It] kind of lights a competitive fire when it comes to tracking these hours…If [someone's] number 30 or 40 on the list, they take exception to that [and start saying] 'I need to get my hours up'!"
"It literally takes 10 seconds to get your hours submitted."
In addition to increasing the visibility of where volunteer efforts are going, Track it Forward has simplified the onboarding process for new members at 100 Black Men of Las Vegas. "We try to highlight how easy it is to use [Track it Forward]," Russell says. "It literally takes 10 seconds to get your hours submitted."
For his part, Russell is able to quickly and easily pull reports, add members, and more. "It's been a great tool for me. Pretty intuitive, pretty simple. I like it," he says. 100 Black Men of Las Vegas offers invaluable youth programming to the community, thanks to its committed members and Mentoring the 100 Way method. Now with Track it Forward, they can better show the impact of their efforts and recognize the volunteers who make it possible.
Do you work for a youth mentoring group that could use tools like this?
See how Track it Forward can help!
Yes, Tell Me More