Women's Club Tracks Impact Across 7+ Project Areas with Custom Categories and Reports
Custom Activity Categories
Create custom activities for different areas of community service
Hour Logs Notes
Create custom fields like notes to collect additional info on hour logs
Easy Reporting
Easily pull custom reports on volunteer activities, hours data, and more
GFWC Spring Station Woman's Club Tracks Custom Activities

The Spring Station Woman's Club is a part of the General Federation of Women's Clubs (GFWC), an international women's organization founded in 1890 and dedicated to uplifting and making a difference in local communities. The GFWC is one of the oldest charitable organizations in the country and just celebrated their 132nd anniversary in April of 2022!
The Spring Station chapter was founded by Vicki Bechet in 2010 just a few years after she moved to Spring Hill, which is one of the fastest growing cities in Tennessee. "When I moved to Spring Hill in 2006, I was working full time and traveling all over the country…but I wanted to make new friends and I really missed volunteering and working on community service projects."
Vicki is a fourth generation GFWC member and has volunteered for over 40 years. She knew how quickly Spring Hill was growing and thought others might also be looking for an opportunity to volunteer and meet new people. "So I literally put an article in the local newspaper, after reserving a space at the library," she says of her initial club recruitment efforts. About thirty women attended and most decided to join, and the GFWC Spring Station Woman's Club was born.
Custom Activities Tracking and Reporting
"The neat thing about the Federation is because our program areas are so diverse, there's something for everybody," Vicki explains. The GFWC focuses on seven different areas of community service:
Advocates for Children
Arts and Culture
Civic Engagement and Outreach
Domestic and Sexual Violence Awareness and Prevention
Education and Libraries
Environment
Health and Wellness
With so many community service areas, there's a lot to keep track of. Vicki was able to use Track it Forward's custom fields to track member service hours across all volunteer categories and projects.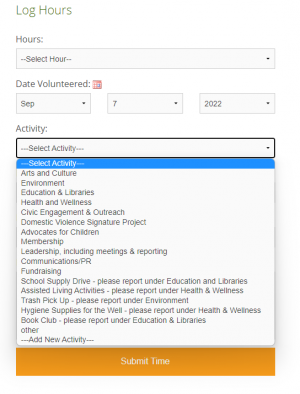 "We also report on membership activities," she says. "If we are doing something specifically for recruitment…we report that under 'Membership'. We have a category for leadership, a category for communications and PR, and a category for fundraising…We [record] all that information in our Track it Forward app, and then that is compiled through the spreadsheet reports," Vicki explains. Before Track it Forward, members compiling reports had to wade through paperwork and handwritten notes. "Track it Forward has been a really big help!"
In addition to tracking their own club's impact, GFWC chapters are required to report to the larger international organization. Local clubs report to the district level and the state level. There are district and state level awards for community service and impact. At the state level, the vice president and her team choose the top ten projects submitted out of everyone in the state and then submit a report on those projects to GFWC headquarters.
The Federation then uses this information for community service awards and to demonstrate the impact to national partners who support their work. They work with large organizations such as Heifer International and Canine Companions. "These international nonprofits are looking for the return on investment," Vicki explains. "For instance, they may donate $10,000 to GFWC so they can disseminate all the information on what their nonprofit does to entice club members to do a project for their organization."
As an example, recent GFWC club projects across the country completed projects for Saint Jude's Children's Hospital which brought in hundreds of thousands of dollars. "That's why it's important that we [record] everything we do," Vicki says. It's the little things that can really add up. At Spring Station Woman's Club, they have an initiative called Change for Chickens. "We have this ugly plastic rubber chicken purse…and we pass it around every meeting and ask everyone to put in their spare change. We call it Change for Chickens because I love alliteration," Vicki says with a laugh. "Our treasurer waits until Heifer International is gifted with a double or triple match for their donations and then we donate that money…so for instance if we get $75 we can end up donating $150."
Why Track it Forward Works for GFWC
Vicki decided to search for a software like Track it Forward after manually compiling reports for the first five years of the club's history. She chose Track it Forward for its ease of use, reporting capabilities, and affordability. She hopes to bring Track it Forward to a larger GFWC audience for several reasons. Vicki believes the mobile app is a big selling point, especially for clubs with younger women. "That's the kind of thing they're looking for," she says. "They want to get in, get it done, and get out. They don't want to have to track a whole notebook worth of paper reports when they can just click and go."
Another major reason Vicki believes Track it Forward will be helpful for other women's clubs is the reporting functionality. "Compiling the reports has been indescribably helpful," she says. They take advantage of the notes section of hours log entries to gain more insight into the specifics of different projects. "The person in charge of reporting…is able to take that narrative and elaborate on it a little bit when it comes to developing the narrative for each state report." Since adopting Track it Forward, Vicki says some members have even volunteered to do the reporting because it's so easy to do!
"I just have been so happy that I found [Track it Forward] and that we've been able to use it for the last few years!"
Are you a part of a GFWC club that tracks hours?
Learn how Track it Forward can help!
Yes, Tell Me More