x
The Real Lives of Volunteer Coordinators
A Blog for us to Learn from Each Other
Recap for July 2nd - July 9th
Volunteer vs. Staff Role
Volunteers often fill vital roles to support the programs and services at nonprofit organizations. In some cases, volunteers may work alongside paid staff members or take on a leadership role. Organizations may need to consider funding, responsibilities, supervisor preference, and area labor laws to determine when a role is best suited for a volunteer.
Feedback from Others
"Labor laws state that jobs previously held by staff cannot be replaced by volunteers. To do so would require restructuring and changing the job description. It's an ethical thing. Otherwise, it depends on funding, # of hours needed, and the supervisor's preference."

"The answer for us is never just a volunteer. If it is a volunteer role it is a volunteer role with a staff member assigned to and responsible for that volunteer and a portion of the volunteer coordinator's time recruiting for and possible involvement in the training of that volunteer."

"We are 100% volunteer. So any roles have to be decided based on what kind of leadership they need. Possibly a board role, possibly a leadership role, or a role working with one of those two."
Check out all of the comments here!
IT for Remote Volunteers
More than ever, organizations are considering alternatives to in-person volunteering. For some positions, volunteers may be able to complete their tasks from anywhere with access to a computer and required files. Our coordinators discussed different options, such as providing remote network access or storing files on a cloud-based system like Google drive.
Comments from the Group:
"We use Google suites since it is free for nonprofits/charities."

"We use google sheets and google docs - it's free!"

"Ours get remote access to our network so everything is done on the network. They sign an agreement and confidentiality form. They use their own computer."

"They get access to our secure system remotely, via office 365 or data base depending on their teams i.e they access company secure system according to their role and needs."
Interviewing Teen Volunteers
Finding the right volunteers for certain roles can be a challenging aspect of volunteer recruitment. While some volunteers may love working directly with clients, others may be more comfortable with an indirect role. If a volunteer doesn't seem like a good fit for one role, make sure you're ready to suggest alternatives so you can find a better placement for them.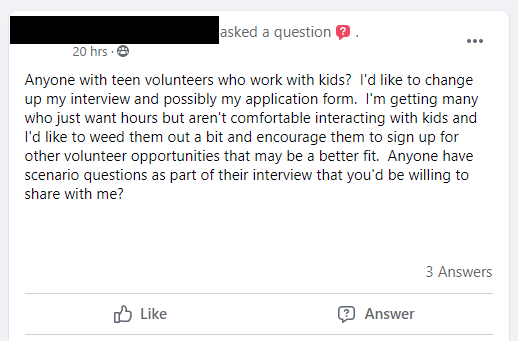 Comments from Others
"I list opportunities and they can check the ones they're interested in."

"Most of my volunteer ops are mostly with kids...but I have teens that also help in the office, making videos for our virtual resource library and making items for our classrooms"