x
The Real Lives of Volunteer Coordinators
A Blog for us to Learn from Each Other
Recap for September 27th - October 3rd
Thanks to everyone who contributed to the Facebook community this week!
Volunteer Turnover
For many organizations, volunteer retention can be a challenging aspect of their program. When volunteers leave, it adds more pressure on the coordinator to recruit and train a new group of volunteers. In many cases, it also means there are less experienced volunteers who can step into leadership roles at the organization. If your organization experiences high turnover, consider meeting with your volunteers to learn more about their experience and how it could be improved.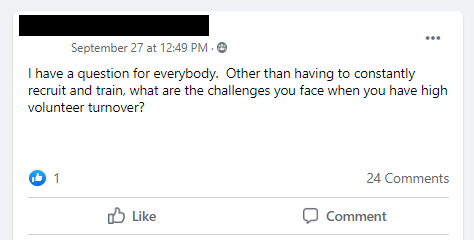 Comments from the group
"Loss of knowledge, trying to operate under resourced, increased pressure on the other volunteers to do the work, training constantly focused on the lower starter tasks."

"It wears on your staff. Do they put the effort into getting to know volunteers when volunteers keep leaving?"

"Our challenge is not having experienced volunteers to move into our leadership or advanced roles. We actually have our lead volunteers complete a new volunteer evaluation at 30 days, 60 days, 90 days, and annually via Google forms. We also send a survey to the volunteers at 90 days and annually to see if they have any suggestions or if they're interested in an advanced or leadership role."
Check out all of the comments here!
Custom T-shirts
T-shirts are one of the most popular options for volunteer gifts! At large events, custom t-shirts make it easy to spot volunteers and know who's assisting with the event. Our coordinators shared their suggestions for the best places to order custom t-shirts.
Comments from the group
"Couple print on demand options are Threadless, RedBubble, and Bonfire. You can also reach out to local screen print businesses to see if they would work something out."

"Bonfire"

"CustomInk is great because you can add the design and people can choose the shirts they want and get it directly shipped to them and you don't have to worry about ordering too many or getting it to people"

"CafePress is one of the most established names in this game, and they have oodles of products to choose from."
Budget Proposals
For many organizations, funds may be limited for volunteer programs. For this reason, it's important to document all potential costs in a budget proposal to ensure there aren't any surprises later in the year. In addition to cost associated with program management, make sure you include the cost of professional development, volunteer appreciation gifts, and safety equipment.

Comments from the group
"Mine includes: Office supplies, food, awards/gifts, travel/training/professional development (for my staff), background checks, software fees, subscriptions/ association memberships (for my staff), mileage reimbursement for staff, outside printing, budget for items needed for booths like tablecloth with our logo and various sized pull-up banners."

"That is an awesome list! We spend a lot on equipment to help the volunteers do their job and stay safe -- safety vests, gloves, tools."

"Those sound like great options already. Also think of any supplies volunteers might need—like their own clipboards, office supplies, etc. But the bulk of my volunteer budget is for appreciation. I think it's fantastic you want to include professional development. I think people forget that PD improves volunteer morale."

"Snacks. I have a line item for snacks and oh, boy, do my volunteers love that there is some kind of food available to them all the time."

"Signs for events, printing (if you use brochures etc), e-cards and e-invitations."