x
The Real Lives of Volunteer Coordinators
A Blog for us to Learn from Each Other
Recap for May 9th - May 15th
Thank you to everyone who contributed to the Facebook community this past week!
Volunteer Swag
Do you have some room in your budget for volunteer swag or goodies? If so, there are all kinds of things you could get volunteers that are both functional and fun, from tote bags to notebooks and more. Check out these great ideas from our volunteer coordinators!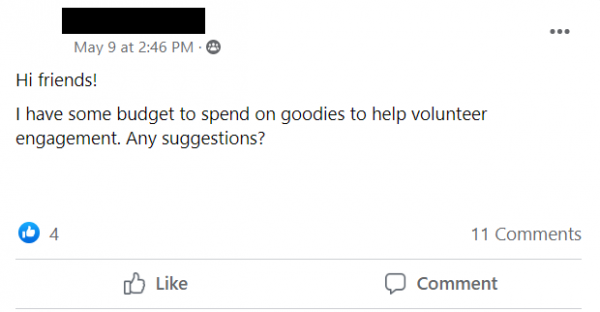 Comments from the group
"I had the best luck with a random set of "adulting" stickers that came in as a donation with an annual calendar (we are a food bank and get lots of random donations). I snagged the stickers and give them out randomly. it's made everyone laugh! So, small things like that can go a long way!"

"I would purchase drawstring backpacks that you can have customized with names of organizations or your logo and volunteers on them. It showcases your organization and is handy to use or keep their items in while volunteering."

"Something that they will find useful! My nonprofit - volunteers deliver boxes of food. We gave out a branded carabiner with a sharpie attached to it so they could write names on the boxes when volunteering with us. They were a big hit!"
Difficult Volunteer Conversations
As a volunteer coordinator, you'll likely need to have some difficult conversations with volunteers, whether it be about their behavior, performance, etc. It can be especially hard if you aren't used to having these conversations or don't have any training. Thankfully, our coordinator community is here to help and offer the following suggestions: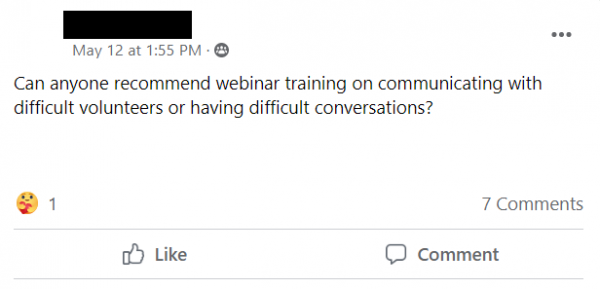 Comments from the group
"These aren't free but I have had a good experience with several of the webinars I've attended through [Nonprofit Learning Lab]. My organization has paid for full membership: https://www.nonprofitlearninglab.org/onlinetrainings."

"I would add that it helps a lot if you've got robust volunteer job descriptions, code of ethics, etc to use to frame the conversations. It doesn't make them easy, but it helps to point to the problem in a way that's more fact-based and can help show a volunteer that there is a way to improve. Or, if they need to be uninvited from participating, you can point directly to the place where they may have crossed a line and the documentation that shows what the consequences for certain actions are."
Recruiting and Retaining Volunteers
This is often the number one question for volunteer-based organizations - what is the best way to recruit and retain volunteers? There are many answers, and these can change based on your type of organization. Take a look at our article, Creative Ways to Recruit Volunteers, and see what our coordinator community recommends below!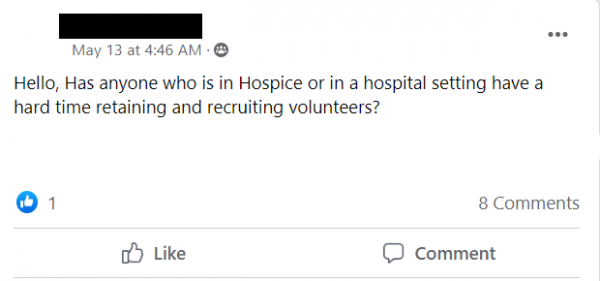 Comments from the group
"In terms of retention, ours got a lot better once we started to vary roles as much as we could, which is quite challenging in a hospital environment but just adding in some admin roles or some craft type roles really helped…We introduced volunteers of the month and some socials so volunteers could meet each other...What helped the most though was a peer mentoring scheme which saw more experienced volunteers do a few shifts with new volunteers to make sure they were comfortable with the roles…That increased our retention tenfold!"


"Supervision! Every 6 weeks meet with the volunteers and see how they are doing. Give them an open space to say how they are feeling and maybe they will be better In another role…Also training the nurses and other staff on working with volunteers and making them feel appreciated and worthwhile."