x
The Real Lives of Volunteer Coordinators
A Blog for us to Learn from Each Other
Recap for March 7th - March 20th
Thank you to everyone who contributed to the Facebook community these past few weeks!
Volunteer Awards and Recognition
It's always great to recognize your volunteers for all the hard work they do, but it can be especially important as you bring volunteers back to in-person programs. From game nights to awards ceremonies, there are lots of ways to recognize your volunteer community, and our coordinator community has some ideas as well!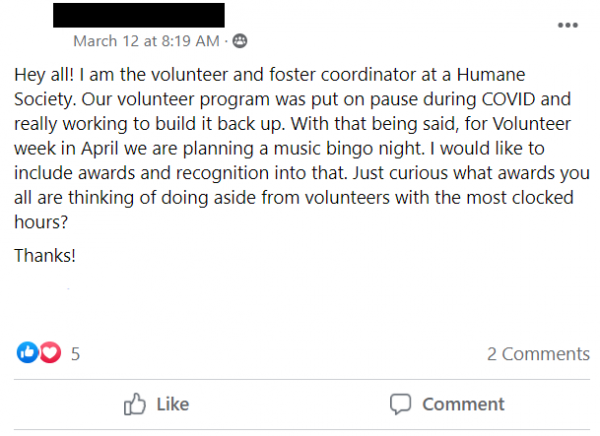 Comments and resources
"I like the idea of doing yearbook style awards. Such as 'most likely to ____'. They can be silly or meaningful (most likely to go above and beyond, most likely to forget their name badge). I think it depends on the relationships you have with volunteers to see what ones would make sense."
Addressing Volunteer Cognitive Decline
Many volunteers tend to be older and retired, and you may have longtime volunteers that are beginning to experience cognitive decline as they grow older. This is a difficult situation for volunteer coordinators, volunteers, and their families alike. It's important to be sensitive and come from a place of compassion. Our coordinator community has offered some good suggestions, from involving the volunteer's family to creating a volunteer alumni role.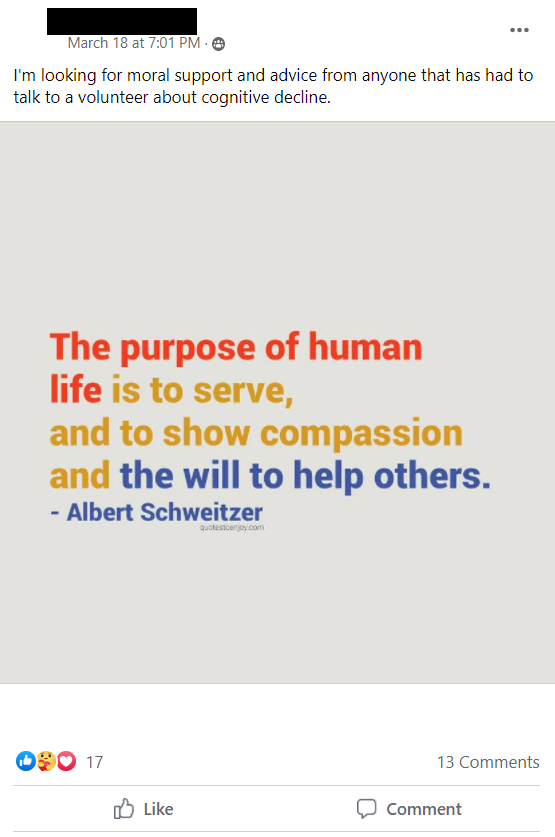 Comments from the group
"We added an aging in place protocol to our behaviour management policy. Also introduced an alumni award process for volunteers unable to continue in their role so they could remain connected to the community."

"We spoke to the family to support us. Made them an honorary volunteer."

"Do mention that they were missed and that you're expressing concern."

"I've called the adult child and had a discussion on what we were seeing. It's very difficult. We both cried. We eventually came together with everyone (staff, volunteer and her adult daughter) in the same room and all came to the same decision, it was time for volunteering to end but her status as a friend and patron of the facility wouldn't stop, she was encouraged to participate in programs and visit staff/her friends. We had a small gathering with her fellow volunteers to sort of close the chapter and she had a nice time."