x
The Real Lives of Volunteer Coordinators
A Blog for us to Learn from Each Other
This week our volunteer coordinators discussed ideas for volunteer gifts, effective recruitment methods, titles for unpaid interns, and more!
Volunteer Gifts
Volunteer appreciation is an important aspect of any volunteer program! Small gifts and volunteer swag is a fun way to let volunteers know they are valued and an important member of the team.
For some organizations volunteer swag is a great way to recognize volunteers for hitting key milestones. For example, an appreciation gift when they reach 100 volunteer hours and then 200 hours. Each program will vary, depending on the organization's size and budget.
Comments for Volunteer Gift Ideas
"We have a staff "store" set up with a local embroidery shop. We're giving our volunteers a gift card so they can select their choice."

"My volunteers are older and the favorite gift that we give them yearly are postage stamps. Not glamorous, but very appreciated. The other one is a gift card to Dairy Queen (midwest ice cream shop)"

"We recently purchased new polo-style shirts for them. We also purchase 3 styles of aprons for them to have when they are working their shifts. We also have them a gift card to Sheetz this year"

"We have given our volunteers a long sleeve shirt, hat, and this year a Nalgene water bottle. Our volunteers appreciate anything. They really enjoy a thank you card."

"We give each volunteer a tshirt and have done some giveaways of branded beanies and a reusable cloth tote bag with a special volunteer graphic."

"Pullover and hoodie sweatshirts, car decals, pop sockets"
Resources
Effective Volunteer Recruitment Methods
Recruitment methods are a popular topic among volunteer coordinators, regardless of the organization. Volunteers are such a critical part of the organization, but how do you find the right people?
As a starting point, it may be helpful to consider the volunteer role and what types of volunteers would be the best fit. Some opportunities are perfect for college students, while others are better suited for retirees. Determining your target audience will help you identify which methods would be most effective.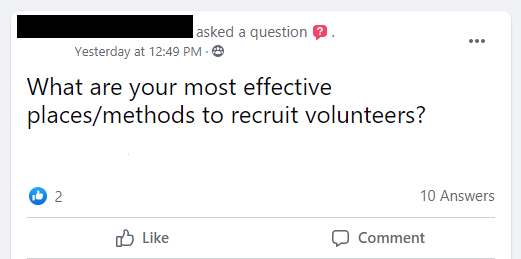 Comments on Volunteer Recruitment Methods
"Facebook group pages, local newspaper, referrals from current volunteers, faith based organizations"

"Local schools and University."

"Word of mouth is #1, so we really encourage folks to keep helping us by telling their friends and family. After that... corporate partners (if they're donating, they should be volunteering), school groups (high school and local colleges/universities), etc…."

"Word of mouth, unis and other charities, adverts online there are free site for volunteer advertising, local volunteer bureau as well"
Resources
Unpaid interns vs. volunteers
In addition to staff members and community volunteers, some organizations may also have roles available for internships, job shadowing, service learning, externships, etc. What title is right for each role and does it matter?
For some organizations, the type of role may carry a different level of responsibility, time commitment, and expectations. For example, a paid internship may be structured differently than an unpaid internship. In this scenario, it may be useful to differentiate the roles by creating a new title to limit potential confusion.
Comments from Others
"Maybe unpaid could be called a job shadow program?"

"We have a Student Opportunities category of volunteers with student-versions of assignments, and we offer service learning opportunities through this too"

"Could you call them placement students?"

"If the schools send them as an Externship, call them externs."