x
The Real Lives of Volunteer Coordinators
A Blog for us to Learn from Each Other
As a volunteer coordinator, there are a lot of activities and volunteers that you are responsible for motivating and keeping organized. In addition, the process of tracking volunteer's hours and a multitude of activities can be extremely tedious, making most people back away from this role! It seems with every organization, there was a way that the first volunteer coordinator started the volunteer tracking system, probably through paper forms or spreadsheets. Then, the next coordinator is left with an old system and not enough time to modernize it.
There simply has to be a way for volunteer coordinators to have an easier time doing their job. With modern technology, volunteer coordinators should be able to provide the best tracking and reporting tools for their organization. There are so many different ways to track volunteers, and we would like to help you figure out which way may be best for you and your organization.
At Track It Forward, we work with thousands of organizations that need a solution for tracking volunteer hours. We completely understand not wanting to start from scratch or use a new volunteer tracker template. Sometimes our software is a great fit for your workflow, but sometimes you are better suited for Google Forms time tracking to create volunteer tracking spreadsheets.
So, could Google Forms work for your volunteer program? Maybe! There are pros and cons to using Google Forms as a volunteer tracking system. It's important to consider your workflow, ease of the software for users who may be stuck in their ways, and your program's specific needs.
Pros of Google Forms Time Tracking
It's completely free, we all love to save money!

Accessible to anyone that has a computer and an email, even those people who refuse to try new technology and then say they are "technology challenged."

It's easy to share, just through an email and it's done! No downloading of anything or any extra steps that may make volunteers wary.

Google, do we even have to say it? Everyone knows what Google is, it's universal and a smooth operating system.

For you, Google Forms are pretty easy to set up, you just have to decide what questions you want to ask! We know that you can use a bit of a break when it comes to monotonous tasks.
Cons of Using Google Forms And Spreadsheets For Tracking Volunteer Time
Volunteers can't view their hours. You have dedicated volunteers who like to see where their efforts are going towards, we don't blame them! In Google Forms, once volunteers submit their volunteer work, they have no clue if you have seen their hours and counted it towards their total.

It takes a bit of effort and time to create customized calculations for reports. If your organization wants a customized report or a pivot table report created that is different from the automatic spreadsheet that Forms creates, you have to manually organize the information.

Google Forms lack hour approval process. If you have volunteers who do activities outside of your organization for the required service hours, you may need to approve those hours. This is not exactly built-in to the Google Forms method of tracking volunteer hours and may be another Form that you have to create.

All reports must be manually created. Let's say one of your coworkers wants a report on how many people have volunteered at a certain spot over the last year. If the only way for you to do this is to go back and manually add all of this up, we feel your pain and we could help you if you wanted! But, Google Forms cannot.

No volunteer profile data is saved unless they enter it every time. If you have repetitive volunteers, they can get very annoyed with having to fill out the information that should easily be saved each time if a different volunteer tracker template was used.
Google Forms Volunteer Time Tracking is An Ideal Solution For:



Very basic reporting needs, such as total hours
Informal time tracking that doesn't require oversight and approval
Short term initiatives with a large group of one-time volunteers
New programs still learning their workflow
Coordinators with experience and comfort using spreadsheets
Google Forms Volunteer Time Tracking is Not Ideal For:
Tracking required hours that need to be approved
Monitoring hours for requirements or achievements
Long term tracking for ongoing volunteers
Tracking data beyond hours, such as graduation year, role, phone number, or t-shirt size
Organizers who are unfamiliar with spreadsheet tools and shortcuts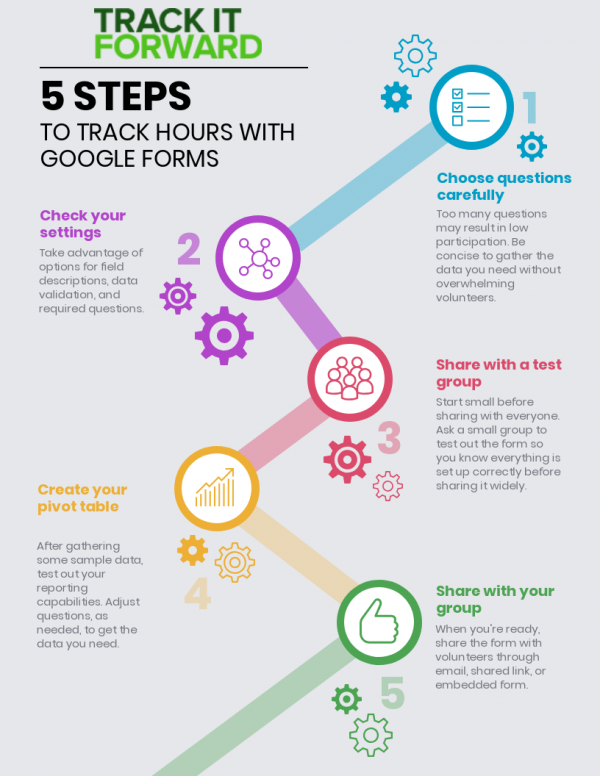 As you explore the world of Google Forms and spreadsheets, there are some key considerations to keep in mind to save yourself time and frustration later.
#1: Google Forms and Spreadsheets Lack Transparency Over Time When Compared To Other Software
A key drawback of Google Forms time tracking for volunteer hours is that volunteers don't have access to past submissions. This may lead to duplicate submissions, missing hours, or multiple emails to the organizer asking questions on what's been reported. This is what we call a "black hole" volunteer tracking base, where volunteers do not know where their hours have gone after they submit the Google Form.
If you decide to track hours with Google Forms, make sure you create a communication plan to share updates with volunteers and reduce confusion of their hours.
#2 Inability to Edit or Delete Hours Once They Are Submitted
After a volunteer submits hours, they don't have access to go back the next day and edit or delete their entry. As the organizer, you would need to revise the response on Sheets or delete the entire submission. Everyone makes mistakes, no matter how smart your volunteer tracking system is, there will be a time when you need to edit the hours someone submitted, whether it was the wrong amount, wrong date or wrong activity.
Before implementing Google Forms with your volunteer program, make sure you create a process for dealing with revisions. Help come up with a system or a separate form for revisions so you can easily see what needs to be changed before and after you do it manually.
#3 Choosing the Right Fields is Imperative For Creating Reports from the Google Forms Data
In our video for Google Forms volunteer time tracking setup, we discuss the importance of choosing the right field type for questions. Whenever possible, you should create questions with preselected options that limit the responses. This will make it easier to run reports later since all of the data can be aggregated quickly.
For example, if you think you may want to organize hours based on the category of volunteering - allow everyone to pick from the same category, not just type in what category they think they did, that way all efforts to help children go under "Children" category, not "school" "kids" "youth" and all other options that mean similar things.
Prior to sharing the form with all volunteers, test it out with a small group! Use this as an opportunity to run test reports and make sure it's easy to aggregate the data submitted.
#4 You'll Have To Manually Clean Up The Data
Collecting the data is just the beginning! As the organizer, you'll need to review responses for typos, issues, and inconsistencies before finalizing your reports. If text fields are used on the form, you may find that volunteers enter details differently on submissions, even though the response should be the same. For instance, they may list their name as "John" and then on the next form "John Doe".
Create a process for reviewing submissions regularly so it doesn't become overwhelming. Applying a filter to your data in Sheets can make it easy to identify and revise inconsistencies.
If you think Google Forms could be the solution you need, we created a video tutorial that walks you through the process of setting up your form and configuring it correctly. As an added bonus, we've created a second video that introduces you to pivot tables and generating custom reports!
If you still aren't quite sure what time tracking methods may be best for your organization, check out these articles below. After reading them, you are guaranteed to have done all the research you can on what tools can help you track volunteer time!
Read Next: