National Honor Society Chapters Track Volunteer Hours
Service Requirement
Make sure members are meeting their minimum requirements
Digital Hour Approval
Allow approvals to happen all in one place
Modern Technology
Use mobile app to keep track of volunteer hours
How Mount Si National Honor Society Encourages Community Service with Time Tracking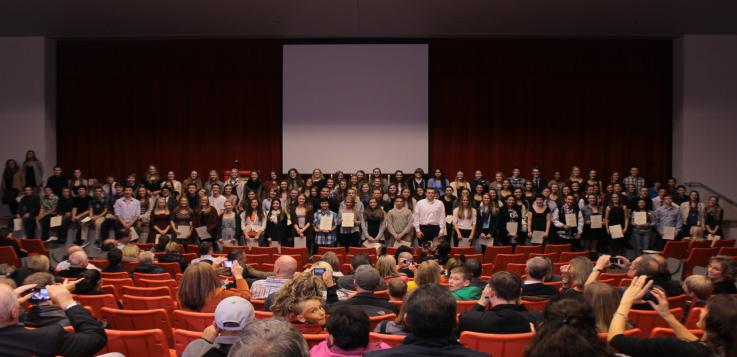 Mount Si National Honor Society provides community service and scholarship opportunities for about 300 students at Mount Si High School in Snoqualmie, WA. Mount Si NHS requires 15 hours of service each year, and each student who completes 150 hours across all years as a member gets a special cord for recognition at graduation.
Jack Mulligan is the Webmaster at Mount Si NHS and helps out with editing and maintaining the website. They started using Track it Forward as a tool to alleviate some of the office work that the NHS officers have to put in. "In general, it makes our job a lot easier, because we don't have to personally manage and sort through such a huge volume of hours at the end of each month and year," says Jack. Mount Si NHS has grown very substantially over the past few years, and their old tracking system was getting out-of-date.
Tracking volunteer hours is vitally important for NHS chapters like Mount Si, because they want to make sure all of the students in the club are holding true to their commitment to community service. Service is one of the 4 pillars of the National Honor Society, along with character, scholarship, and leadership. "It's a way for people to see their progress, when they're not helping themselves, they're helping everyone else," says Jack.
Mount Si NHS makes it as easy as possible for students to log their own hours. They use the Track it Forward website integration feature and also have an online guide for how to create an account and submit hours available on their website. Volunteers can log in to see their own hours for the year as well as see how they stack up to their classmates.
"I feel like this program is made for NHS officers to use"
Track it Forward helps out with workflow. Instead of having club meetings overtaken by hours tracking and management, students log their own individual hours and officers don't have to worry about it. In the past, all of the officers had to contribute three or more hours per day for an entire week at the end of the year to track hours. Now just one person can do it in a few days. "I feel like this program is made for NHS officers to use," says Jack.
Jack loves being a part of the National Honor Society. "You show up to a meeting and instantly just feel like you're surrounded by like-minded intelligent people who really just want to help the community. That sort of feeling you can't really get from other clubs," he says. "Thanks for making an awesome service that makes it a lot easier for us!" Jack likes to help out at his local food bank and also loves technology, filmmaking, and directing and editing videos.
Want to connect with other volunteer coordinators like this?
You can ask for advice, share best practices, and network with each other!
Join Our Facebook Community