How Sororities and Fraternities Can Use Track It Forward to Track Volunteer Service Hours
Service Requirement
Ensure that members are meeting their requirements
Community Impact
Quantify how much impact your organization creates with volunteers with reports
Volunteer Recognition
Instantly recognize the most engaged volunteers
How Kappa Kappa Gamma Tracks Volunteer Service Hours in their Community
One of the main goals for sororities and fraternities is to bring men and women together to support their community and specific philanthropy. Depending on the fraternity or sorority, different philanthropy will be the center of attention when it comes to raising money and doing volunteer activities. In addition, members of these organizations are also required, from the sorority or fraternity at a national level, to do volunteer service hours within their community, beyond the designated philanthropy.
In a sorority or fraternity, there can be up to 500 members. All of these members have to log their service and volunteer hours. Fraternities and sororities have a 20-40 volunteer hour requirement for members per semester. If you are a volunteer coordinator for a sorority or fraternity, often referred to as either the Philanthropy or Service Chair, you know you have a lot of volunteer and service hours to monitor. Fraternity and sorority community service hours can add up and be hard to run reports or categorize.
Most volunteer hours are planned by the organization, some fraternity and sorority service hours are planned in accordance with Philanthropy and then external community volunteer hours also need to be planned and tracked. It can be extremely hard to keep track of these hours, run reports for leaders of the organization, and motivate members to keep track of their own hours and how far they are on their hour requirement.
This being said, this is A LOT of service hours. Differentiating between the different types of volunteering and counting the hours can be a lot of work for the Philanthropy or Service Chair of a sorority or fraternity, who is also a college student with their own work and commitments.
The total amount of fraternity or sorority volunteer hours averages around 3,500 a semester. Oftentimes, these hours need to be approved before counted, then categorized, have reports gathered with the statistics, and have motivators and check-ins in place to remind members of their requirements. Read more on the best practices for philanthropy chairs here.
Is there a program that can do all of this?
Track it Forward allows members to log their hours quickly and efficiently for themselves. In addition, each member would be able to see how much of their requirement they have done for each category, or for the semester as a whole. Sorority and fraternity service hours can easily be logged through this software.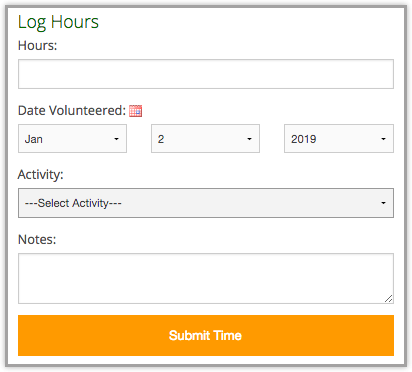 Track it Forward uses easy-to-navigate software with conditional logging technology. This means the hours can be organized and tracked by category of service or volunteer organization. The program and its features make it very easy for Volunteer Service Chairs or Philanthropy Chairs of the sororities and fraternities to categorize the hours, but still, have them all in one location.
For Volunteer Coordinators, Service Chairheads, and Philanthropy Chairheads, this software makes it easy to monitor the fraternity or sorority community service hours and approve them as they are logged. This can be a big help, as it can take hours to use a spreadsheet or google forms to view hours, approve them, and then convert them into logged hours. With Track It Forward it is as simple as the fraternity or sorority member logging the hours, the Service, Volunteer, or Philanthropy chair members seeing them as "pending" and approving, then the hours automatically being logged into the system and put towards the requirement. Then, when needed a report can be downloaded.
Taylor Kessick is the Philanthropy Chair for her sorority at the University of South Carolina, where there are 350 members. She says, "It's really easy with Track it Forward." Especially when it comes to being a liaison to the sorority at a national level or the university. Kessick says, "If they want our numbers of how many people volunteered at a soup kitchen, I can just give them that. I don't have to go through and add up every girl's hours individually."
The Reports
When all the sorority volunteer hours or fraternity volunteer hours are tracked through Track It Forward, the program is able to generate customized reports instantly. Admins and coordinators are able to customize the information they want in a report with the information that is provided through Track It Forward.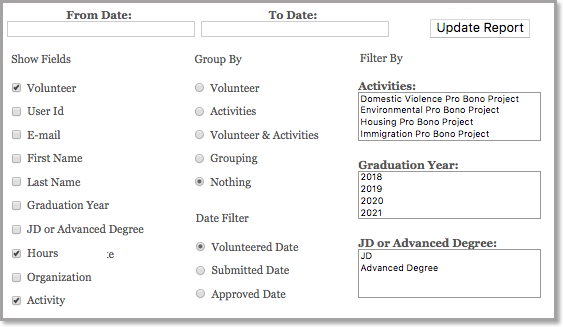 So, when members in sororities or fraternities log their community service volunteer hours, they may have to submit a category of volunteering they did or the organization where they volunteered. Then, when a coordinator or administrator wants to run a report on that certain category or organization, Track It Forward can gather all the data from the hours logged under those categories.
In an instant, custom reports are created and downloaded into an excel document with all the information provided in the system. This can save so much time and bring ease to usually monotonous tasks!
Milestones Feature
With the milestones feature, you can set up multiple requirements and have members and coordinators track their progress. For a sorority or fraternity, there may be a certain amount of specific philanthropy service hours, in-organization volunteer hours, and individual-planned volunteer hours required.
The Service or Volunteer Chairs of Sororities or Fraternities can track how far each member is on their requirements or how far along the organization as a whole is within the milestones. Volunteers can see their progress and easily evaluate how many more hours they need to do to reach their goal or requirement for their fraternity or sorority's community service hours.
In addition, the milestones feature can create a "leaderboard" to show who has done the most in an organization. This is a great way to encourage members to do more and have a friendly competition to motivate more volunteering!
Mobile App
Track It Forward is available on mobile devices and laptops, making it incredibly easy to use for both volunteers and administrators. All of the functions from the desktop software can be used on a mobile device, making it easy to track hours while volunteering. In addition, if volunteers need to add photos, a GPS location, or a signature to their logged hours for verification, this can be done from the mobile app.
In addition, Service and Volunteer Chairs who act as admins are able to add new volunteers instinctively on the mobile app and approve hours! It adds a whole new level of ease to managing volunteers.
Track it Forward helps admins, as well as members, stay on track with their service hours and can be a motivator for more volunteer work! Sororities and fraternities track volunteer hours regularly, they should use a top-notch program that can do all the functions in one software.
Want to connect with other volunteer coordinators like this?
You can ask for advice, share best practices, and network with each other!
Join Our Facebook Community