Hospital Tracks Hours and Awards for Hundreds of Volunteers
Accurate Reporting
Quickly pull accurate reports for compliance and insurance purposes
Milestones Tracking
Track progress toward milestones for volunteer awards and recognition
User Friendly
Web and mobile app are easy to use for administrators and volunteers
Hospital Tracks and Reports on Hundreds of Volunteers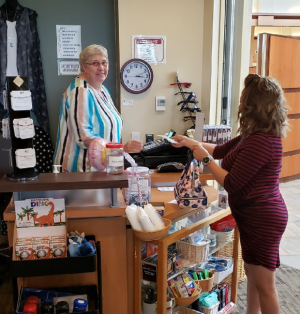 Crawford County Memorial Hospital (CCMH) is a critical access hospital located in Denison, Iowa that opened in 1951. Their motto is 'We Care For Life', which is evident in not only the medical care they provide but in their robust volunteer program as well.
"The hospital offers a wide range of inpatient and outpatient diagnostic services, [with] everything from OB GYN and general surgery to orthopedics and diabetic education and services," explains Dustin Durbin, Volunteer Services and Community Outreach Coordinator at CCMH. "We also have our own EMS and ambulance service, and we partner with some of the towns nearby."
Dustin has been in his current role for about two years and oversees nearly 200 volunteers across a variety of programs. "We have a transportation service that is 99% run by volunteers…what it entails is a free ride for the patient, and the funds come from donations and net positive cash flows from our Thrift Shop," Dustin explains. "I oversee the gift shop, which is 100% volunteer-run, and we have our SHIIP program (Senior Health Insurance Information Program). I have a SHIIP representative and assistant [who are both] volunteers…and this is a free service we offer to Medicare patients. And then we have our Bloodmobile, which takes place inside our conference rooms [for blood donations]."
With a wide range of programs and growing number of volunteers, it was important for CCMH to find a way to keep track of hours, for their own records and insurance purposes. Before finding Track it Forward, "we were kind of just guesstimating," Dustin says of the different volunteer programs.
Set Up Custom Milestones to Track Volunteer Awards
Some of the most important Track it Forward features for Dustin and the CCMH volunteer programs are milestones and reports. With milestones, Dustin can easily see when volunteers have reached a certain number of hours and set custom levels or milestones for those hours goals.

"Every spring we have our volunteer recognition breakfast, so the milestone report has been a great resource. I print certificates for those in the gold, silver, and bronze milestones. For gold milestones, I go out and buy frames for those folks," Dustin says. Gold-level members also get to take home the event centerpiece flower bouquets. "It's just a way for them to know they are valued, and it is kind of a friendly competition for who is going to volunteer the most. They all work hard to get to that next level."
Volunteers can also view their milestones progress in their Track it Forward accounts, and organizations can create and share a volunteering leaderboard to show progress and promote friendly competition!
The reports feature in Track it Forward is easy to use and customizable. Volunteer coordinators can choose from report types based on volunteers, activities, events, and milestones. Then they can select filters based on profile fields, custom categories, and more. With this feature, Dustin can easily pull reports on hours data for insurance submissions or milestones tracking.
"I am just really glad Track it Forward is user-friendly."
- Dustin Durbin
Do you work for a hospital that utilizes volunteers?
Get started tracking hospital volunteer hours today!
Learn More