x
The Real Lives of Volunteer Coordinators
A Blog for us to Learn from Each Other
Recap for November 30th - December 6th
Thank you to everyone who contributed to the Facebook community this past week!
Holiday Gifts for Volunteers
It's that time of year--the season for giving! Why not show your appreciation for your volunteers and all they give with a little gift for them? Our community has come up with some great ideas for fun holiday gifts.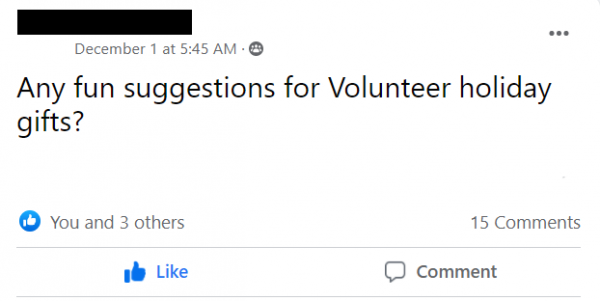 Comments from the group
"I'm giving small mason jars filled with kisses and Andes Mints...Wish you a Merry KISSmas, thank you for your CommitMINT. Made a cute tag and tying it with raffia/tulle … I got it all from dollar tree [and] spent less than $25."

"We made up wellness packs - scented candles, soap, nice tea, [chocolates] etc. Asked [volunteers] to take time for themselves."

"We decided to have Santa (County Legislator) and his elves (Office for the Aging Director & Volunteer Coordinator) deliver a meal/dessert from a local business to volunteers. They will also get a fabric shopping bag, holiday card and a Certificate of Appreciation. We have a few local businesses that donated $25 gift cards or baskets that we will hold a drawing for."
Check out all of the comments here!
Ideas for Volunteer Recruitment
Recruiting volunteers is often the number one challenge for nonprofit and grassroots organizations. Our volunteer coordinator community is full of great ideas, and if you're looking for more be sure to check out our article on Creative Ways To Recruit Volunteers.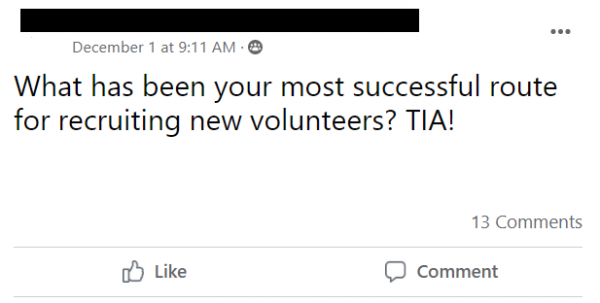 Comments from the group
"Just grassroots community outreach - friends of friends, non-profit partners, social media, etc."

"Social media posts and our website point people to our volunteer tours. We invite people from the tours to new volunteer training."

"So far, being welcoming to court ordered community service volunteers, and I've actually pulled in a few volunteers from in kind donors who have just dropped things off, and I've told them of our need for volunteers. It's not 100%, but far more have come from this than I ever would have expected."
Working with High School Volunteers
Local schools can be a great resource for volunteers, especially since many high schools require community service hours for graduation. However, there are some considerations when it comes to working with underage volunteers who have specific hour completion requirements, like permission slips, shift hours, and more. See what our online community has to say about successfully working with high school students.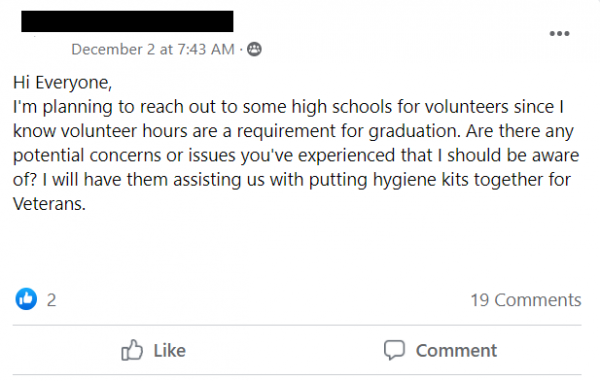 Comments from the group
"I learned recently that students needing hours for National Honor Society need at least 4 hours [per shift] for it to count, so you might keep that requirement in mind as you build your schedule."



"Check with your insurance if volunteers are covered while working with you, or have them sign a waiver. There may be an age limit...to sign without a parent. We have a minimum age of 16 [for students] to sign by themselves.

"



"

Set very clear expectations. Show them step-by-step what you want accomplished. Don't assume that they know anything. Make sure that you have adult supervision. Some of my best volunteers have been teens. Provide snacks."